$150 "Tabeo" Android tablet hits Toys 'R Us in late October
14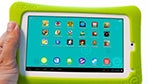 If you're looking for a tablet that is kid-friendly and costs even less than the latest budget-oriented offerings from Google and Amazon, then you may want to plan a trip to Toys 'R Us this fall. Today Toys 'R Us announced the Tabeo, a 7" Android tablet that sports a custom UI on top of Android 4.0 (ICS). The specs are nothing to write home about – a 1GHz Cortex A8 CPU backed up by 1GB of RAM and 4GB of storage (although you can expand that with a microSD card) and a front-facing camera. But for $150 you can't really expect a Tegra 3 now can you?
For parents looking to get their kids into a tablet at a reasonable price the Tabeo looks pretty solid. In addition to the hardware, the tablet comes preloaded with 50 free game and educational apps, including fan favorites like Angry Birds and Cut the Rope. Tabeo has access to the Toys 'R Us app store, where apps are all prescreened to confirm their kid-friendly nature. Right now there are over 7,000 apps available, and we imagine more will be on the way.
Toys 'R Us also provides parental controls on the Tabeo, so you can manage the experience your youngsters have with their tablet. Parents can choose from any of 27 preset topics to block on the web, and can black list individual websites as well. There are also controls on how long a tablet can be used at one time, which is probably a good idea, since the rated battery life of 10 hours is probably much longer than anyone wants their kids to sit around playing on a tablet for.
The tablets are expected in stores on October 21st, and there will be colorful rubber bumpers available if you want a bit more insurance (or if you need more than one, perhaps you can assign a specific color to each child?). If there is a young child in need of a tablet in your life, the Tabeo looks like a worthwhile option to consider.
source:
Toys 'R Us
via
9to5Google