14% of buyers would purchase the next iPhone, demand at all time high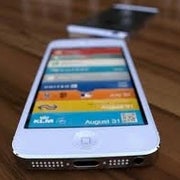 Despite all the
leaks
and
rumors
, we don't really know what the next iPhone (iPhone 5?) will look like. After all, Apple does a great job at keeping its products a secret until the moment they are announced. However,
there are hordes of people who would most likely buy the next iPhone anyway
, as a study conducted by
451 Research
indicates.
"Overall smartphone sales should spike to an all-time high this fall, and of course Apple is going to be the number one beneficiary,"
said Dr. Paul Carton, VP of Research at 451 Research.
"But besides Apple, and to a lesser degree Samsung, no other manufacturer is likely to benefit from this coming wave of demand."
Demand for smartphones of other makes is nowhere near as high, with Nokia, Motorola, HTC, and BlackBerry handsets sought after by 2%, 4%, 3%, and 2% of consumers. This June 2012 survey was based on data collected from
4,042 buyers residing in North America.