12 week smartphone sales numbers have surprises from around the globe
19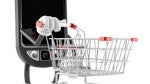 Market research firm Kantar Worldpanel has released its newest numbers for the mobile phone sales for the past 12 weeks. The numbers include data from 7 areas around the world including: USA, Australia, Great Britain, Germany, Italy, Spain, and France. Some of the numbers aren't so surprising, like the fact that Symbian has taken a dive worldwide, or that Android is selling like gangbusters. Some of the numbers are pretty shocking though. Two of the most surprising leaps in sales came from Germany and France. In Germany, Windows Phone 7 is starting to make a run pulling in 7.1% of the sales for the 12 weeks ending July 12, 2011. In France, Bada is making an even more impressive run pushing up to 9.6% of sales.
Overall, smartphones are booming, as we all knew. In Great Britain alone, 67% of all mobile phone sales were smartphones. And, smartphones made up at least 50% of all mobile phone sales in the USA, Australia, Great Britain and Germany. Kantar says that Italy, Spain and France are expected to cross that threshold sometime within the next quarter.
Android is leading the way with over 50% of sales across the 7 regions for the time frame, with iOS coming in second at 25%. Not surprisingly, Symbian was the big loss leader across most regions, except for the US where it never really had much market share to begin. Instead, the US had BlackBerry losing a huge chunk of its share, although BlackBerry held relatively steady in other areas.