12 great Sony Xperia Z2 cases and covers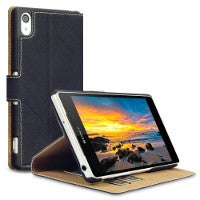 The Sony Xperia Z2 has now been available for about a month, and considering the new flagship's undeniable appeal, it wouldn't be a stretch to guess that quite a few people have already grabbed themselves a unit, and many more are saving up or anxiously awaiting local availability. One thing we've learned during the years is that a very big portion of smartphone buyers turn to case and covers vendors immediately after purchasing a new device, as protecting their new toy is usually their first priority. Hell, we've seen people not take out their new handsets outside for a whole week, whilst patiently waiting for their coveted case to arrive at their doorstep.
So we've established two things: the Xperia Z2 is awesome, and you're likely scared of shattering that awesomeness. Good thinking -- empirical data shows that sooner rather than later, phone meets curb, and the outcome ain't pretty. That is, unless it's sporting a snuggly case or cover that eats up the force from the impact. And that's precisely why we went ahead and tried our best to separate the unimpressive, everyday cases and covers available for the Xperia Z2, and instead pick only the ones that have an appetizing pricing, design, or protective qualities. Check them out!