10 relaxing games for your Android or iOS device
4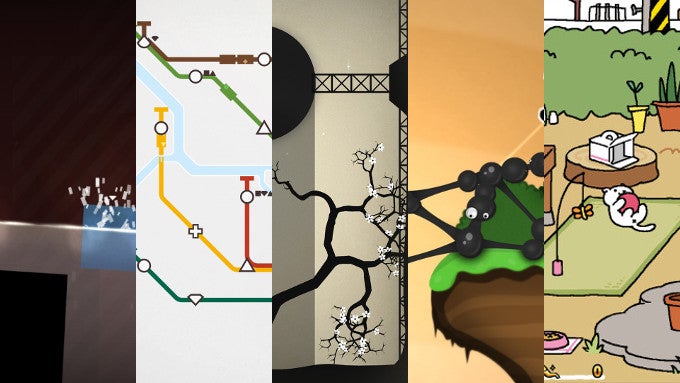 Are you feeling stressed out? Has life been bringing you down lately? Then boy do we have the solution. For every hard moment and for every exhausting day there is a simple solution – video games! So to help you out, we have compiled a list of 10 relaxing games to help you unwind.
Monument Valley
If you've ever wondered what it would be like to walk around in an M. C. Escher painting, then this is the perfect game for you. Embark on a quest for redemption as the princess Ida, traversing impossible architecture and talking to mysterious ghosts. After its 2014 release, Monument Valley has won itself widespread critical acclaim, and for good reason – its puzzles are smart and engaging, but never to the point of being obtuse. The gameplay is like nothing seen before or since, based on an isometric perspective allowing for the traversal of otherwise impossible geometry, interacting with the terrain to find the usually hidden exit. The biggest drawback of the title is its length – even with the expansion, you'd be hard-pressed to squeeze more than 2-3 hours of gameplay. Still, the title is a rewarding and unique experience that we strongly recommend.
Little Inferno

The fireplace – once the hippest way to heat up a household, has now fallen to the sidelines, replaced by that newfangled thing youngsters like to call "electricity". So what can an ordinary person do when they just want to burn stuff? Enter Little Inferno – your own digital fireplace, providing all the fun of throwing things in the fire, with none of the smell and the fire hazards. Let your mind wander as you gaze into the flames engulfing your belongings, and then order some more from the conveniently available catalog. There is also a story inside the game, and a quite well-written one in fact, but, save for the ending, the gameplay doesn't deviate much from the formula, making it a somewhat tough sell. However, if you are in need need of a cozy pick-me-up, we wholeheartedly recommend Little Inferno.



Prune

Part puzzler, part gardening simulator, wholly relaxing – Prune is a game about cutting branches and cultivating trees. With each branch cut, the rest of the tree grows, coming closer to the otherwise obscured light. When lit up, the tree starts blooming, each new flower accompanied by the pluck of a harp, creating a laid-back zen atmosphere in which one can briefly escape reality. Featuring 48 levels and packing a number of other gameplay tricks up its sleeve, Prune will both relax and engage you with its tranquility.









Lyne

With its beautiful yet simplistic interface, Lyne is all game and no fluff – players are presented with a grid with different shapes on it, and have to connect the identical ones with no intersections between the paths. It sounds simple, and it almost is, but in time it introduces a few new gameplay ideas which considerably increase the difficulty. The magic lies in the details – audio and visuals alike use minimalism as a means to put player focus entirely on the gameplay, while level progression is immediate and uninterrupted. It features a huge number of designer puzzles, along with daily new procedurally generated ones. If your idea of relaxation involves lots of brain-twisting puzzles, then we heartily recommend this game.









Thomas Was Alone

A puzzle platformer exclusively featuring moving rectangles, Thomas Was Alone manages to nevertheless be an enthralling exercise in amazing storytelling and gameplay. The game's plot revolves around the emergence of artificial intelligence, and is told by a brilliant narrator, who manages to breathe life into what are otherwise a few simple geometrical shapes. Each character plays somewhat differently from the others, with players having to use teamwork to reach a level's goal, making this something of a modern successor to the excellent The Lost Vikings.









World of Goo

Another title from the creators of Little Inferno, and also one of the original indie darlings, World of Goo still stands today as one of the hallmarks of its genre. The game's objective is to build a structure out of sentient goo balls, which will then get sucked into a pipe in the sky. This is made hard by the constantly squirming goo balls, along with the hazardous terrain they are most often found in. Still, the game strikes a firm balance between goofy fun and slow yet relaxing challenge. Beautiful backdrops are featured throughout the title, along with an amazing soundtrack and a surprisingly deep storyline. The most important thing about World of Goo, though, is that it's an excellent video game experience that will surely put you in a good mood.









Neko Atsume: Kitty Collector
One of the most surprising hits in mobile gaming, Neko Atsume is literally a game about collecting cats. It offers little in terms of gameplay – you can put toys and/or food outside and then you have to wait for the cats to start trickling in. Once they come, the player is only allowed to take a picture of them, and that's about it – collecting all the different cats is the closest thing to an objective the title has. Yet, tapping into humans' primal urge to pet all the little kitties seems to have worked wonders – in fact, the game has gotten so popular, a feature film based on the property is coming out this year.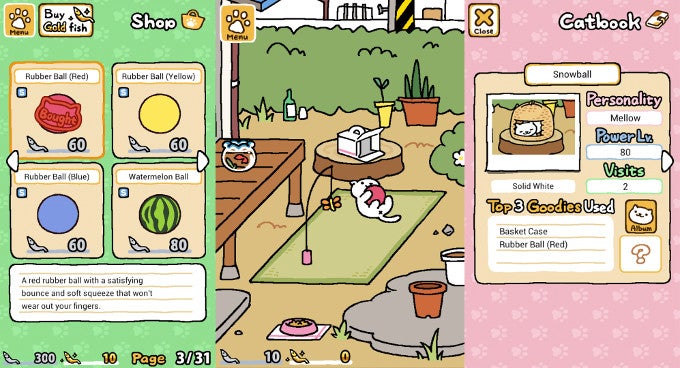 Mini Metro
If you've ever played a management game and found yourself wishing it didn't have so many unnecessary menus and features, then Mini Metro might just be the perfect fit for you. The gameplay takes place entirely on a subway map, in which the player connects differently-shaped stations however they see fit, so long as passengers can arrive at their destinations. In time, the city starts opening up new stations, which, too, must connect to the network, increasing the complexity of the level. The game is almost purely gameplay, with a minimal presentation underlining the important and focusing the player's attention on a single objective. We recommend Mini Metro to players who like brain teasers and don't mind a little chaos, as both of these things feature heavily in the game.
English Country Tune
Perhaps the hardest game on the list, English Country Tune looks like a simple Sokoban clone at first, but quickly evolves into something unique, adding the third dimension into the mix. The graphics and sound are simple yet beautiful, while stage names such as "Larva" and "Whale" evoke a subtle feeling of something living. Be warned, however, as the title becomes devilishly tough somewhere around the middle, so if you don't like challenging puzzles, other options might be better for you.
Download for iOS
KAMI

Describing itself as a "paper puzzle game", KAMI is a simple title with an extremely pleasing presentation, and an art style resembling a stack of colored paper which folds unto itself. The soundtrack, evoking the image of an early summer morning in a Japanese cherry tree garden, considerably adds to the overall calmness of the game's atmosphere. The title asks the player is to cover a grid with a single color with as few moves as possible, and that's pretty much it for the game. However, it does so in a stylish and compelling package, which hooks the player almost immediately.