10 of the most memorable BlackBerry smartphones of all time
15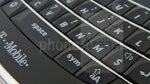 Unless you've been hiding under a rock the last couple of days, you've probably been hearing left and right about some exciting news out of RIM's camp. Now that BlackBerry World is in full swing, we're hearing about some new products that will hopefully put the veteran smartphone maker back on track to the positive. Before we get all excited about these
forthcoming BlackBerry 10 devices
, we have to look back at some of the legacy smartphones that made an indelible impact for RIM.
Interestingly enough, the modern BlackBerry first started out strictly as an email/messaging device – with no voice calling capabilities whatsoever. So yeah, it's almost unbelievable to see how far we've come since those olden days. Over time, RIM's BlackBerry devices were outfitted with an arsenal of features to round out their prestige amongst the competition. From SureType keyboards to trackballs to touchscreens, we've seen an extensive line of devices that cater to a wide range of people. Initially, business/enterprise users were the primary targets for RIM's smartphones, but as we've come to expect, they eventually branched out to the bread and butter everyday consumer.
With that, let's revisit 10 of the most memorable BlackBerry smartphones of all time!