10 free iOS 8 widgets for your iPhone
25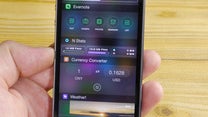 So, you've downloaded your iOS 8 update already, haven't you? Or perhaps you're holding on to your freshly unboxed iPhone 6? Well, we bet that you're eager to see what you device is capable of. Alright! Then let's talk about widgets.
Without a doubt, support for third-party widgets is one of the most exciting things about iOS 8 – with them, the platform is now more customizable and more functional than ever before. You can put all kinds of neat tools in your notification panel, from calendars and calculators to system monitors and shortcuts to various functions.
But don't take our word for it. Instead, grab your iPhone or iPad and go get some widgets from the App Store. Many are already available for download, either as new apps or as part of already existing software. And if you're having troubles finding them, here's a list of 10 free iOS 8 widgets that we tried and liked.