Oculus Quest 2 long-term review: still worth it?
3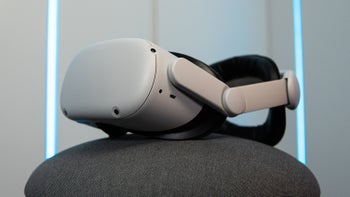 The Oculus Quest 2 remains by far the most popular VR headset even in 2023, and for good reason – it's the most affordable one; and further saves you money by not requiring you to own a gaming PC.
It's a standalone gaming VR headset that runs its own fork of Android, has its own game library, and can tether to your PC only optionally. So it's the best of both worlds, right?
What we have here is our long-term Oculus Quest 2 review (now called Meta Quest 2), following me using it over a period of two years for gaming, movie streaming, web browsing, and even game development.
Should you still buy the Oculus Quest 2 today? How well does it hold up over time? We'll answer those, and many more burning questions for you VR enthusiasts right here… Let's go!
Jump to:
Specs
Quest 2 specs
Type of headset
Standalone
Can tether to a PC via AirLink / Quest link / Virtual Desktop
Display technology
LCD
Display resolution
1832 x 1920 pixels per eye
Display refresh rate
60 - 120 Hz
Peak brightness
100 nits
FOV (field of view)
~89°
IPD range
56 - 70 mm
Sound
Stereo speakers
Positional audio
3.5mm headphone jack
Storage
128GB or 256GB
Non-expandable
RAM
6 GB
Processor
Snapdragon XR2
GPU
Adreno 650
Battery size
3640 mAh
Battery life
1.5 - 3 hours
Charging time
2.5 hours
Operating system
Based on Android 10
Cameras
4 infrared cameras (monochrome)
Can be used for passthrough
Connectivity
USB-C
Bluetooth 5
Wi-Fi 6
Weight
501 g (1.10 lbs)
Controllers
Use replaceable AA batteries
Non-rechargeable / no built-in battery
Customization
Head strap is replaceable
Face cover is replaceable
Includes spacer for users with glasses
Price
$399.99 for 128GB
$499.99 for 256GB (currently discounted at $429.99)
Announced
September 16, 2020
Release date
October 13, 2020
Design and Build Quality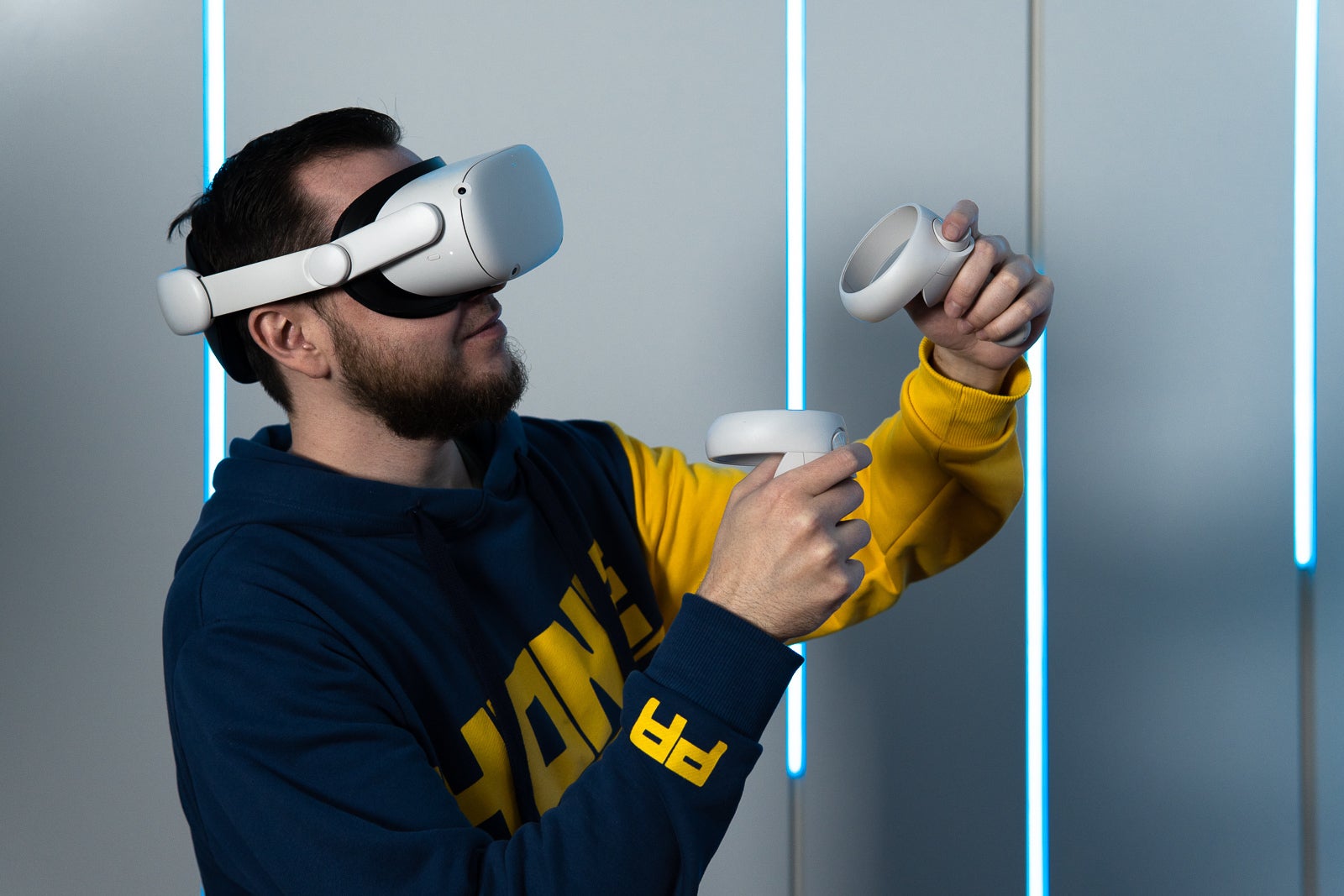 Oculus Quest 2
Meta clearly attempted to make the Quest 2 look friendly, simple and minimalist, and that it does. It's made out of matte plastic that feels good, not cheap, and while some may find it a bit too simplistic and lacking character – I'm personally fine with this design.
The build quality has been reliable over the years, except for one glaring issue I personally had with my unit – above the lenses there's a very thin piece of plastic holding the strap that goes over the user's head, so when you're adjusting your fit, it can break. And mine did, without me really pulling on it that hard, even. Here's the result: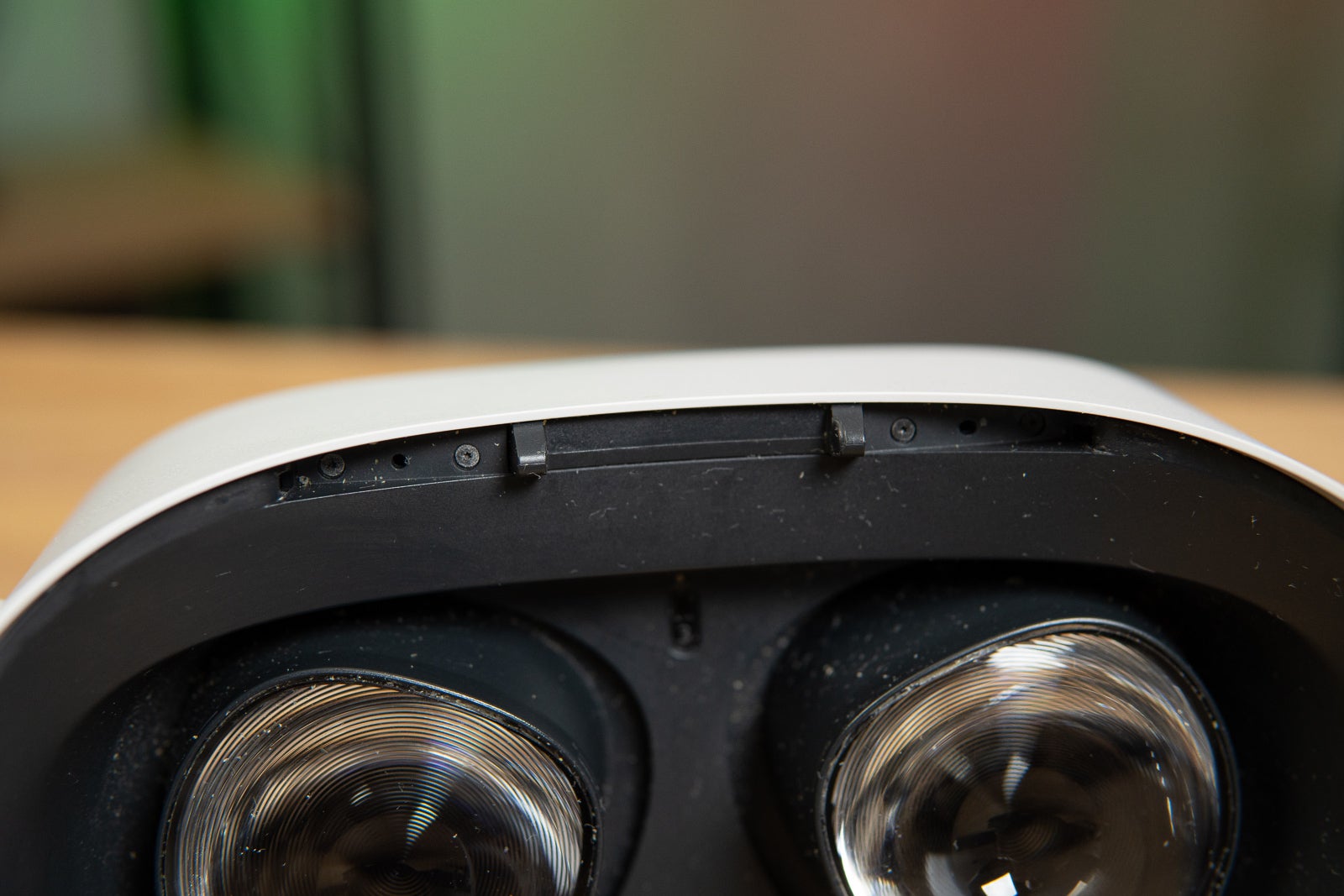 Oculus Quest 2's overhead strap holder broke on me; maybe thin plastic wasn't a good idea?
Although this is the only part of my Oculus Quest 2 to break, it has made my user experience vastly less comfortable. Not only can you not replace or "fix" this part, but I had to buy a third party strap that holds on tighter to make up for the fact that I don't have an overhead strap now, to keep the headset from pressing down on my face as I wear it. Not great!
To be fair, apparently most users haven't had that issue, but just know to be careful when you're adjusting your strap. Otherwise, the build quality has been excellent.
And vital (comfort-wise) parts you don't like can be replaced – such as the face cover, which as you can see below I've replaced with a breathable, fake leather one. And the strap, of course. If you like using your headset in bed, keep the original thin and unobstructive strap that comes with your Quest 2, but if you want something more adjustable like the one I have here (Kiwi Elite Strap) – there are many third party options to choose from.
So you can really modify the Oculus Quest 2 to your heart's content, and it can be a fun process.
But if you just want to use it as is and not really bother changing anything – you'll be very happy with its build quality, original face cover and strap, as they are. Just, again, don't tug on that strap too hard…
Picture quality and IPD adjustment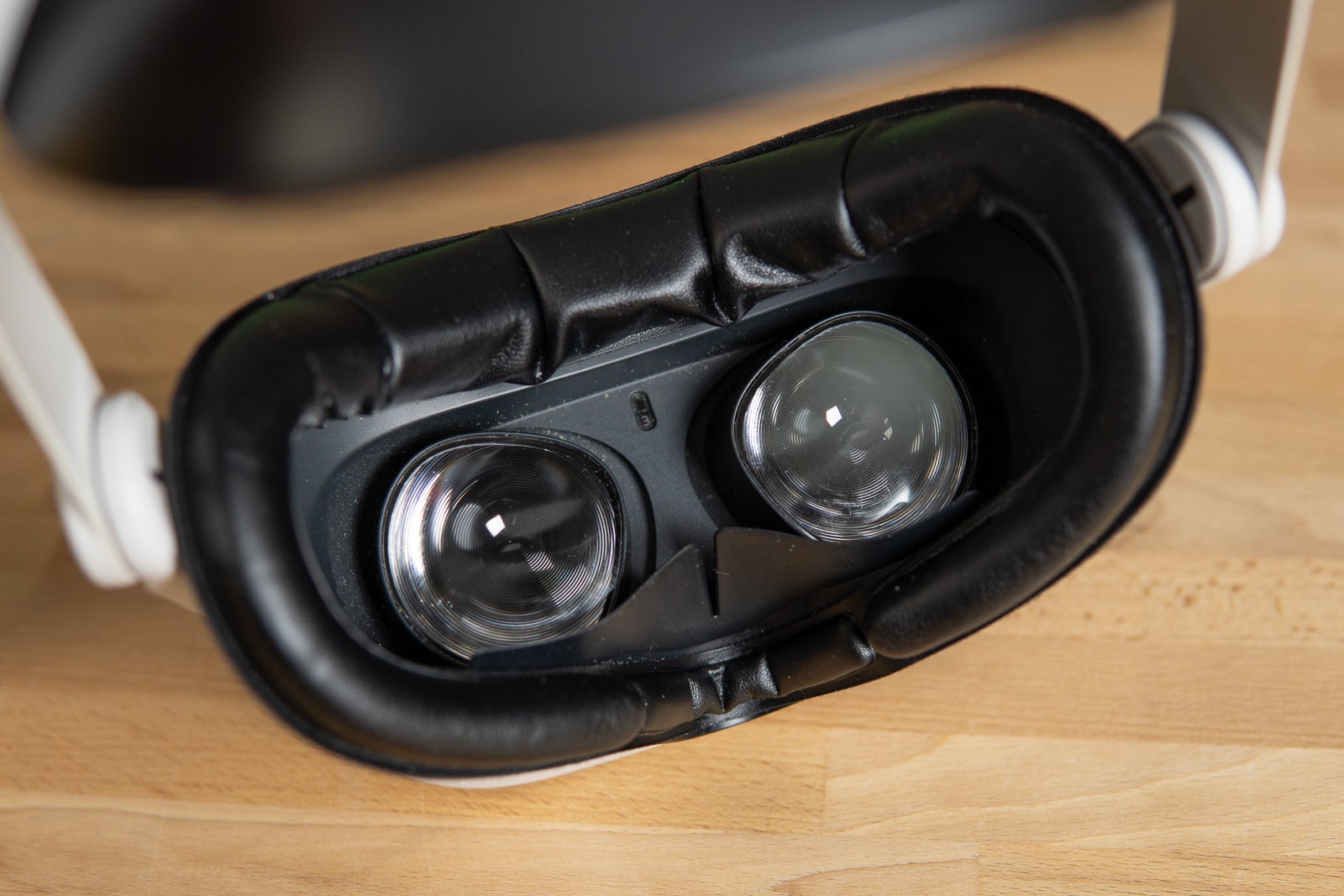 Oculus Quest 2's lenses are adjustable to fit different IPDs
The Quest 2 uses an LCD display that can refresh at up to 120 Hz, and offers a resolution of 1832 x 1920 pixels per eye. This gobbledygook means that we actually have some really nice display specs for what's technically a budget VR headset.
A refresh rate up to 120 Hz means everything you see on screen can move way more smoothly than what a generic 60 Hz display offers, immersing you more into your games and tricking your brain better that you're in a virtual world. With a slower refresh rate the pictures on screen would change ever so slightly slower, enough for your brain to be like "this is fake, and I'm dizzy now."
The Quest 2 is also considered a "nearly 4K" VR headset, which means its display is high resolution, offering sharp and clear picture quality. There is no screen door effect visible either, which lower quality headsets tend to exhibit due to their individual pixels being too far apart. The only thing that occasionally bothers me is a slight rainbow effect near the edges of the lenses; with the image being perfect only smack down in the middle of them. It's hardly noticeable during gameplay, but it's there.
We also have a fairly narrow FOV (field of view), meaning the lenses are a bit smaller than what you may get on, say, a Valve Index VR headset. A small (around 89°) FOV, like we have on the Quest 2, means the lenses don't cover a lot of your vision, and thus don't immerse you as well as bigger lenses, with a bigger screen behind them, could. Again, this is something your brain eventually tunes out, especially during gaming sessions, but Meta sure should consider increasing the FOV on the Quest 2's successor.
Now let's talk about IPD, which is very important. What's IPD? It stands for (Inter Pupillary Distance), and it means the distance between the centers of your eyes. It's important for a VR headset to support several distances, accommodating as many people as possible, and the Quest 2 does – if your eyes are around 58 mm, 63 mm or 68 mm apart – this headset should be comfortable for you to use. You can adjust its lens spacing between those three options, and I personally find that 68 mm is closest to my IPD.
If your IPD is way lower or higher than what the Quest 2 supports – unfortunately you're out of luck here. My IPD is actually around 70 mm, which is higher than what Meta's headset supports, so occasionally I'll notice discomfort, as one of my eyes doesn't get a lens perfectly in front of it, but slightly to the side, and thus it sees a blurred image.
Here's hoping Meta supports a higher IPD range with the upcoming Quest 2, but in all fairness – the Quest 2's IPD range is already larger than what most other headsets support.
And speaking of eye comfort, the Quest 2 comes with an optional plastic separator part that can keep the lenses a bit further from your eyes, so you can wear glasses while gaming. It's also a bit of a hack to use this separator if your IPD is larger than the recommended, as at least in my case – it helps me a bit.
Performance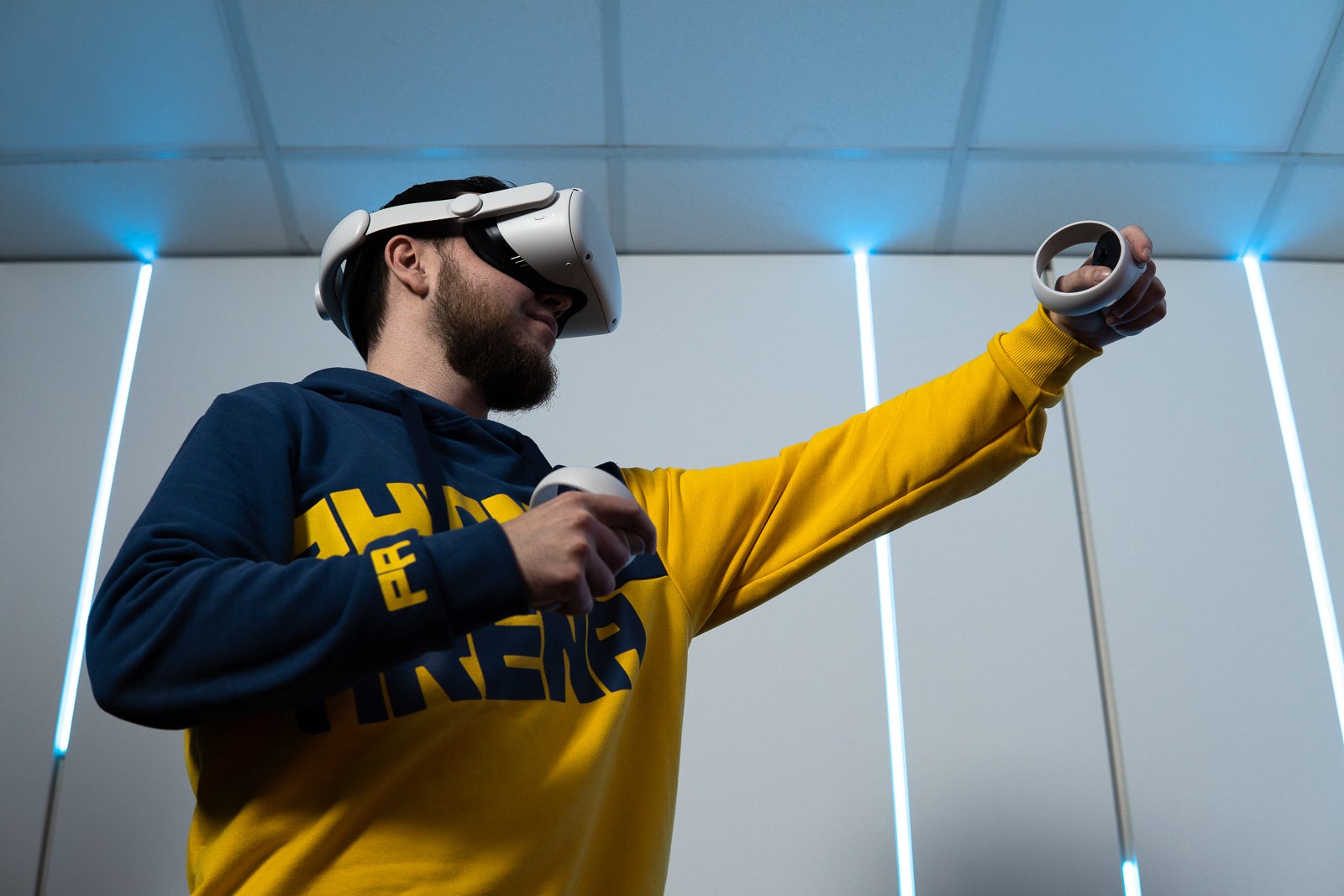 Oculus Quest 2
A very, very simple way to explain the Quest 2 would be to call it a smartphone with lenses. Because it's not only running the Android operating system, like most smartphones in the world, but it's powered by a smartphone-class processor – the Snapdragon XR2. And 6 GB of RAM.
The specs don't really matter as much as the actual usage experience, and – the performance on the Quest 2 is good. It boots up quickly, it opens games quickly, and since all games in its library are optimized for it – you shouldn't notice any lag, ever. I know I haven't.
So we do have great performance on this standalone headset, and that's not just impressive, but extremely convenient. Again – you don't need your own, super expensive, VR ready gaming computer to play VR games if you own the Quest 2 – it's completely standalone, and good at it.
In fact, Meta eventually started utilizing its 6 GB of RAM by offering multi-window multitasking! Indeed, you can enable a feature where you get to open, say, three web browser tabs at the same time, all visible in your field of view – and the Quest 2 handles even that well.
User experience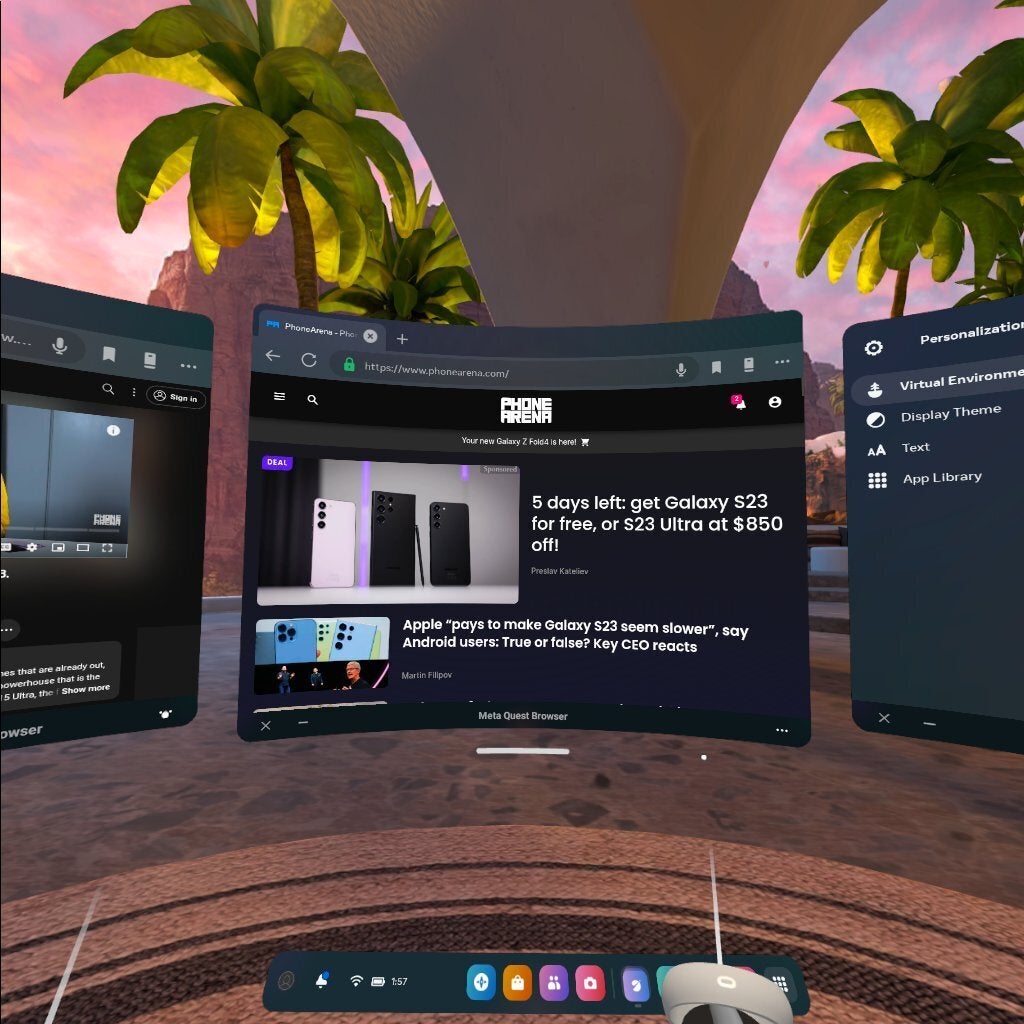 Watching a video, browsing a website and going trough the settings menu at the same time! The Oculus Quest 2 user interface is really good
Prepare to read some complaints here. While I do admire how often Meta tries to push out cool new features for the Quest 2, it seems like with every (completely automatic and silent) update we get more bugs, or old ones remain.
Indeed, the Quest 2 may be the buggiest device I've ever used, and even if you only plan on playing games not doing anything even remotely more complicated – you'll face a bug occasionally.
Whether it's the headset randomly shutting off on its own, because maybe the sensor between its lenses is failing to detect if you're wearing it or not, or the entire user interface refuses to show up, or AirLink doesn't work until you reset the device – power users should expect to go through a learning curve of bug avoidance and fixing. The Quest 2 can be frustrating sometimes.
In all fairness, at the time of writing this long-term review, two of those three main bugs I personally faced have been fixed, with the AirLink one still remaining.
So I'm not going to lie – the user experience is a bit of a mess sometimes, and not something you may expect to see from a giant corporation such as Meta. Regardless, any bugs you may or may not face are easy to go around – usually a quick reset of the device (hold the power button for a few seconds) will do it.
Other than that, when it all works – the user experience on the Quest 2 is actually amazing, and super exciting. Because you not only get a web browser and optional multitasking, but a ton of fun experimental features to play around with. You can even enable Passthrough – which turns your Quest 2 into an AR headset, kind of. A black and white, grainy AR headset, but AR nonetheless. So whether you like tinkering with your device, or you only want the basics – besides the occasional bug, the user interface and experience are pretty great.
Content library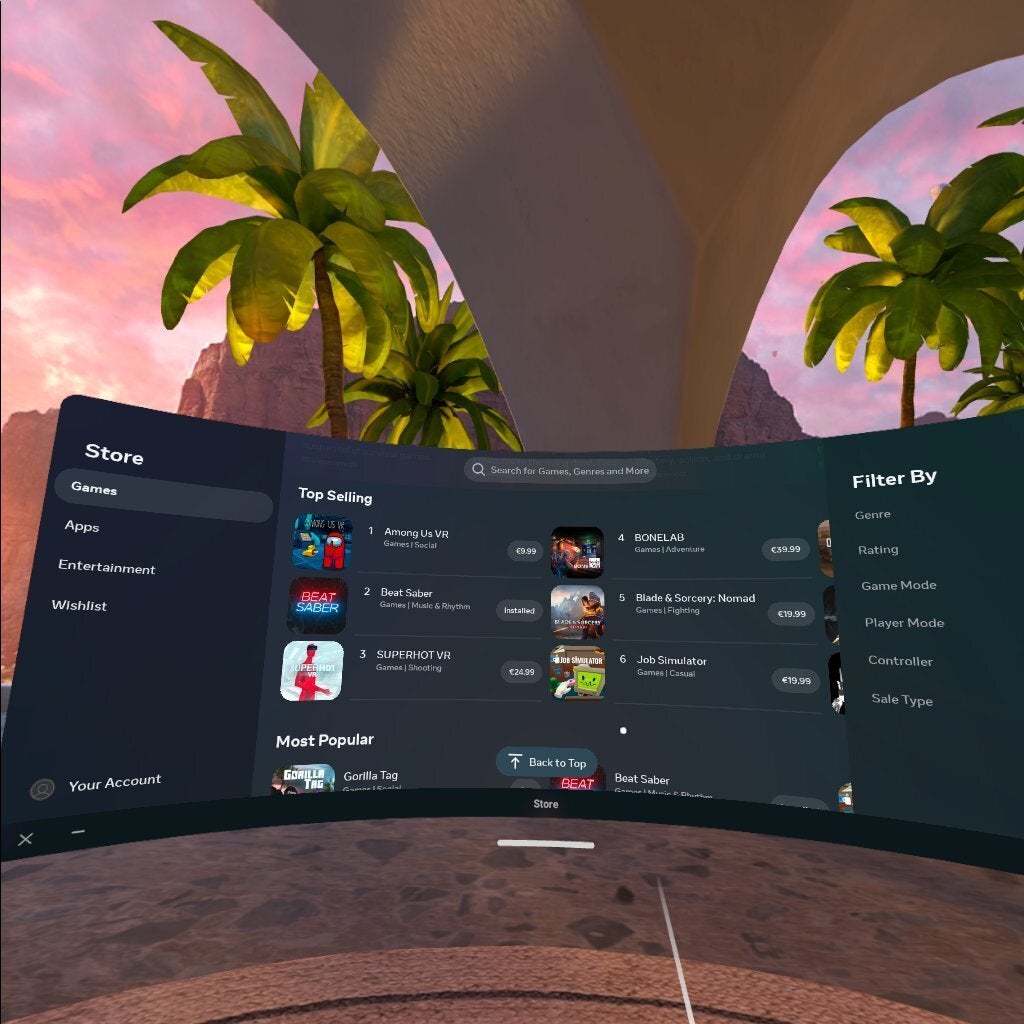 The Oculus Quest 2 app store, showing its current best-selling games
As a standalone VR headset, the Oculus Quest 2 has its own app store, similar to how your phone has an app store. It's called the Oculus Store, and that's where you head on over to buy your games and apps. And there are a lot of them.
Beat Saber, Among Us VR, BONELAB, Job Simulator, The Walking Dead: Saints & Sinners, Superhot VR, GORN, I Expect You To Die, Sniper Elite VR – some of the biggest, most popular VR games are available on the Quest 2's app store, optimized for that particular headset, ready for you to just download and play them – no PC required.
Besides some really tripe-A VR games you may have heard of, such as Half-Life: Alyx and Skyrim VR, pretty much everything else you may want can be bought from the Oculus Store and played on your Quest 2.
Indeed, the Quest 2 has a massive library of games, but that's not all – it also has countless useful apps too!
Netflix, YouTube VR, DeoVR, are just some of the most popular video-watching Quest 2 apps you can download. There are also fitness apps and games, web browsers and other productivity apps; pretty much anything you can think of.
And if that's not enough, if you actually do have a good gaming PC at home, you can always pair your Quest 2 with your PC and play PC VR games on it too, such as the aforementioned Skyrim VR, for example. I do that all the time using the AirLink feature. Let's talk about that…
PC tethering / AirLink / Link Cable
AirLink on the Oculus Quest 2 is incredible. Besides being a standalone headset, AirLink turns the Quest 2 into a traditional PC-tethered VR headset, except without the cables! It's a completely wireless connection, and with no noticeable latency either!
It uses your Wi-Fi connection, so it better be fast, though. And it's working really, really well – a true game changer in PC VR gaming, I dare say.
To get AirLink working you need a capable PC running Windows, and to download the Oculus App. Then you either use a wireless connection (AirLink) or a wired connection (Link Cable) to connect your Quest 2 to your PC, and off you go playing computer VR games too!
Overall, over the years I've used the Quest 2, AirLink has consistently remained my most cherished feature of this headset. And although it doesn't get the same update treatment with new features as the core standalone software, and yet it does feature some bugs, I consider it among the Quest 2's biggest pros, over any other VR headset.
Controllers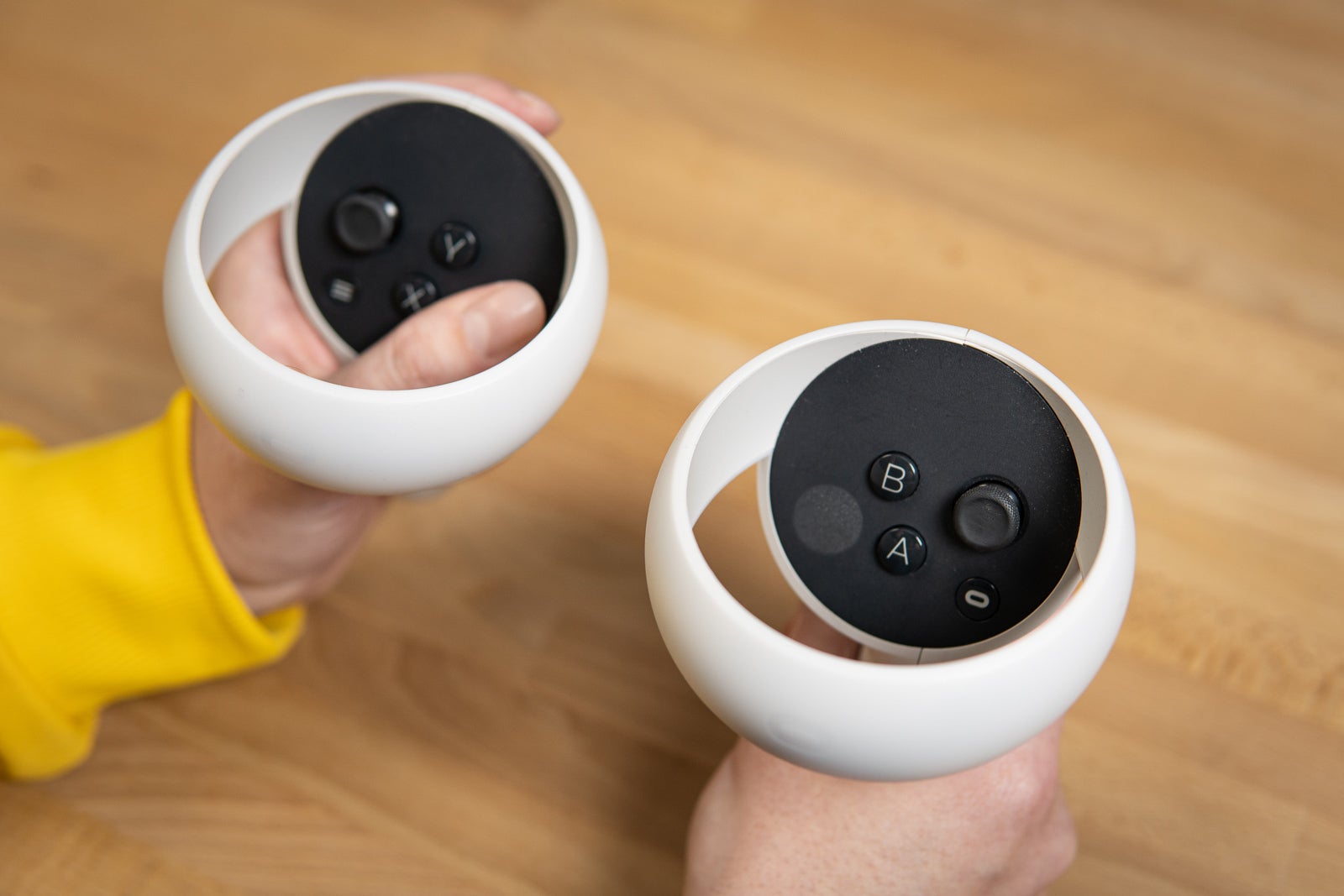 Oculus Quest 2 controllers
The Quest 2 controllers are nice, light and comfy. Besides the obvious joystick and buttons, they have touch-sensitive pads; so even if you rest your fingers in a certain position, the headset can detect it.
While the controllers remain perfectly functional years later, their one major con is that you need to swap their AA batteries all the time, as they do not have built-in rechargeable batteries. Clearly this is a cost-saving measure, and it makes sense in a budget VR headset, especially when everything else about the Quest 2's controllers is anything but budget-feeling.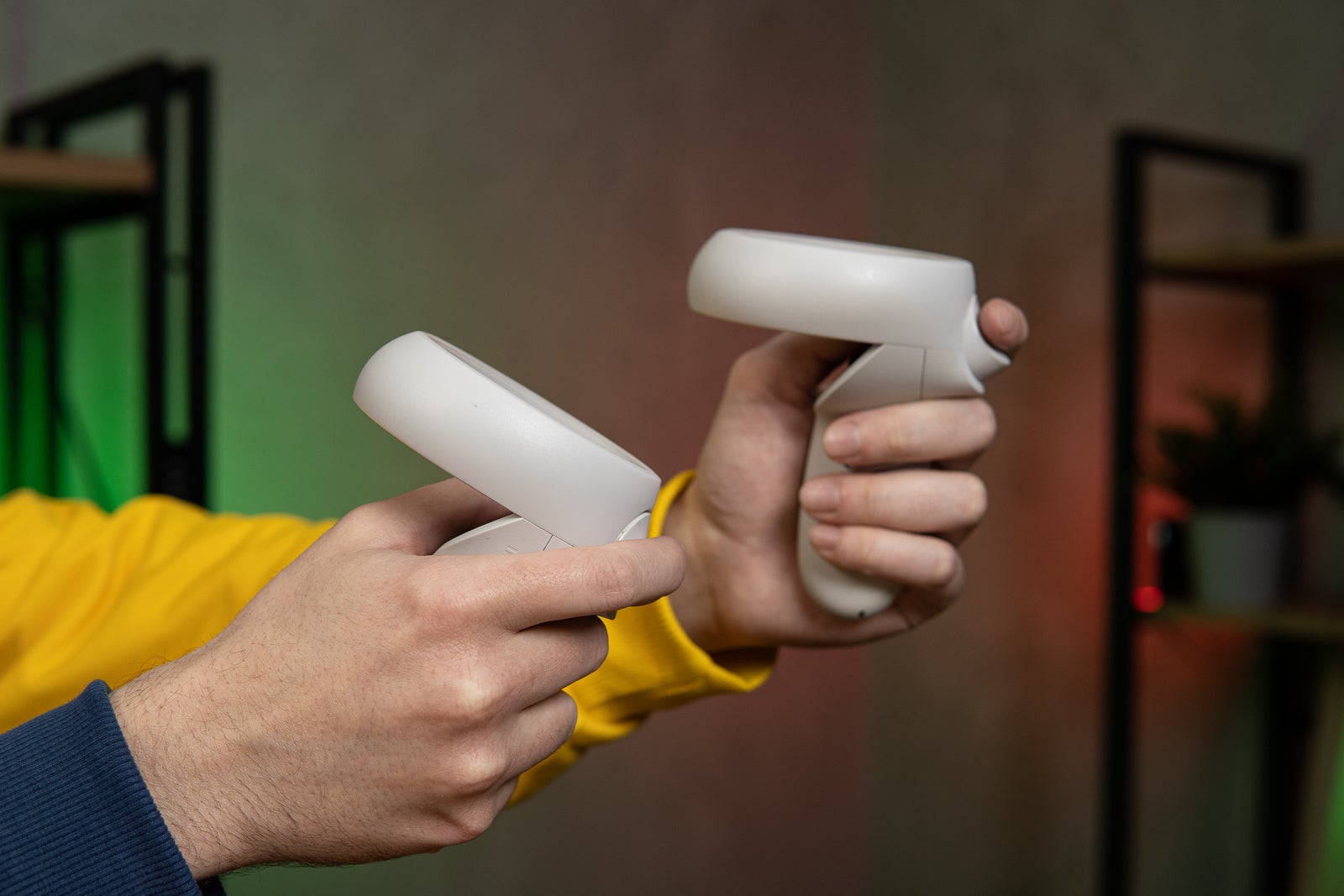 Oculus Quest 2 controllers
Their tracking of your hands' position and even your finger gestures is very good, and I've never had a single issue while playing games. Overall – nothing to complain about here; just be ready to buy alkaline AA batteries from time to time.
In my experience, a good alkaline AA battery can keep a Quest 2 controller going for at least half a month of daily gaming, or more if you're playing less often. But don't go for cheaper non-alkaline AA batteries, as those may last you as little as a single week.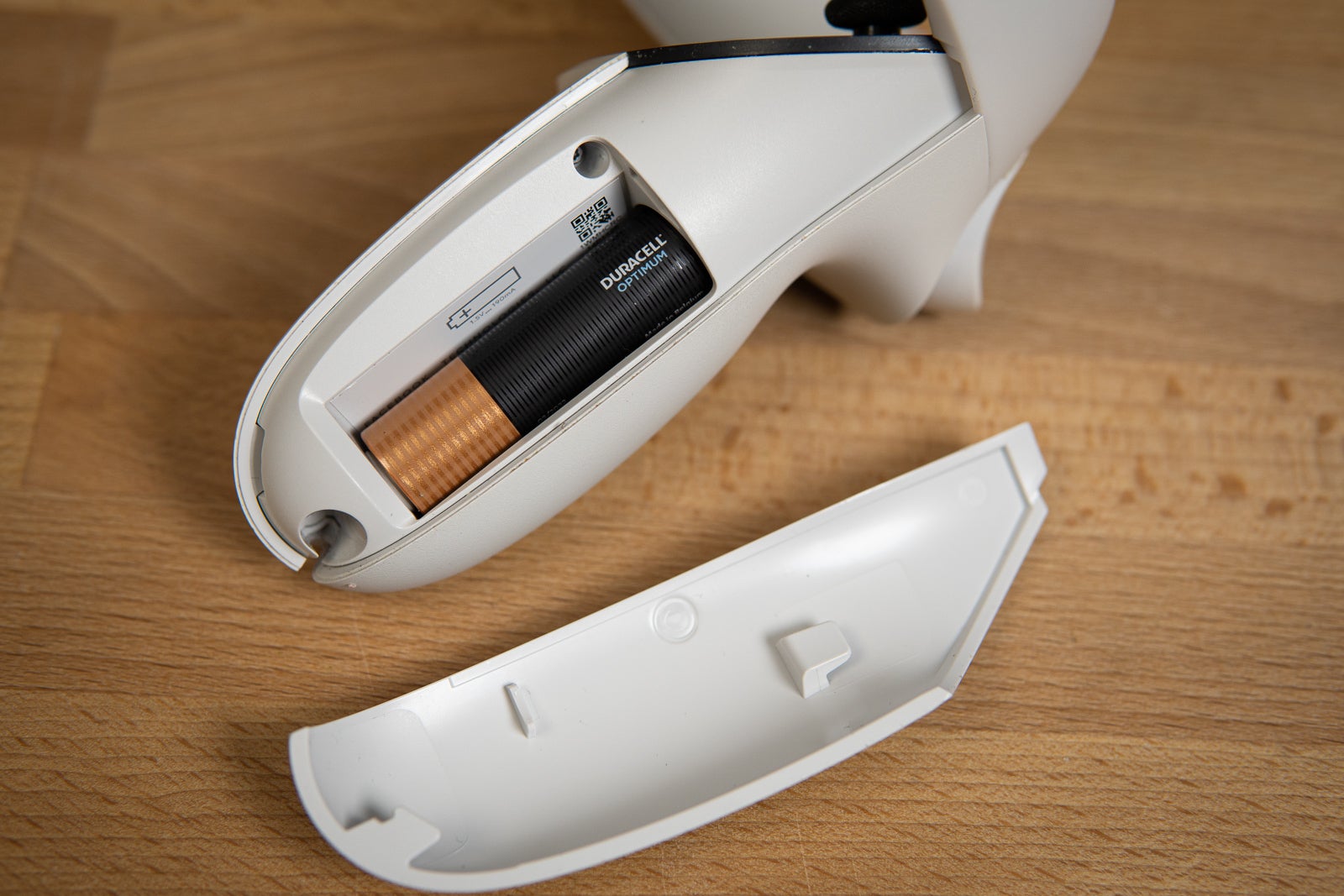 The Oculus Quest 2 controllers use AA batteries
An issue I started having over time with my Quest 2 controllers is joystick drift, and while I wouldn't consider it major, it is worth mentioning. Occasionally you'll press, say, the joystick upwards to scroll a menu up, but when you release it it will false-detect a downward press also, scrolling back down. Quest 2 joystick drift, or controller drift, as it's called sometimes, appears to be common, and not just my problem, but the good news is that it hardly ever affected my gaming experience. It's just an occasional annoyance, and clearly something Meta needs to address.
Battery life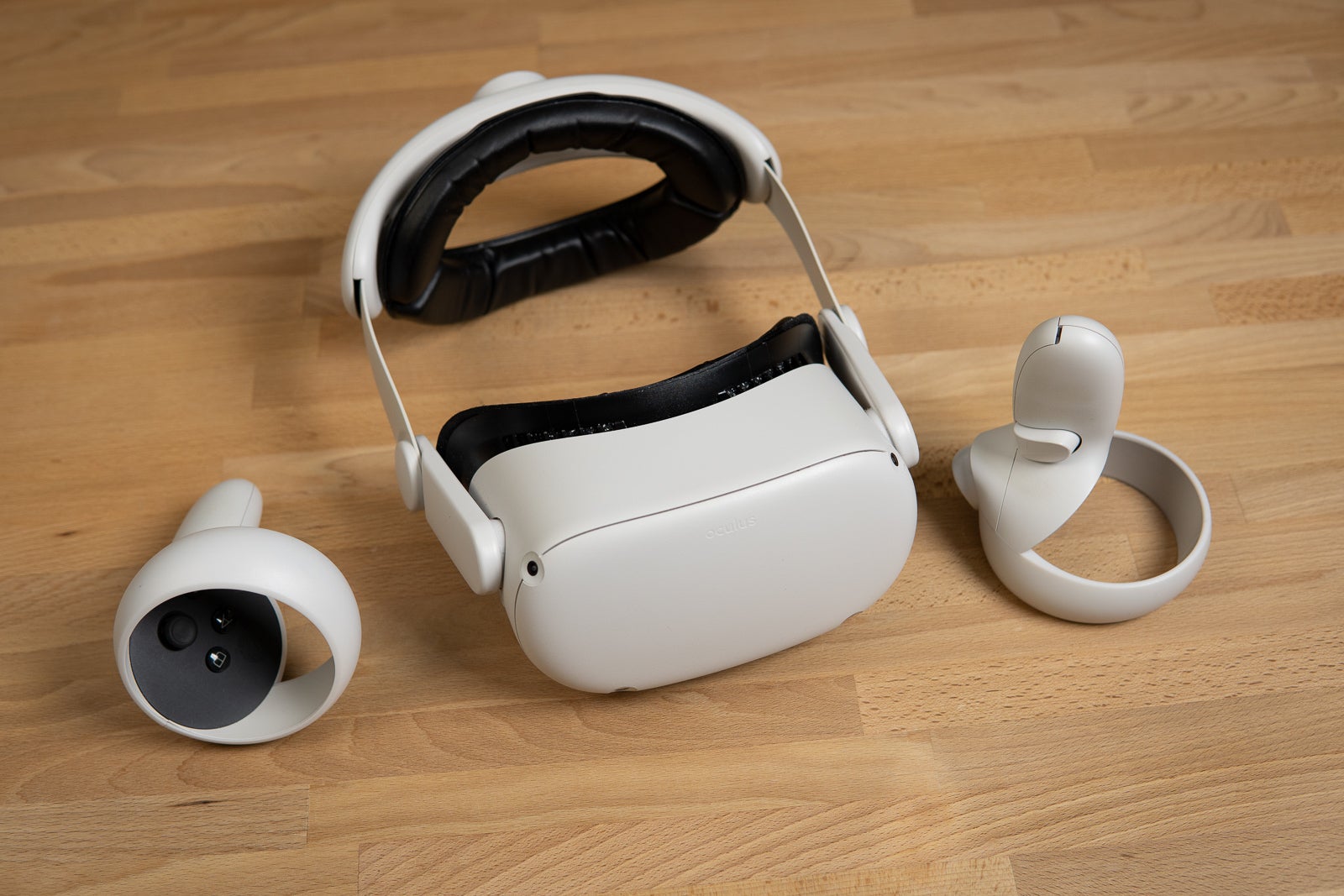 Since we have a standalone headset here, it does have a rechargeable battery inside, which charges via USB Type-C, just like the average modern smartphone. Charging is fairly quick, usually taking less than an hour, so that's good news.
As for how long the battery lasts on a charge, you'll hear 2-to-3 hours, but in my personal experience, it's normally less than 2. If you're just playing Beat Saber or another Quest 2 game – expecting about 2 hours is reasonable.
However, if you use AirLink like I do, the battery life takes a hit – lasting me an hour and a half at best, so in those cases I just keep it plugged in. That's always an option if you don't mind the cable.
I haven't noticed any battery life degradation over the years, so that's good news. Nearly two years later, my Quest 2 appears to hold a similar charge to what it did when it was new.
Value for Money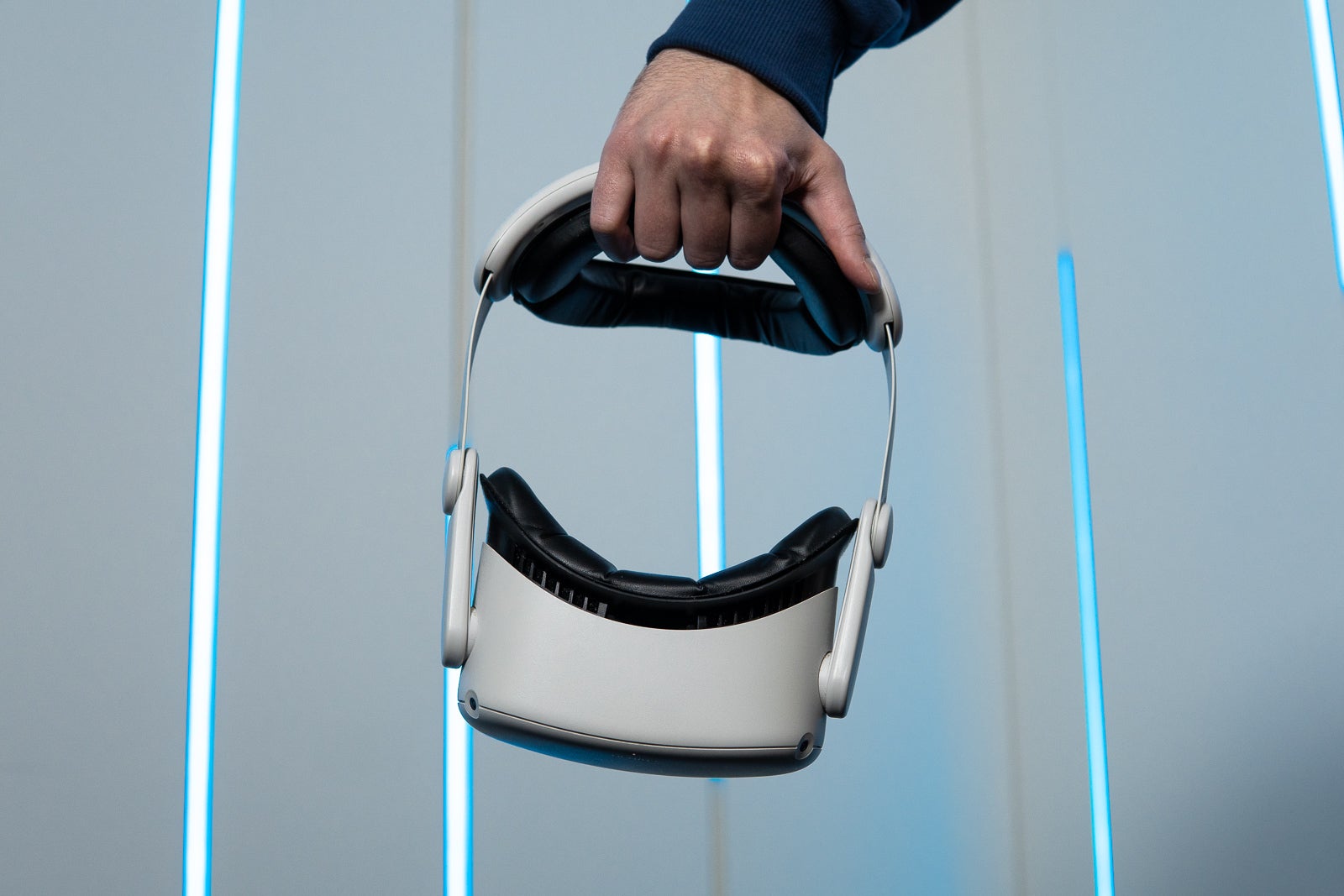 Oculus Quest 2
This is a big one, and hard to argue with – the Oculus Quest 2 is great value for the money. It not only saves you from having to buy an extra expensive gaming PC, because it does all the work on its own, but the Quest 2 is the most affordable headset of the mainstream bunch at just $399 for its base model with 128GB of storage, or $499 with 256GB of storage.
It's hardly going to be a regrettable purchase for anyone, so if you're looking into trying out VR for the first time, pull the trigger on a Quest 2 and enjoy. Despite being a budget headset, it's actually arguably the best one too, due to its great display, awesome speakers, huge library of games, and my personal favorite – AirLink.
Verdict
The Quest 2 is still definitely worth it in 2023. Although occasionally a bit buggy, it offers both an unrivaled experience as a standalone headset, and as a wireless VR headset for your PC. Considering it's budget price (at least in the realm of VR headsets), this is the easiest VR headset to recommend right now, and will remain as such, perhaps until its successor, the Quest 3, comes around.
Whether you're the most casual gamer out there and you want something simple, affordable and easy to use to get into VR gaming, or you're a hardcore PC gamer, or perhaps just a VR enthusiast... in any of those scenarios, the Quest 2 is worth it.
Is the Quest 2 comfortable to wear for long periods of time?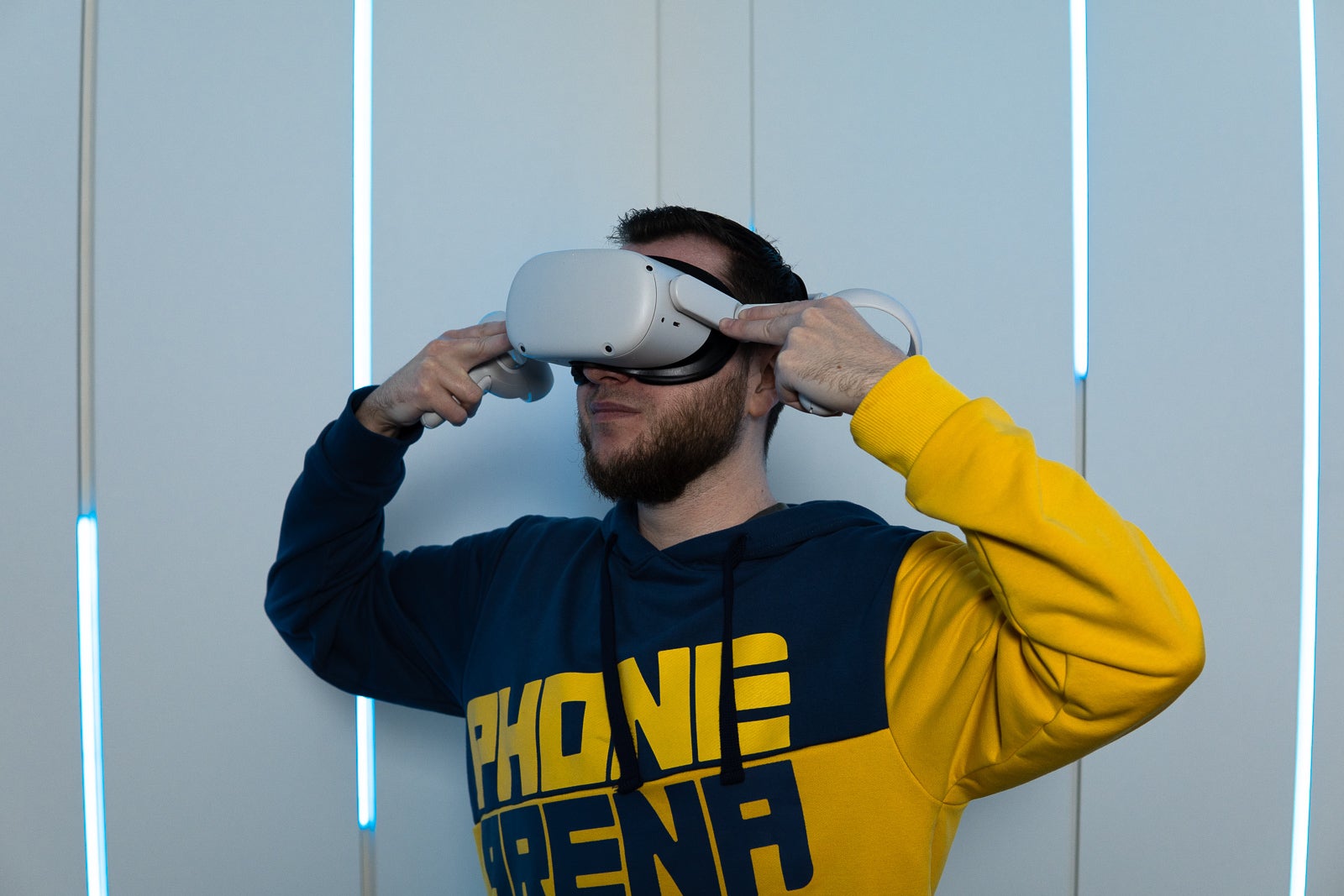 Indeed it is. Weighing about 503 grams, the Quest 2 isn't the heaviest headset out there, despite the fact that it packs a built-in battery and other extra tech that helps it work as a standalone device.
The Quest 2 remains comfortable to be used for many hours on end, and you can always get different face covers and head straps to make it even better for yourself, however you see fit.
The only potential comfort issue stems from the plastic piece that holds the top strap. If it breaks, as it did in my case, the Quest 2 becomes more front-heavy and uncomfortable, pressing down on your face more. But if you're careful – this shouldn't happen to you.
Are there any common issues or bugs that users should be aware of when using the Quest 2?
It's hard to list common bugs, as they get fixed reasonably quickly. The one I face most often is AirLink refusing to pair with my PC for no clear reason. Restarting the Quest 2 (by holding the power key for a few seconds) fixes the issue, but it is frustrating to do at least once a week, and wastes time.
Another issue I often had until recently was the user interface not showing up, again requiring a reset. To be fair, it appears Meta have fixed that one.
What kind of accessories or add-ons are available for the Quest 2, and are they worth the additional cost?
The most popular Quest 2 accessories you may want to look at are third party face plates and head straps.
A face plate is a replaceable piece of soft material that presses on your face when you put on your headset, so it's important for it to be comfortable and breathable. I've personally replaced mine with a fake leather, breathable one, and am happy with it, although the face plate that comes with the quest is perfectly adequate too, so you may prefer to keep that one.
A new head strap is what I presume you're more likely to want eventually, as third party options are more adjustable and rigid, which some gamers may prefer. They're indeed worth the extra cost if you believe they'll bring you extra comfort, and they're actually not that expensive.
Replacing your Quest 2 face plate or head strap is easy to do on your own too, by simply unsnapping them from the headset and snapping the new ones.