Best Oculus Quest 2 games: top VR games for short and long-term fun!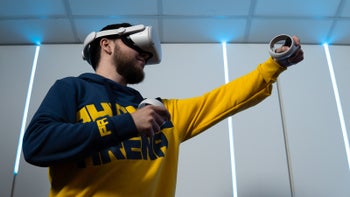 VR gaming has gotten more and more popular over the last three years, and the
Oculus Quest 2
(now Meta Quest 2) is a huge reason why.
Affordable, standalone, and with a huge library of games – the Quest 2 is easily among the
best VR headsets
to get right now– great for both hardcore gamers and newbies looking to get into VR for the first time, preferably on a budget.
Now, that huge library of games for the Quest 2 can be intimidating, though, especially if you're new to VR gaming. Which games should you buy? Which games are great to start with? A lot of them are experimental and in genres that are hard to define, and some can be pricey, so you better know it'll be worth it, right? We're here to help!
Welcome to our list of the best Quest 2 games to get right now in 2023! Starting with the most universally acclaimed, must-have casual VR game…
Top 8 Oculus Quest 2 games
Jump to:
Beat Saber
Casual, rhythm game
Content rating: PEGI 3
Price: $29.99, has optional in-app purchases
This is a game that keeps on winning, it keeps getting new content in the form of music packs to this day, and has no sign of stopping anytime soon. Perfectly adapted for VR, Beat Saber is a must-have for any Quest 2 owner, especially new ones.
In Beat Saber your goal is to use lightsabers, normally one in each hand, to slice down cubes flying towards you, all synchronized music. The game has many songs to start you with, and each can be counted as its own level – usually separated in what we can call sub-levels (easy mode, hard mode, single-hand mode – lots of ways to experience those songs).
If slicing through cubes along the beats of songs sounds simple – well, it's not. This is a game that starts fairly easy, and even so – it can be tricky for a VR beginner, but as time goes on, you'll be amazed at the insane complexity of its later stages-slash-songs, and how quick and good you're getting!
There's nothing more satisfying than perfectly nailing a song, even if it does require lots of trial and error, and fails are basically mandatory.
As you can probably guess by now, this makes for a very addicting VR gaming experience, which is also quite the workout too! And in a few weeks, when you've exhausted the available songs – again – Beat Saber gets new song packs all the time.
Including popular modern music too, so your favorite labels, pop or hip-hop artists probably have a Beat Saber song pack you can buy separately!
And if you ever start feeling lonely, there's always online multiplayer to try out! You'll be paired with other players around the globe at your skill level, and you'll all compete against each other. While the game starts, there's a cute loading screen where each of your characters can wave and gesture to each other, which I've always found pretty wholesome. Wave back, don't be rude!
Resident Evil 4 VR
First-person shooter (FPS), survival horror
Content rating: PEGI 18
Price: $39.99
And from casual we jump straight into the opposite! In case you want a more long-term VR gaming experience as opposed to short bursts of casual play, then you should definitely consider Resident Evil 4 VR.
As the name suggests, this is a VR remaster of the original Resident Evil 4 – a first-person survival horror game, so it's not for kids! PEGI 18!
In this game you're in the shoes of Leon S. Kennedy, who's on a mission to rescue the President's daughter from a creepy cult. If you've watched the recent Last of Us show, what you'll encounter is somewhat similar – people infected by a mind-controlling virus, who won't hesitate to attack you unless you shoot first!
If that's the kind of intense adventure you're interested in going on in virtual reality – definitely give this game a go!
POPULATION: ONE
First-person shooter (FPS), online battle royale
Content rating: PEGI 12
Price: free, has optional in-app purchases
Ever wanted to play something like Fortnite or PubG in virtual reality? Well, those games may not be in VR just yet, but Population: One is, and it's very similar in concept.
Join your squad in a wide variety of competitive PvP and PvE modes, including some super popular ones right now – battle royale, user-generated sandbox modes, team deathmatch, or even single player, if you're not feeling social or just want to learn the mechanics in peace.
For any fans of the many, insanely popular battle royale games right now, this is the game you'll want to start your VR quest with – it offers all the best features from traditional battle royale games, but… well, in virtual reality!
SUPERHOT VR
First-person action / puzzle, single player
Content rating: PEGI 12
Price: $24.99
Don't be fooled by the simplistic visuals, this game is crazy fun! It's not your traditional first-person shooter, but a time-slowing puzzle game, where everything moves only when you move.
With that in mind, you're supposed to neutralize enemies in different scenarios, using your time-bending skills and, what's just as fun – physics! Shoot, throw things at your enemies, the sky's the limit!
There's a free demo on the Oculus Quest 2 store to sell you on it, which I recommend, as the best way to see how fun this game is, is to experience it yourself. It's quite unique!
It's also one of few games to support the Quest 2's optional 120Hz refresh rate feature, so if you want to see how smooth your VR experience can get, this is the game to test that with.
Now, it's important to note that this is a fairly casual game. There's not exactly any realistic violence, as enemies break like glass sculptures, and there isn't any long-term objective or story to get involved with. If you want a casual, fun, yet unique VR game to play in short bursts – Superhot VR deserves your attention.
The Walking Dead: Saints & Sinners
First-person shooter (FPS), survival horror, single player
Content rating: PEGI 18
Price: $39.99
You don't need to be a Walking Dead fan to enjoy this game! Like the Resident Evil game we mentioned earlier, here you're thrown in the middle of a zombie infestation, and you have your weapon and quick reflexes to rely on to survive.
It's not a kids game, and it's not exactly a casual experience either; more of a standard game you'd play on your PC on console, but translated to VR! So if that's what you're looking for – something more engaging, then grab your gun and a bag full of grenades, and jump straight into the action!
Travel through what's left of a zombie-infested New Orleans and either shoot your way through the gnarly monsters or sneak around carefully. Scavenge for supplies, meet factions of other survivors, make difficult plot-changing choices, and find out what kind of a person you'd become in a crazy situation like this!
Oh, and on a side note, if you've ever wondered which Quest 2 game has the most realistic graphics, well, this one is quite a contender for the winner, or at least the top 5!
BONELAB
First-person shooter (FPS), action adventure
Content rating: PEGI 16
Price: $39.99
Physics, physics, physics! Get ready to have a ton of fun with physics in this virtual reality game! Fight enemies, trek and survive through crazy locations, solve puzzles, and again – all whilst making use of this game's fantastic physics engine.
And this is not just a crazy fun and engaging game, but it looks really good on the Quest 2 too, so if you not only want to have a good time, but impress your friends and introduce them to VR with a bang – yeah, go for this one!
Do keep in mind that it's one of the bigger Quest 2 games, and will need just over 7GB of storage available, but in most cases, unless you've transferred actual movies onto your VR headset, it's fair to say you'll have the space needed for it.
But just in case, if you need
help to clear storage on your Quest 2, read here
.
GORN
Action, fighting, single player
Content rating: PEGI 18
Price: $19.99
Get ready for ultra violence! Ever wanted to let out some steam without going to jail for it? Well, VR games like this one can help with that.
Definitely only for adults, GORN is a "ludicrously violent VR gladiator simulator" that relies on a great physics-driven combat engine, to let you destroy your opponents in the most graphic ways you've ever seen.
And for a price like that (well, lower than most Quest 2 games on that level) it's hard to beat as one of the most ridiculous, yet oddly addictive, grand VR experiences you can ask for on your standalone VR headset.
But again, seriously – it's not for kids. Don't be fooled by the cartoony graphics, this game goes hard.
Among Us VR
Casual, multiplayer
Content rating: PEGI 7
Price: $9.99
If you thought most games on our list, and most games in general, actually, are a bit unsuitable for young kids – nobody will blame ya. However, we won't be glossing over how popular (and child-friendly) Among Us is, and more importantly – that it now has a VR version!
Yes, that Among Us you've seen kids talk about and probably play quite often, can now be played in virtual reality, on your Quest 2, and it costs just a penny under ten bucks too.
Who's sus? Well, jump into this online game with your crew and start doing your chores to keep your spaceship running. But oops – one (or more) random players among your crew are Impostors aiming to sabotage things, and kill everyone! And it's up to you to find out who that is, before it's too late.
Factors to consider when choosing Oculus Quest 2 games
Is it age-appropriate?
This isn't exclusive to VR games, but games in general – if you're buying games for your child, you should definitely take a look at its PEGI rating on the Quest 2 store, which we've also included here for each game on our list.
A lot of modern games can get pretty violent, contain profanity, or at the very least show some kind of cartoon violence, that may still be unacceptable to some. So if buying for a young child or teenager – be sure to check each game's rating and watch its trailer to get a good grasp on what to expect from it, before doing so.
Price.
Obviously, right? Quest 2 games can get quite expensive, about as much as you'd expect to pay for a triple-A PC game or a console game, so choosing the best ones for yourself, and only pulling the trigger on those would be a good strategy here.
To be fair, we also have some super fun, yet affordable games available, or even free ones (albeit with optional in-app purchases).
Casual or time-consuming?
What's casual? Well, those are games that provide short bursts of fun without having any storylines for you to keep up with. A good example would be Beat Saber – a superb, casual VR game where your play session can be as short as 2-3 minutes, which anyone has time for!
On the other side of the spectrum we have more engaging, story-driven games that expect you to put in more of your time into them. An example would be Resident Evil 4 VR, which is basically a normal survival horror adventure game, but in VR. Again, games like that one expect you to put in more time into them.
So what kind of games you want to lean on depends on how much spare time you actually have to play, or perhaps which way your attention span leans. Personally, I tend to play casual VR games on my Quest 2 during the week, as I'm short on spare time; but on weekends, I may purchase more engaging and plot-driven games to play for a few hours.
Single player or multiplayer?
Another thing to consider is whether you prefer to play a single player game, meaning you're the only human involved, or a multiplayer one – meaning against (or with) other human players such as yourself.
VR can be a fantastic social experience, and even casual games like Beat Saber offer optional multiplayer modes, so don't shy away from trying that out! But if you prefer to have fun on your own – that's cool too, just be sure not to accidentally get a multiplayer game (e.g. POPULATION ONE).
Obviously multiplayer games also require a reasonably fast and reliable internet connection, so that's something to keep in mind, while single player games usually don't need internet at all.
Gameplay mechanics and physical activity.
Certain games can get very physically intensive (e.g. Beat Saber), needing you to have not only enough physical space to wave your arms around, but indeed – lots of burst movement!
Now that can be considered some great cardio, but not everyone may be up for it. If you wish to relax and play VR games sitting down, you'll perhaps feel more comfortable going with a single player first-person game instead.
Graphics and sound.
While I personally don't find graphics to matter too much, especially when it comes to Quest 2 VR games, people care about visuals, so if you're one of them – you should at the very least check out a video trailer before you buy a game.
Video trailers will show you exactly how that game looks, just keep in mind that the Quest 2 is basically running on smartphone hardware, so it can't possibly pull off the kind of graphics a VR game running on a gaming computer can offer.
Even so, the Quest 2 has a lot of graphically impressive games for you to explore, if that matters to you.
As for sound – the Quest 2 has amazing speakers, and it's important for games to make good use of it. Beat Saber, for example, does – the game features awesome music, and that music is the driving force in the game, so everything clicks beautifully. You'll get a workout in and enjoy some intense tunes!
Other games, particularly the online battle royales we have on this list, make use of sound differently. Those have positional sound that can help guide you during gameplay. Explosions, gunshots, and other sounds will come from various directions you'll need to be aware of to survive and win!
What Oculus Quest 2 games to expect in 2023?
Something I'm still upset about is that Meta CEO Mark Zuckerberg promised us a Quest 2 VR version of Grand Theft Auto: San Andreas. Can you imagine how cool that game would be in VR? Unfortunately, that was back in 2021, and we still don't have a GTA VR on the Quest 2.
Will we see it in 2023? I'm staying hopeful, but we're short on any official news or even leaks about it…
On the plus side, there are games we know for sure are coming on the Quest 2, including a new Ghostbusters game, a new Fruit Ninja game, and if you've watched the Netflix show – just recently we even got a Peaky Blinders game.
Peaky Blinders: The King's Ransom was released on March 9 for $29.99, and it's a VR interactive adventure game featuring the characters from the show.
Guardians Frontline is another new game that just came out on the same day for $24.99, and that one's a pretty intense action strategy. Stay tuned for more Quest 2 games coming out later this year!