Meta's Quest Pro is already getting a massive $500 price slash
2
We may earn a commission if you make a purchase from the links on this page.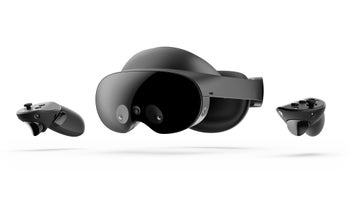 Late last year Meta released a $1,500 "Pro" VR headset carrying the Oculus name, which, unlike the Meta
Quest 2
, was not targeted at gamers, but at people looking to work, get creative, and collaborate in VR and AR.
However, it appears that the target niche of businesses and individuals willing to spend that kind of money on the Meta Quest Pro is even smaller than the Facebook-owning company initially thought.
At least that's what it looks like, judging by the fact that the Meta Quest Pro is now already discounted to just $999.99, and not just on Meta's own store either. That's a huge $500 price cut!
In our list of the
best VR headsets
we listed the Meta Quest 2 as number one for good reason – it's very affordable, versatile, and thus – it keeps enjoying success and introducing people to VR nearly three years after its original release.
Meanwhile the aforementioned Quest Pro is merely 5 months old, and Meta is seemingly already changing its mind on whom it's targeting it to, and for how much.
The good news is – if you're a VR and AR enthusiast, you can now have it for a much more reasonable price! Because despite its questionably niche target audience, the Quest Pro does have plenty of exciting features.
It's slimmer, lighter, and has a sharper display than the Quest 2, while also packing higher-res passthrough, and in color! Not to mention the higher internal specs that power this headset, such as the Snapdragon XR2+ processor and 12GB of RAM. That's double the RAM of the Quest 2, which bodes well for things like multi-window multitasking.
There's also facial expressions tracking on board for those of you who are really into the Metaverse, and social VR apps in general. Your digital avatar can be way more expressive, imitating your real-life facial expressions closer than ever.
However, if you're not a developer or a die-hard tech enthusiast, and you just want to do some VR gaming and not waste more money than you have to… Well, the Quest 2 remains the easier option to recommend. As to where the Quest Pro will keep heading, that's anyone's guess.