Samsung Galaxy Z Fold Lite release date, price, features, and news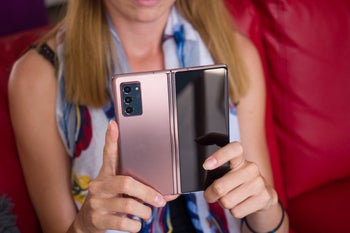 The
Samsung Galaxy Z Fold 2
was arguably the most exciting smartphone of 2020. It improved on the first generation
Galaxy Fold
in many ways, most notably by introducing a better, sturdier hinge, getting a larger external display and removing the notch from the inner folding display. But one area where
Samsung
could still have improved upon, in order to make this exciting folding smartphone more accessible to the general consumer, was its starting price of $2,000.
In early 2020
we began hearing rumors
claiming that a cheaper version of the Z Fold is planned to come out. Will it be a more affordable, slightly downgraded version of the Z Fold 2? When will it get a release and how much would it cost? Let's try to answer these and other burning questions by looking at all the information we currently have on the upcoming Galaxy Z Fold Lite.
Samsung Galaxy Z Fold Lite Release date
The "budget" version of the Galaxy Z Fold foldable phone is currently expected to be announced shortly after the upcoming
Galaxy S21 series
Unpacked
event. This would suggest an early 2021 release, possibly in March.
It's still not for certain whether this smartphone will be named "Galaxy Z Fold Lite". Among its possible names is also "Galaxy Z Fold 2 Lite" or "Galaxy Z Fold 3 Lite".
Samsung Galaxy Z Fold Lite Price
Although the Galaxy Z Fold Lite's price is arguably the most important thing about the phone, there's little reliable information to suggest just how much cheaper it will be than the $2,000 Galaxy Z Fold 2.
According to a fairly early rumor coming from
SamMobile
, based on a report out of South Korea, the Galaxy Z Fold Lite might be as affordable as $900. Another early rumor suggested a price tag of $1,100. While the truth likely lies somewhere in the middle, a $999 price tag is our current best bet, at least until more leaks pour in. Stay tuned for updates.
Samsung Galaxy Z Fold Lite Specs
As its name suggests, the Galaxy Z Fold Lite will have downgraded specs from the Z Fold 2. It's not unreasonable to expect it to be similar in design and specs to the original Galaxy Fold, though this is only speculation, at least at the moment. Currently, this is what we can expect from the Galaxy Z Fold Lite, in terms of specifications:
7.3 or 7.6-inch foldable display
4.6-inch external display
8 or 12 GB of RAM
64 or 128 GB of base storage
4380 or 4500 mAh battery
No stylus support
Samsung Galaxy Z Fold Lite Design and Display
It's plausible that the Galaxy Z Fold Lite may share the same design with the original Galaxy Fold, or at best, the Z Fold 2. In both cases, this means a solid, premium glass and metal build. Although if Samsung cuts costs by re-using the 2019 Galaxy Fold design, then we can expect its large notch on the folding display to make a return.
Currently, the Galaxy Z Fold Lite's external display is expected to be somewhere around 4.6 inches in size, far smaller than the Z Fold 2 and again, similar to the original Fold. The foldable display itself is speculated to be between 7.3 and 7.6 inches in size, which is still reasonably close to a small tablet, such as the iPad Mini 4. In any case, both displays are expected to remain OLED, thus featuring great colors and contrast. We're yet to see whether the folding display will remain 120 Hz or see a downgrade in its refresh rate, possibly to a more standard 60 Hz.
Samsung Galaxy Z Fold Lite Camera
Currently, nothing is known about the camera situation we're to expect for the Galaxy Z Fold Lite. The Z Fold 2 had a healthy amount of cameras, five in total – three in the main camera module and two punch hole selfie cameras. Samsung may reduce costs by removing one or both of its selfie cameras, or reducing the triple main camera module to only a single camera. Optimistically, we can presume that (most of the) the Galaxy Z Fold 2's cameras will make a return, those being:
Two 10-megapixel selfie cameras
12-megapixel main camera
12-megapixel telephoto camera
12-megapixel ultra-wide camera
Samsung Galaxy Z Fold Lite News