Verizon Wireless CDM8975 Review
3

Introduction:
It has been almost eight months since Verizon re-launched its PTT (Push-To-Talk) service with the introduction of the Motorola Adventure and rugged
Casio G'zOne Boulder
, with both using the more advanced EVDO Rev A network. Now a third contender has entered, the Verizon Wireless CDM8975, manufactured by Pantech. It is a basic PTT device, lacking some of the higher-end features of its rivals, such as a QVGA display and 2MP camera (
Adventure
) or water and shock resistant (Boulder). Because of this, the CDM8975 is geared more to the home (non-business) consumer, who is looking for a basic PTT device.
The retail box includes:
CDM8975 phone
1100mAh battery with cover
wall charger
user manual
Design:
Unlike the Boulder and Adventure, which standout in a crowd, theCDM8975 does not. This is mostly due to the lack-luster black plasticthat is used throughout the device, except for the unmistakable orangePTT button on the left side. This also holds to the
overall cheap-feeling construction
,with crackling noises being produced just by holding the phone in yourhand, let alone opening and closing the flip. This is a far cry fromthe
Boulder's tank-like construction
. Located on the front is a
small 1" 96x96 pixel color display
, which is no larger than a postage stamp. Below it are
music control buttons and stereo speakers
. Located along the sides you'll find the volume rocker, speakerphone,camera, and voice command buttons, charging/data port, 2.5mm headsetjack, and microSDHC slot that accepts up to 8GB memory cards. The1.3MP camera is on the back, right above the battery cover. Unfortunately, the charging port uses a proprietary design, which meansyou have to use the included wall charger and will also have topurchase a special data cable for a PC connection. We're not sure whymicroUSB is not used, as most other phones have moved to that standard.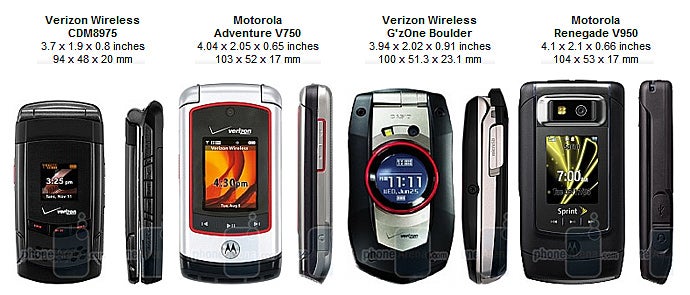 You can compare the Verizon Wireless CDM8975 with many other phones using our
Size Visualization Tool
.
Opening the flip reveals the
2" 176x220 pixel internal display
, which is capable of producing 262K colors. Even though it is rather bright, it still looks washed out in direct sunlight, and the quality is not up to the QVGA displays used on the
Adventure
and
Boulder
. The circular d-pad is of average size, and we didn't have any problems using it. The white backlit numeric keypad has larger buttons than the competition, and was actually easier to use than the Boulder or Adventure. They also provide a nice "click" sound and good feedback when pressed.