Verizon Network Extender Review
30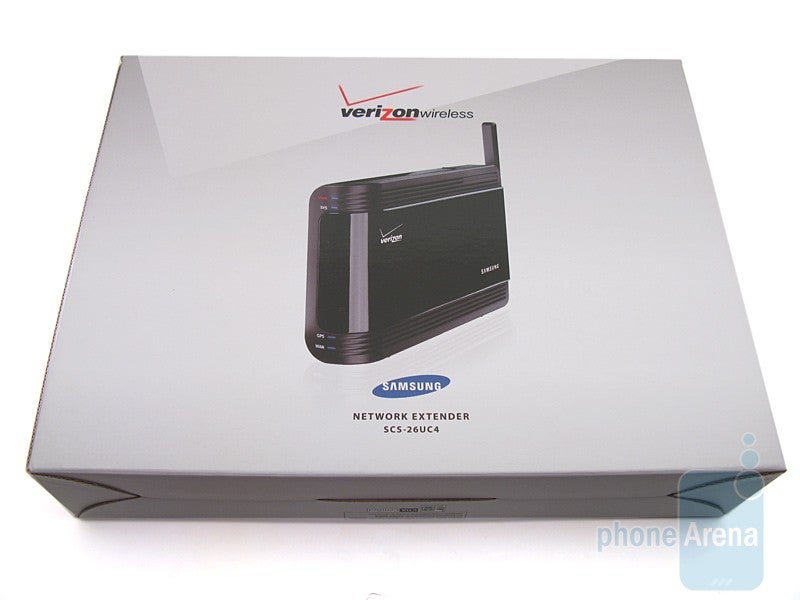 Despite the ever-growing population of cellular towers, there are still wireless customers that feel left out, as they get poor signal reception in their home or office. Because of this, Femtocell was invented, which basically is a miniature cell tower that you can setup in your home or office. Last year we reviewed the Sprint version, called the
AIRAVE
, and now Verizon has released their Network Extender, which is almost identical. The main difference between the two is that the AIRAVE cost $99 for the hardware, plus $4.99 monthly access fee, with the option of unlimited calling for an additional $10 (single plan) or $20 (family plan) per month. The Network Extender cost $249 for the hardware and there is no monthly access fee, but doesn't offer unlimited calling. This means that customers will continue to use their plan minutes while using the Network Extender.
The device is pretty straightforward to set-up, as it can connect to a router or directly to a cable modem via CAT5e Ethernet cable. We would like to have seen it connect wirelessly to our router via Wi-Fi (in similar fashion as the Verizon Hub), but that is not an option. Once connected, it takes about 15 minutes for it to become operational, and there are four lights (Power, SYS, GPS, and WAN) that will eventually turn Blue to indicate it's ready for use. Just like with the AIRAVE, there is a built-in GPS receiver that limits its use to only the U.S. and also provides your location to E911. The manual recommends placing the Network Extender near a window so that it can lock on the GPS signal. But in those instances where the GPS light stays Red and cannot find a signal, there is a 23-foot extension cable that will allow you to remove the GPS module and place it closer to a window. In out testing, we did not need to use the extension cable, as it was placed only a few feet from a window.
In order to have a phone initially connect (or pair) to the Network Extender, it is recommended to be within 15 feet, but we were able to connect up to 50 feet away. You verify your connection by dialing #48 on your phone and listening to the recording, but there is also a double-beep heard in the earpiece when a call is placed. Up to three phones can be connected to the Extender at once, with a fourth channel left open for E911 use. By default, it will allow any Verizon phone access (within range), but you can limit the access to only certain phones by going to the My Verizon site and entering up to 50 phone numbers. If your neighbors happen to be Verizon Wireless customers, and could possibly connect to the Extender, this is an ideal situation to restrict the access to only your phones. After our
Motorola V9m
was powered up and did a quick "searching for service", we saw that it was getting 4 solid bars, instead of the usual 2. We initially tested it in our house on both floors (1500 sq ft) and were able to stay connected. From there we were still able to use it outside and even in our next-door neighbor's house. Call quality was excellent and sounded as good, if not slightly better than when using the local cell tower. In fact, we also noticed that the volume level was louder. If you place a call while using the Extender, then move too far out of range, the call will automatically transfer to a local tower (if there is one available). However, if you place a call elsewhere and then come back into range of the Extender, the call will not transfer to it. EVDO for data is not supported, so if your phone can't pick up a local EVDO signal, it will only connect at 1x speeds.
The Extender claims a 5000 sq ft operating range, but when factoring in walls and other structures, we found the real world range to be closer to 3000 sq ft. Also, since the Network Extender is much closer to your phone than a traditional cell tower, the phone uses less power to receive and transmit, thus providing increased battery time. When going into the service menu of our
LG Versa
, it showed that the signal while using the Network Extender was –50, where the standard signal in our home from the local tower is –85 (closer to 0 is better).
After using the Network Extender with different phones for over a week, we are generally pleased with the range and call quality it provides. Though we wouldn't need to purchase one our self, since we're only a few miles from a traditional cell tower, customers who experience problems picking up a signal at home will greatly benefit from this device. The only two features we found missing was EVDO Rev 0/A for data and that it can't connect via Wi-Fi to a router.
Recommended Stories