Samsung AIRAVE Review
16

As the world becomes increasingly reliant on their mobile devices quality of service has become a great differentiator. "Can you hear me now?" and to a lesser extent "more bars in more places" have become company pillars, but T-Mobile was the first to actively address in-home coverage when they launched their Unlimited HotSpot Calling (ex HotSpot @Home) service nationwide last summer. Sprint has entered the game with a unique offering of their own, the Samsung AIRAVE femtocell. Available now for $99 and $4.99/month, the AIRAVE boosts reception in a small area. Does the service work, and is it worth it? We've been using it for a few weeks now and in short: Yes, but it has some minor drawbacks.
First off, what is a femtocell? Unlike HotSpot @Home, which uses UMA to hand a call off from the GSM tower to a Wi-Fi network, a femtocell actually uses a broadband connection to create signal. You can think of it as a repeater, but in reality it's more like a mini cell-tower since no network coverage is required for it to work. Because of this femtocells offer a distinct advantage over UMA: no special hardware is required beyond the device. Unlike HS@H, AIRAVE is compatible with any Sprint device CDMA device.
Since the AIRAVE creates its own signal you can theoretically use it anywhere in the world, however Sprint has limited the areas where an AIRAVE works with internal GPS. If Sprint is not a licensed provider in a CSA then the AIRAVE will not work. While this is unfortunate, especially for international travelers, it is understandable. Another minor drawback is that the device only does 1x data, as opposed to EVDO. Sprint mentions that it does not support EVDO "at this time," leading us to speculate that a future firmware upgrade may add this functionality.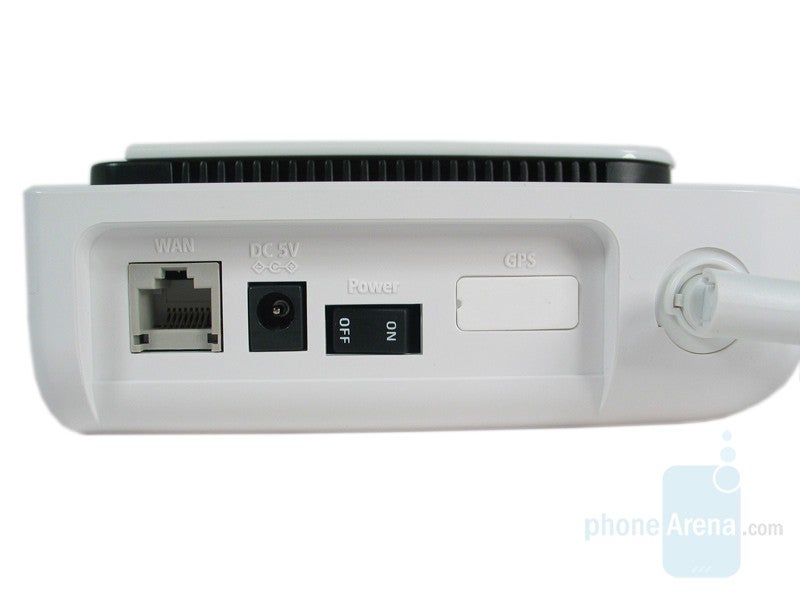 Setup for the AIRAVE couldn't be easier: simply connect it with your existing broadband connection using the included Ethernet cable, plug it in and once it acquires a GPS signal you're ready to go. The manual says it can take up to an hour for the first GPS setup, but ours only took 20-30 minutes, and resets took about 10 minutes. The user doesn't have to do anything though, there are four LED lights and when all are blue the device is up and running and phones automatically connect.
It is recommended that you place the device in a central location near a window, though a 30' GPS antenna is included to add flexibility in device positioning. For our test we plugged it in with our home entertainment cluster (it matches our Wii nicely!), which was near a window so the antenna wasn't needed. It says to plug into a router or modem, but we had it plugged into a wireless bridge with no issues.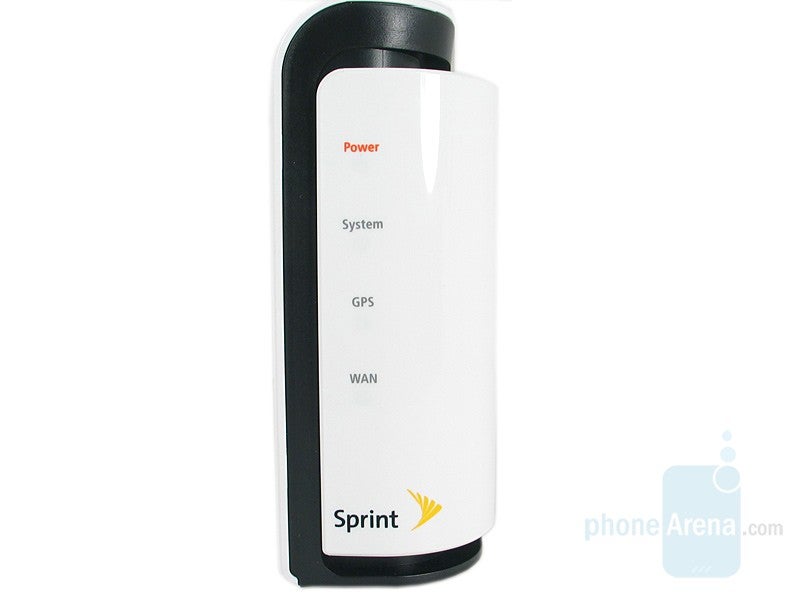 Once the lights are blue you're set, no advanced setup required. Up to three devices can be connected to the AIRAVE at once; excess users will connect to the regular network coverage if available. If a call is initiated on the AIRAVE and the user leaves the area the call will be transferred to the Sprint network, but if the call is initiated on the network it will not transfer to the AIRAVE when the user gets in range. When connected to the AIRAVE the user will hear a small tone when a call connects and disconnects.
Users who wish to restrict access to their unit can register up to 50 numbers via their sprint.com account so only those numbers can use the device. The service itself runs $4.99/month; for individual users an additional $10 will include unlimited minutes while connected to the AIRAVE and families can pay an additional $20 for unlimited calling.
Once the device was running our bars immediately jumped from 2-3 to a full 6. Call quality has always been good, but they seemed to be better on the AIRAVE. For a few days we did experience callers complaining that we were cutting in and out, but in our research we haven't found any other reports of this so it seems to be an isolated incident. On our end sound quality was always excellent. Oddly enough, when on a call connected to the AIRAVE we did notice a slight buzz from nearby speakers similar to GSM phones, but nowhere near as pronounced. For testing purposes we placed our AIRAVE in the far corner of our house, and though the bars weren't full we still got service upstairs on the opposite end. Walls factor in, but in perfect conditions the AIRAVE can cover up to 5000 square feet.
The only real problem we encountered was that battery life was negatively affected, which is the opposite of what we expected. Not only does the AIRAVE increase signal, which causes the phone to work less, but its lack of EVDO should also improve battery life. We had the same Instinct we tested before and found that standby time decreased to no more than two days with zero use, as opposed to over a week without the AIRAVE. From Sprint's AIRAVE FAQ (sprint.com/airave) it says that EVDO data will still pull from the local tower, and we have a feeling that the phone bounces back and forth between the tower and AIRAVE which is draining the battery.
In a perfect world we'd love to be able to use it anywhere in the world and for it to support EVDO data, which should fix the battery issues, but that doesn't mean it's not a great product still. We understand charging for the unit and the unlimited service, but the $4.99 monthly fee is unnecessary. Many customers are reporting that they were not charged for the device if they signed a two year contract, but that is not an official Sprint policy as of now.
Overall we were very impressed with the AIRAVE. It is truly plug and play which eliminates any setup woes for customers. The product works as advertised, and while it's not perfect it is very good. Since it works with any CDMA device there is no need for customers to purchase a special handset, which makes it upgrade proof. We expect to see femtocells from other carriers in the near future, but for now Sprint has a truly unique and innovative product that directly improves service.
Recommended Stories