Under Armour True Wireless Flash by JBL Review
2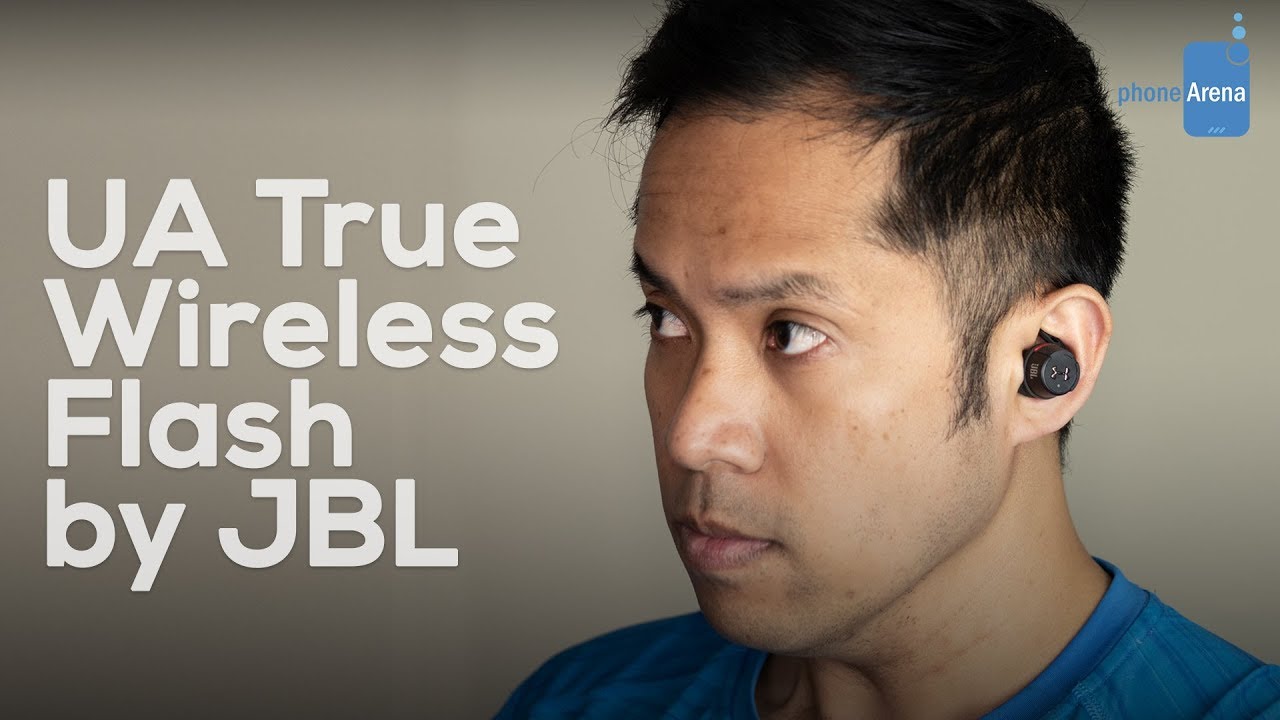 Under Armour has slowly been making a push in the personal audio space for a good while now, offering an assortment of stuff ranging from your traditional over-the-ear headphones to models that go around the neck and light up for running. Well, the brand is pushing forward yet again and is looking to be a contender in the true wireless segment with its premium model in the Under Armour True Wireless Flash, which is targeting the fitness-conscious user with its waterproof construction, bold sound performance, and ambient sound amplification technology. At $170 out of the gates, it'll be interesting to see if these earphones have what it takes to stand out in a crowded sea of competitors.
Design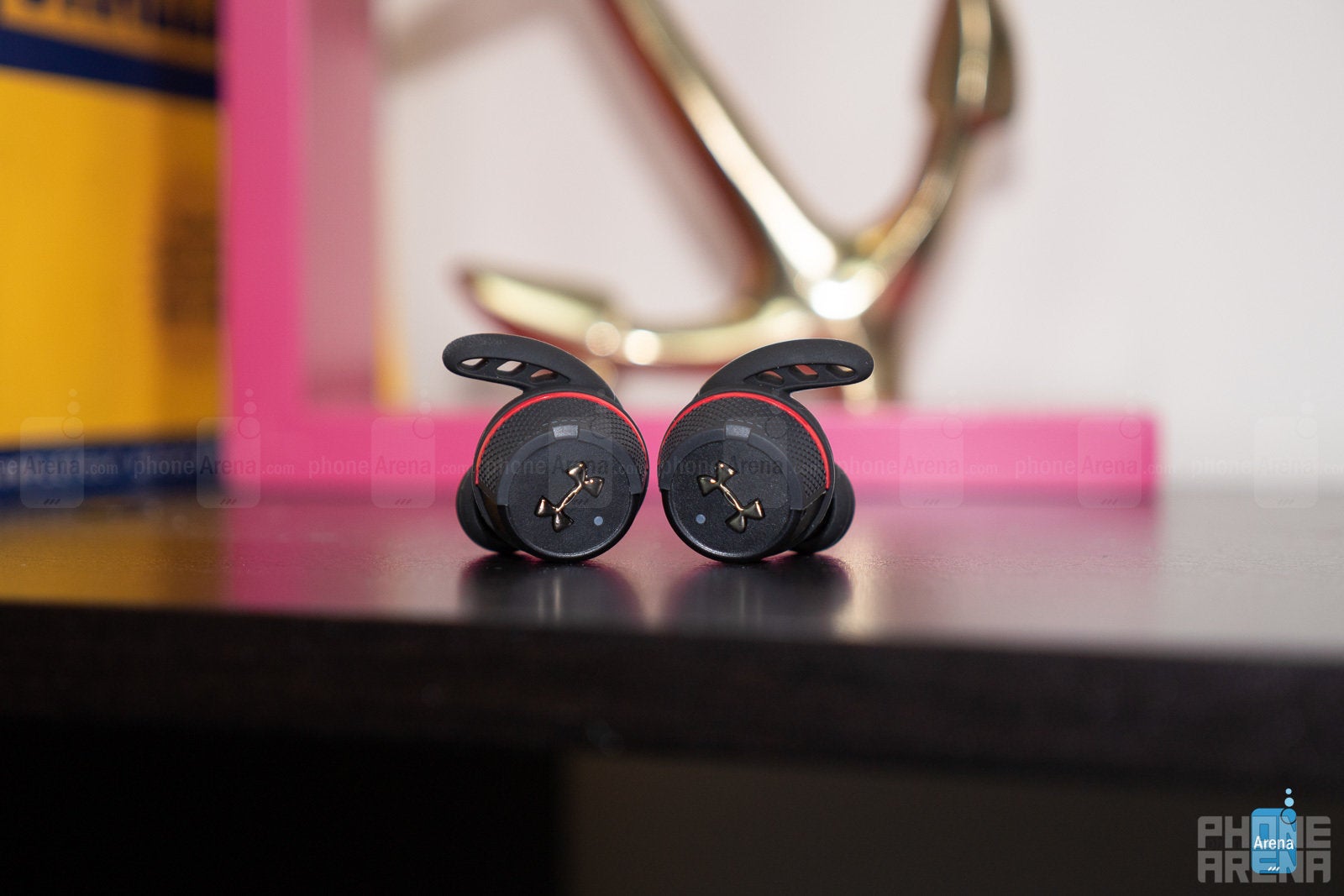 One quick look and there's no denying that these are meant to be worn by fitness fanatics. They are very similar in design to the aging Jaybird Run earbuds, evident in how they too feature winged ear tips for a more secure fit in the ear. They're not the most original-looking pair we've come across, but at least the UA True Wireless Flash earbuds are substantial and are meant to withstand all sorts of workouts thanks to the snug fit in the ear and IPX7 water-resistant construction.
When tested at the gym, they manage to remain in place even during workouts that involve intense motion – like running on the treadmill for long periods of time. Normally, the sweat and motion would be eventually too much for other earbuds, causing them to slowly become loose, but there are no issues with the UA True Wireless Flash. When they're worn, too, the silicone ear tips offer a significant amount of suppression, so ambient noise is toned down.
While we're digging the sporty design of the UA True Wireless Flash, we're not as enthused by the accompanying battery charging case. Quite simply, it's bulky, oversized, and pretty ordinary by today's standards. Compared to other charging cases, it's a beast in terms of its size. And to top it off, it doesn't do anything more than recharging the earbuds – so it can't be used as a battery bank to charge other gadgets.
Software

and Functionality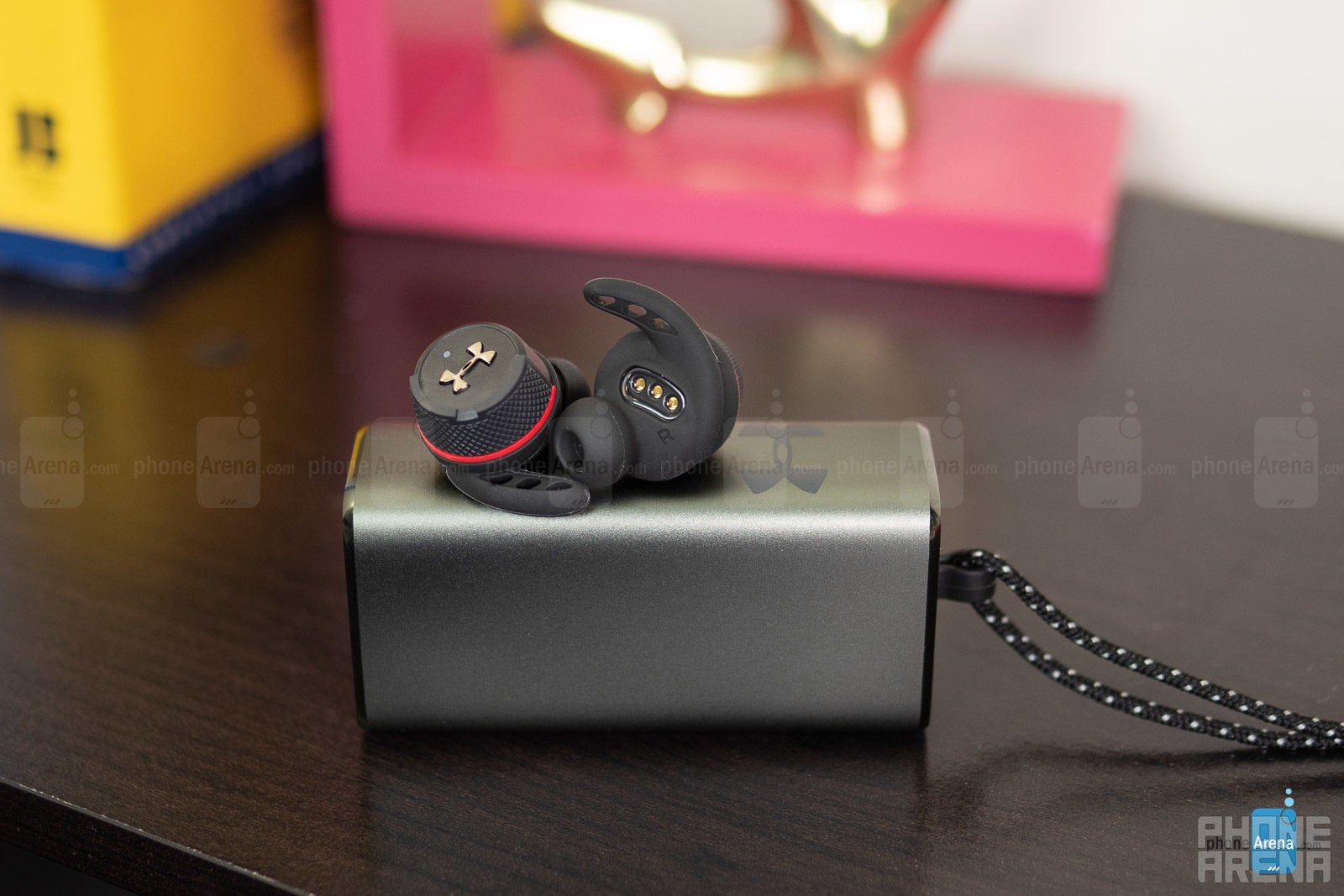 When they're taken out of the battery charging case for the first time, the UA True Wireless Flash earbuds are automatically in pairing mode, which is indicated by the rapidly blinking red/blue LED light on the right earbud. They power off automatically when they're placed into the charging case, but this can also be manually done by long-pressing the physical buttons on the outer edge of both earbuds. In the event you need to pair them to a new device, all that's needed is to power them off and then long-press the right earbud for approximately 5 seconds until the LED lights begin to blink – indicating they're in pairing mode.
After getting the earphones connected to our smartphone, a Huawei Mate 20 Pro, there's no additional software or app to download to access more advanced settings and modes. Considering the price, one would assume that there would've been some sort of app integration of some kind – similar to the equalizer profile settings found with many rival earbuds, but there isn't anything at all.
Connectivity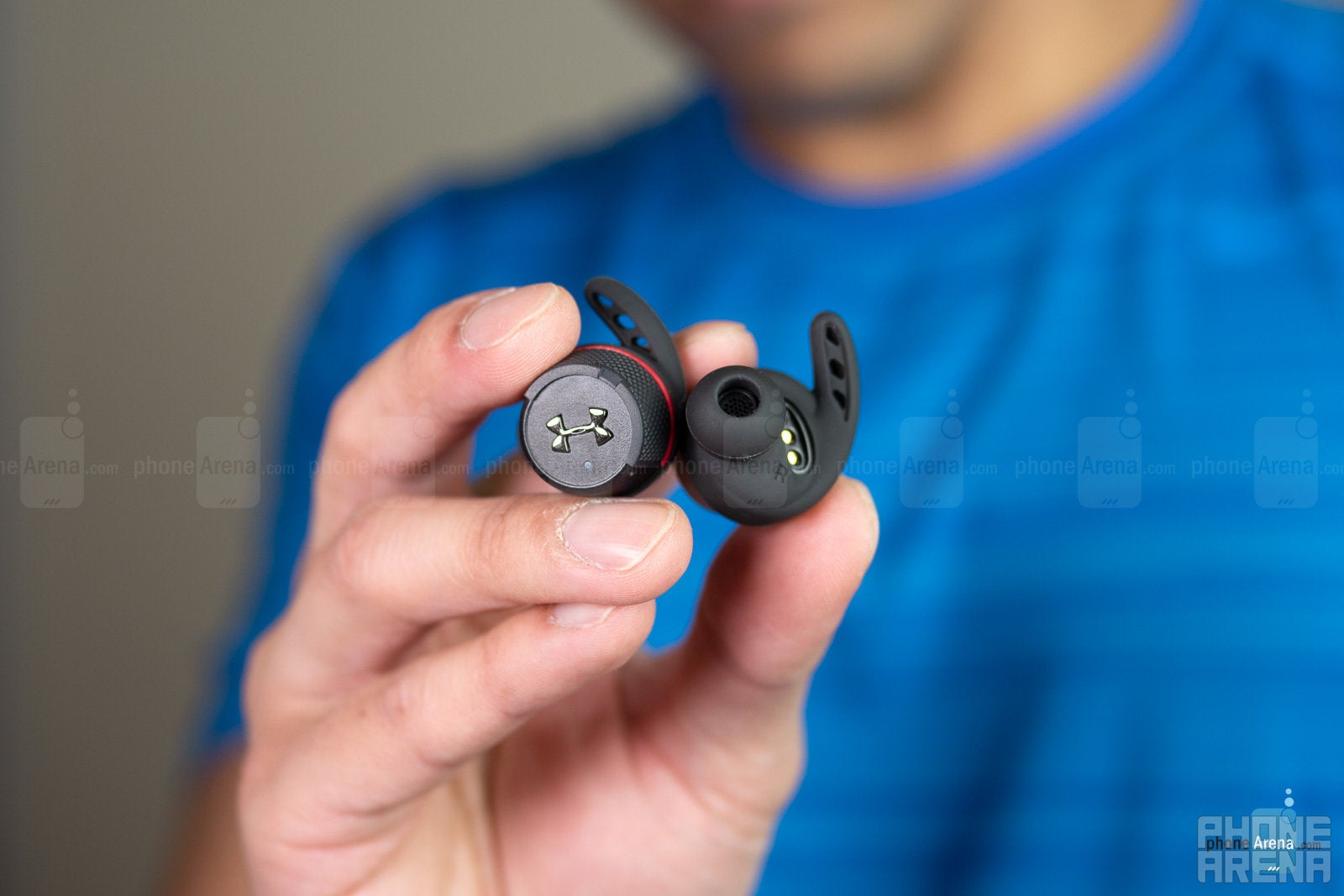 In testing out the UA True Wireless Flash's connectivity, we're satisfied that the earphones didn't once drop the connection to our smartphone. As for the range, we're equally impressed that they're able to get over 30 feet in open spaces – while indoors they're still able to retain connectivity through walls and closed areas upwards of around 20 feet, so adjacent rooms are pretty much the extent of their coverage.
For those of you wishing to use the UA True Wireless Flash for watching videos on the go, you may be disappointed to know that they exhibit some latency – both while streaming video and when playing files stored locally. The delay is about a half second at most, which may not seem all that much on paper, but when you're watching a video and the audio coming out of the earbuds isn't synchronized, it dilutes the experience. Some people may be fine with the slight delay, but others who are obsessive will find it maddening.
Controls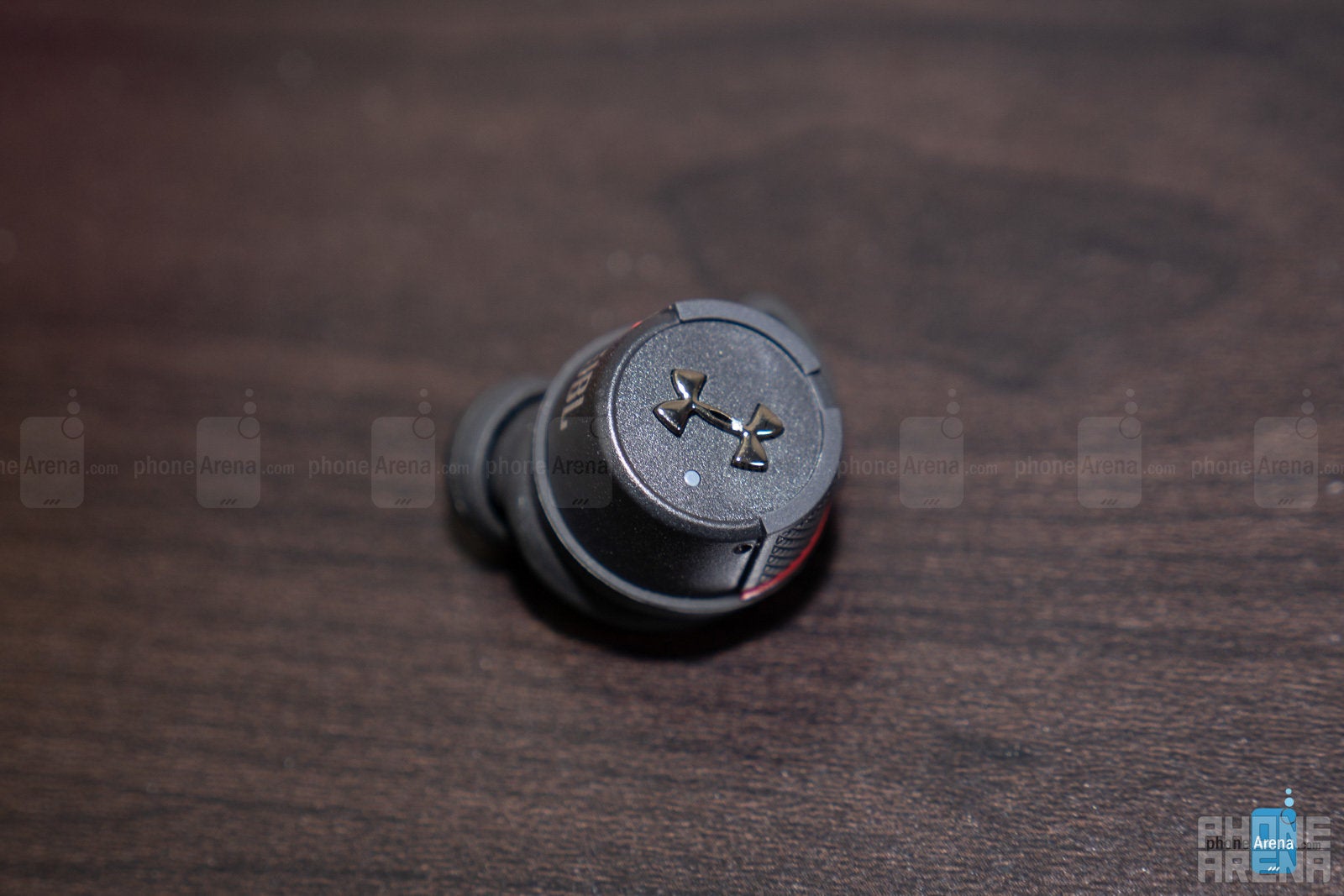 As we've mentioned, there's a physical button on the outside edge of both earbuds. With the left one, we can switch between the TalkThru and AmbientAware modes by single- or double-pressing the button respectively. Both modes will mute the audio. TalkThru mode will also amplify voices to make for better conversation, while AmbientAware will do the same for ambient noise. All in all, it's like having enhanced hearing. They work decently, especially the TalkThru mode, seeing that voices are discernable with them being worn. And lastly, long-pressing the button for a couple of seconds will initiate the connected device's default voice assistant service.
When it comes to media playback controls, they're mostly handled by the right earbud. Pressing down on the button will perform a pause/play function, while a double press achieves a track forward function. Unfortunately, there are no controls for track reverse or volume adjustment – so those functions can be accessed through your connected device.
Sound

Quality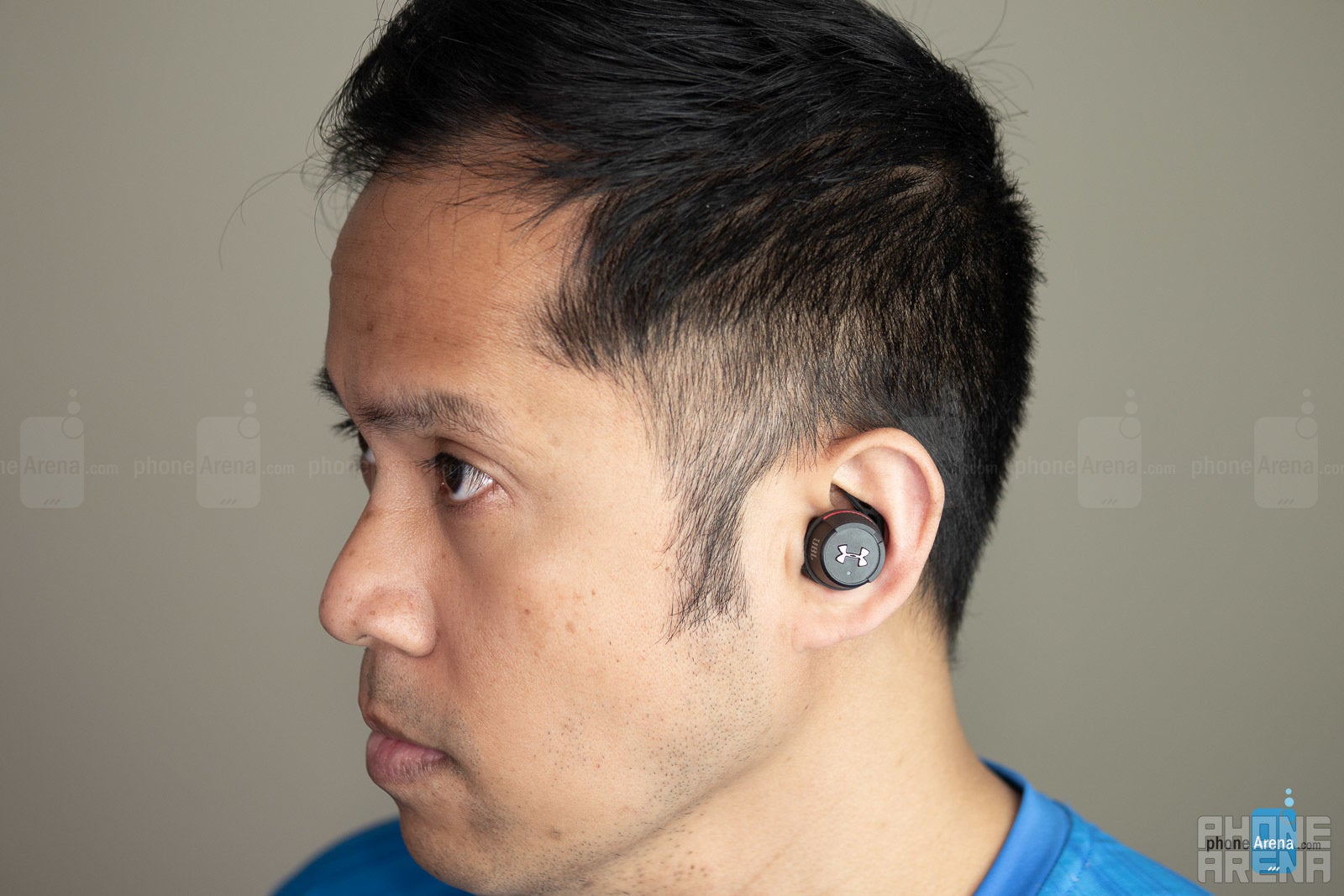 Skewing more towards the bassy side of the audio spectrum, the UA True Wireless Flash are well equipped in keeping users motivated while working out. Thankfully, the bass isn't overpowering to the point where it would drown out audio in the higher ranges. At louder volumes, it's able to maintain their richness without yielding any sort of distortion. It helps, too, that the snug fit of the earbuds allows audio to funnel into the channel and directly into our ear – without any sort of degradation to the volume output.
Even though we're relatively pleased by the audio performance, it would've been better for the UA True Wireless Flash to offer preset or custom equalizer settings. Many other notable true wireless earbuds in its price range offer those features, so having to settle with only a single audio profile means that you'll either love or hate it.
Battery

Life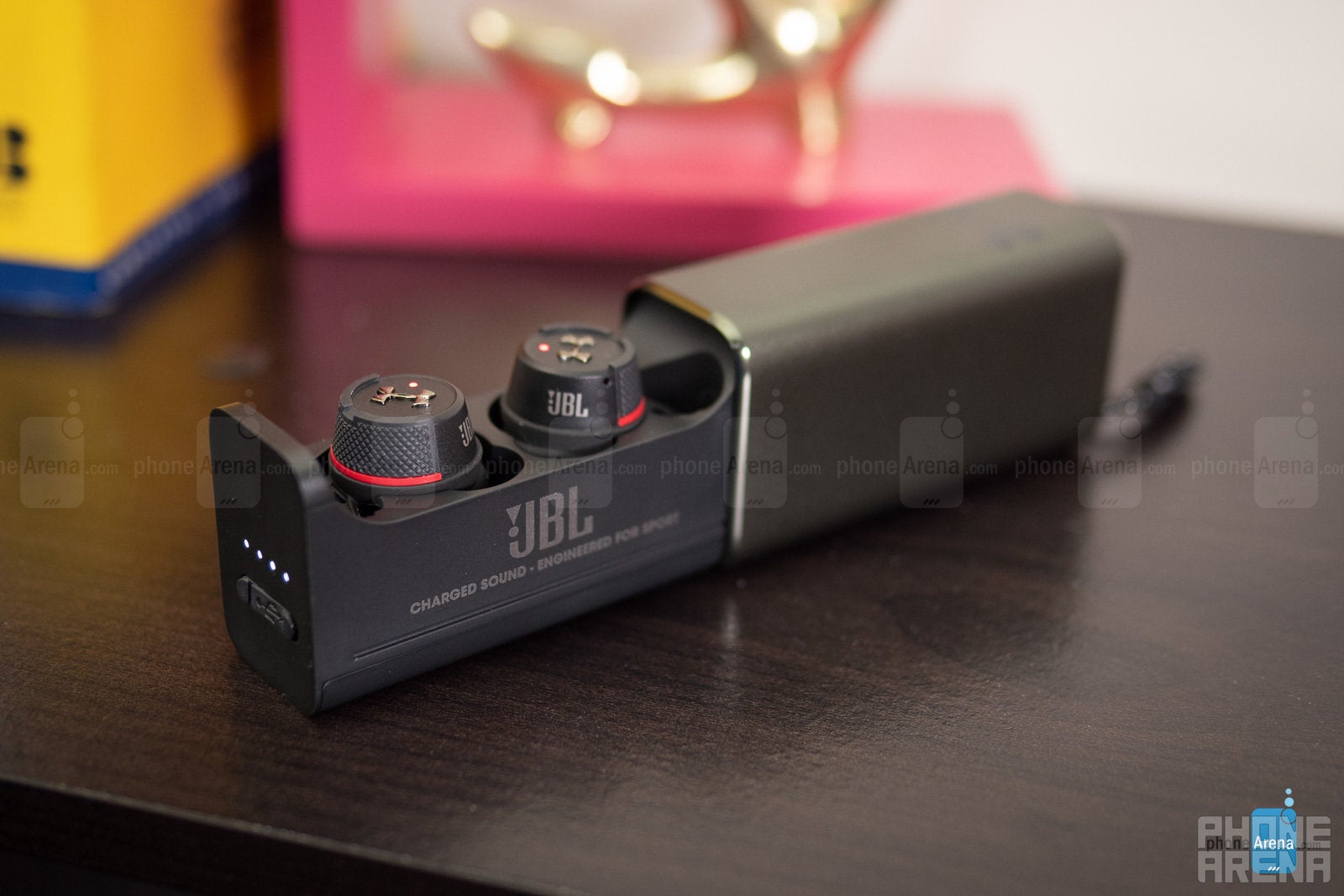 Battery life is better than average, but still trails the Jabra Elite 65t in our experience. In our testing, we were able to get 4.5 hours of battery life out of a full charge – while the battery charging case tacks on an additional four charges. The 4.5 hours of battery isn't too shabby, given that the average has been roughly 3 hours with most true wireless offerings. Those intending to use them during the gym for 1-hour sessions won't have much to worry about when it comes to recharging them frequently.
Conclusion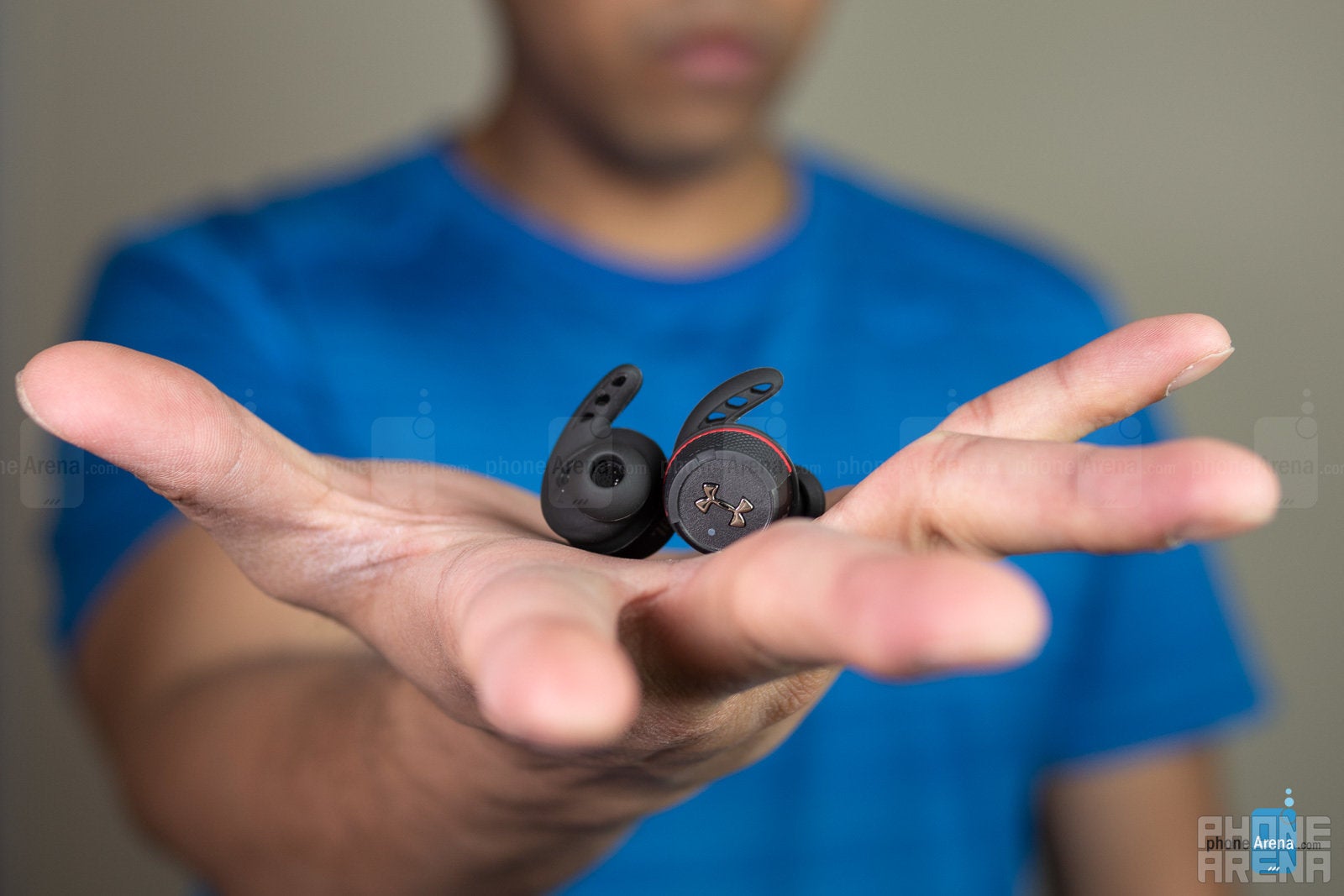 The Under Armour True Wireless Flash is priced at $170, competing with all the big-named players in the true wireless space. However, for about the same price, there are still several other notable options that present greater value and performance.
Workout fanatics will undoubtedly want to consider the UA True Wireless Flash, which offer one of the best fits when it comes to staying in place during workouts – in addition to the bass-heavy performance. Then again, there's still room for improvement before these earbuds can come close to toppling the juggernauts. The Jabra Elite 65t Sport still continue to reign supreme, but the UA True Wireless Flash aren't too fat behind. With some minor tweaks and additions, the next iteration may prove to be the one to wait for.
Recommended Stories