SuperTooth Disco Twin Review
3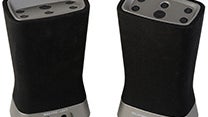 Introduction:
Introduced at last year's CES, the
SuperTooth Disco 2
differed greatly from its predecessor, as it employed a very stylish modern design that made it stood out over most other typical speaker designs. At the time, it was mentioned that the Disco 2 would offer some sort of stereo support, but unfortunately, that feature didn't quite make it to the final product. Well, it's finally here in another variant called the
SuperTooth Disco Twin
, which consists of two 16-watt Bluetooth speakers for true stereo left/right support. Some might think of it to be a novelty, but we'll see whether or not it's something that's noteworthy enough to distance itself from SuperTooth's last offering.
Design:
Frankly, there's nothing different with the design of the SuperTooth Disco 2 from the previous effort, sad to say. We would've liked to see just a subtle change, but that's not the case here. Nevertheless, we'll still give it to the folks over at SuperTooth for having one of the modern looking designs out there to bless a speaker – especially when its outline is similar to that of a vase. For the most part, the speakers are comprised out of sturdy plastic, but upon holding them, we're a little bit shocked to find that they're somewhat weighty. It's not a bad thing, since it merely adds to the solid build quality. Certainly, the aesthetics of the speaker help to draw out some of its finer characteristics, such as its harmonious lines, but as we've noted clearly already, there's absolutely nothing new with it.
Along the top surface of the Disco 2, we're once again greeted to its
six physical buttons
– these include the power, volume up, volume down, track forward, track reverse, and pause/play. Aside from the power button, which is recessed, all of the other buttons are lined up and flush to the surface. Despite the indistinct feel, they have an adequate amount of spring when pushed – plus, backlighting on them is aplenty.
On the
façade
, hidden behind the fabric grill, there are two speakers putting out a total of 16 watts – while in the
rear
, the bass reflux system helps to accompany its output with its subtle amount of bass. Considering we have two speakers with this setup, the SuperTooth Disco Twin essentially pumps out 32 watts of total RMS audio power. Finally, along the
bottom edge of the rear
, its power jack, LED light, and audio-in port are all situated in plain sight.