Sprint Force Review
6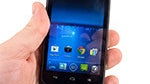 Introduction
In the beginning any new technology gets plenty of hype, and phone names become ridiculous because of it. Tops on that list is probably the
Samsung Galaxy S II Epic 4G Touch
, which thankfully was not an LTE device, but plenty of good phones have been tainted with bad names that flaunt the technology behind them. The
Sprint Force
is not one of these phones. The name is simple, even eschewing the manufacturer (ZTE) for carrier branding. By last year's standards the Force is a pretty decent little device, with a dual core Snapdragon S4, 1GB of RAM and LTE connectivity, but in today's market the Force has been relegated to a carrier-branded entry level device, destined to be free on contract soon enough. Read on to find out if the Force is more than the name implies.
Design
The first thought we had when picking up the Force was "plastic." Unfortunately we had not just watched The Graduate. The Force is plastic from top to bottom, and it feels as such. While some might argue that all plastic phones are bad, some manufacturers tend to do a better job conveying a quality feeling, but ZTE is not one of them. We won't go as far to say the Force feels cheap, but it is immediately apparent that you are dealing with an entry level device.
Along the edges are the volume rocker, microUSB port and camera button, and up top is the power key and headset jack. Buttons are placed exactly where you would expect them, and are large enough that you can navigate them without looking. Around back is a textured battery door that doesn't offer as much grip as you'd expect. There you'll find the phone's 5 megapixel camera and accompanying LED flash.
Display
The Force follows pretty standard design conventions, with a
4" 480x800 pixels IPS display
sitting atop capacitive Android navigation buttons (the recommended Task Switcher button has been replaced with Menu.) The display is generally good for an entry level device, with a respectable 233ppi and good viewing angles thanks to the IPS technology. However, there appears to be some coating on the display because in strong light it washes out quickly if you're not looking at it straight on and the display is highly reflective in general.
Sprint Force 360-Degrees View:
Recommended Stories