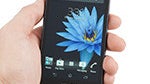 Introduction:
We've been waiting with bated breath for the
Sony Xperia T
ever since it became clear
that's the new phone of James Bond
, err… that it will feature a 13MP camera sensor from Sony.
It is not just that 13MP shooter that the Xperia T has to flaunt – it is powered by a modern 28nm Snapdragon S4, has a large HD screen, and is one of the few to take advantage of Android's on-screen navigational buttons, allowing it to keep the size compact and bearable.
Would these be enough to stand out against the thin quad-core competition coming in spades from Samsung and LG? Dive into our review to find out…
In the box:
In-ear stereo headphones
microUSB cable
Wall plug
Warranty and information leaflets
Design:
Sony sort of pioneered the arched handset design of its big-screen phones with the
Xperia arc
, and the Xperia T falls into that tradition, offering a slightly curved inwards back, like a stretching cat, which helps with the grip and looks more interesting than the regular flat rears. The back cover is also made of soft-touch plastic and has tapered edges, aiding the grip further.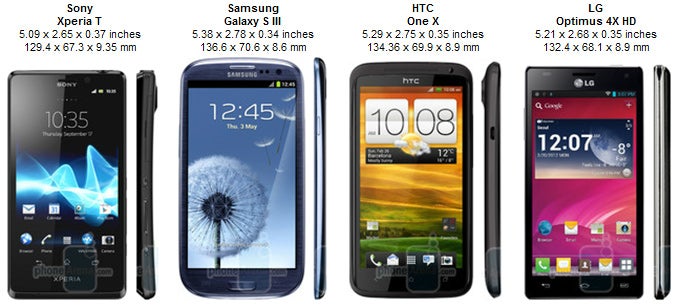 You can compare the Sony Xperia T with many other phones using our
Size Visualization Tool
.
The
front
also has a distinctive slope at the bottom, which, together with the rounded corners, makes it more distinct than most flat rectangular fronts out there. In addition, Sony has placed three nice, laser-etched metal buttons on the right – the power/lock key, volume rocker, and the dedicated shutter button – which class the handset up some more. The
side keys
have a pretty nice tactile feedback, but are somewhat smallish, and crammed at the lower right side, so adjusting the volume requires some more thumb-gymnastics than needed. That's because the upper right side is reserved for the microSD card and micro SIM card slots, since we have a unibody design with a sealed battery compartment, which are very easy to access under the protective lid.
LED notification
light at the front, which, however, is as small as if it is made with a sowing pin, and hardly noticeable except in a very dark environment.
Overall, a distinctive design, which immediately screams Xperia, and, thanks to the smaller screen and the lack of physical navigational keys at the front, has kept the Xperia T shorter and narrower than any of the other big-screen flagships out there, easing one-handed operation. The phone is slightly thicker and heavier than the current high-ends, though, leaving you with the impression that you hold a much larger device.
Display:
Apart from those gripes, we have 1280x720 HD screen with Mobile BRAVIA Engine-powered popping colors in pictures and video mode, plus a very high 323ppi
pixel
density, making small text and icon edges sharp and distinct.
Sony Xperia T 360-degrees View: