Sony WF-XB700 review
We may earn a commission if you make a purchase from the links on this page.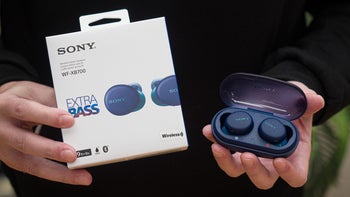 For their fairly reasonable price, the Sony WF-XB700 truly wireless headphones offer good bass, up to 18 hours of battery life (with the case) and sport an IPX4 rating, which means they can endure splashes and sweat. All that, along with their snug in-ear fit and resulting passive noise canceling makes them a good choice for running or use at the gym.
Design and fit
The Sony WF-XB700 come with a fairly small pill-shaped charging case, which feels plasticy and not too premium, but is also solidly built and sturdy. It fits well inside looser pockets and is overall quite portable.
Opening it up like a wedding ring case reveals the actual headphones, which magnetically snap inside, for storing and charging. Between "left" and "right" markings on the case is also an LED, which lights up when the case is plugged in and charging, via its USB Type-C port on the back.
The headphones themselves are of the in-ear type, and not too small or fashionable. Most of their surface is the same plastic that we have on the case. They feel solidly built though, and each one has Sony branding at its outer side and a "left" or "right" marking on the side that would normally be pressed against your ear, so that marking is not visible when you don't want it to be.
Each headphone has an LED light of its own, which lights up in blue when pairing or green when charging. And, each headphone has a small button on the bottom back side of it for controls, as opposed to touch controls.
When plugging them into your ears, you get a voice prompt letting you know if Bluetooth is connected, and the battery level of each headphone, similar to other Sony truly wireless models.
Once you put them on, the Sony WF-XB700 hold on to your ear securely, and will definitely not budge or fall off even if you're performing intensive tasks, such as running.
Pairing process
Unlike the slightly more expensive
Sony WF-SP800N
headphones, these don't come with a companion app, so there's no native way to change their controls or how they sound, although you can use external equalizer apps like with any headphones.
Holding both of the headphones' buttons for a few seconds puts them in Bluetooth pairing mode, which will show them up on your phone's available Bluetooth devices. Of course, you can also pair them to either a laptop or a tablet via Bluetooth, as opposed to a phone.
Sound quality
At low-to-mid volume levels, the headphones sound very clear, and with solid punch and bass. Their stereo separation is quite effective also. At high volumes, the sound can truly get loud, or at least the highs, but the mids essentially disappear, as they're already quite weak even at lower volumes.
Previously I used Sony's more expensive WF-SP800N headphones, which I mentioned earlier, and they're definitely significantly better, in terms of both sound quality and features. So if you want a fuller sound and features such as active noise canceling, you may be interested in checking our review of those, before buying the WF-XB700.
In any case, for their price, there's not too much to complain about the WF-XB700. They're quite good for listening to podcasts and music during workouts, aside from the slightly harsh highs and muted mids. After using my phone's built-in music equalizer to boost the mids a bit and lower the highs, I was able to make them fit to my liking, in terms of sound.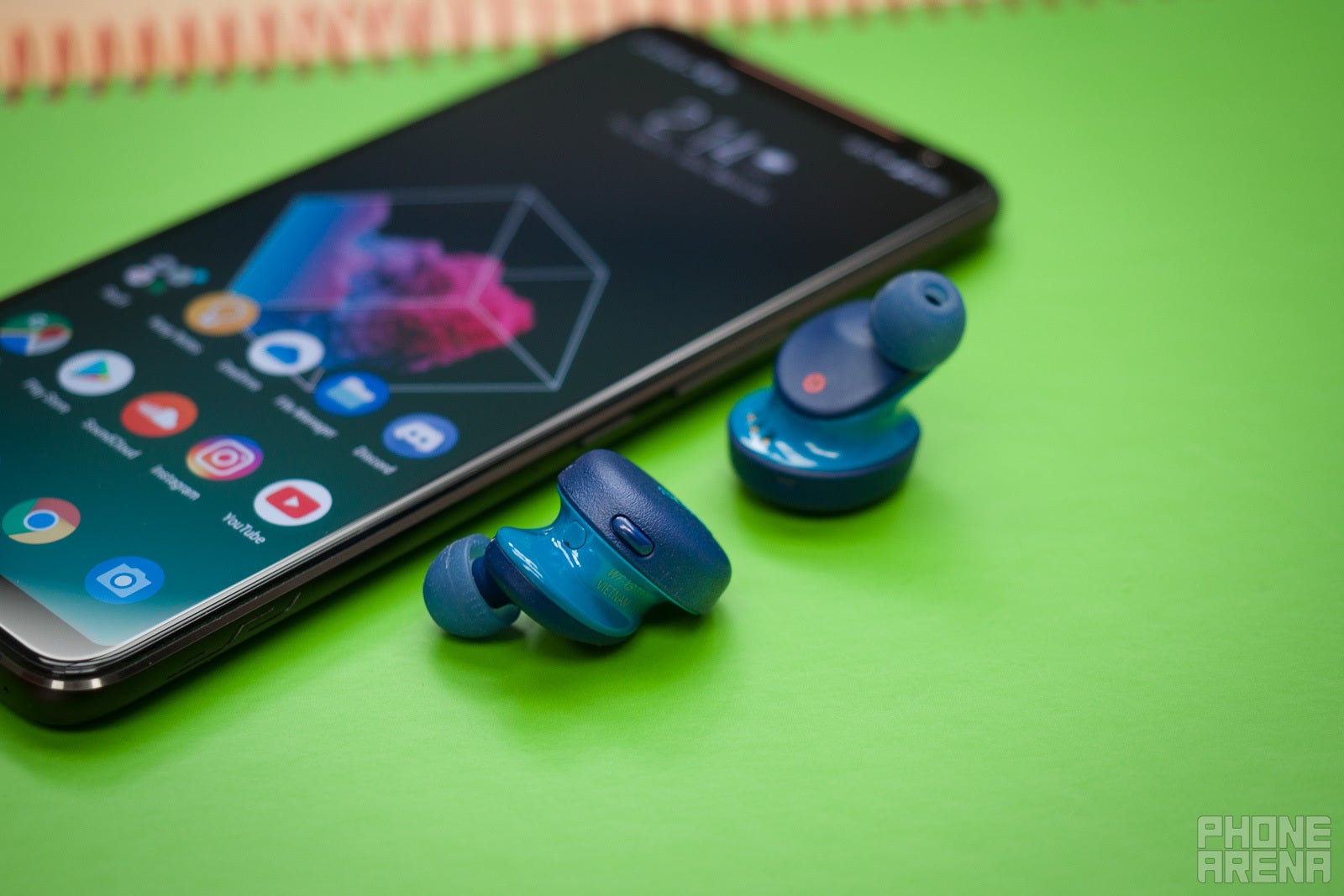 And as for that "Extra Bass" branding, it's far from "extra" if you're used to bass-heavy headphones. The bass here is clean and very good, though not as hard or punchy as you may like if you're a fan of hip-hop or modern electronic dance music. But if you're not into super strong bass, you'll likely be happy with the amount here.
Each headphone also has a built-in microphone, and your voice sounds clear when using them for taking phone calls or interacting with voice assistants.
Controls
As we previously mentioned, each headphone has a tiny button on its bottom back side for controls and enabling Bluetooth pairing.
Pressing the right headphone's button once would either play or pause your music, pressing it twice will skip to the next song, while three clicks go back a song, or restart the current one. Pressing and holding it for about two seconds will trigger Google Assistant or Siri, which you can also command directly from the headphones, thanks to their aforementioned microphones.
Clicking the left headphone's button raises the volume, while pressing and holding it lowers it. It's an interesting and quite convenient way to adjust your music's volume, without having to take your phone out of a pocket.
And when you're getting a phone call, pressing either button will answer it, while during a phone call, pressing either button will end it.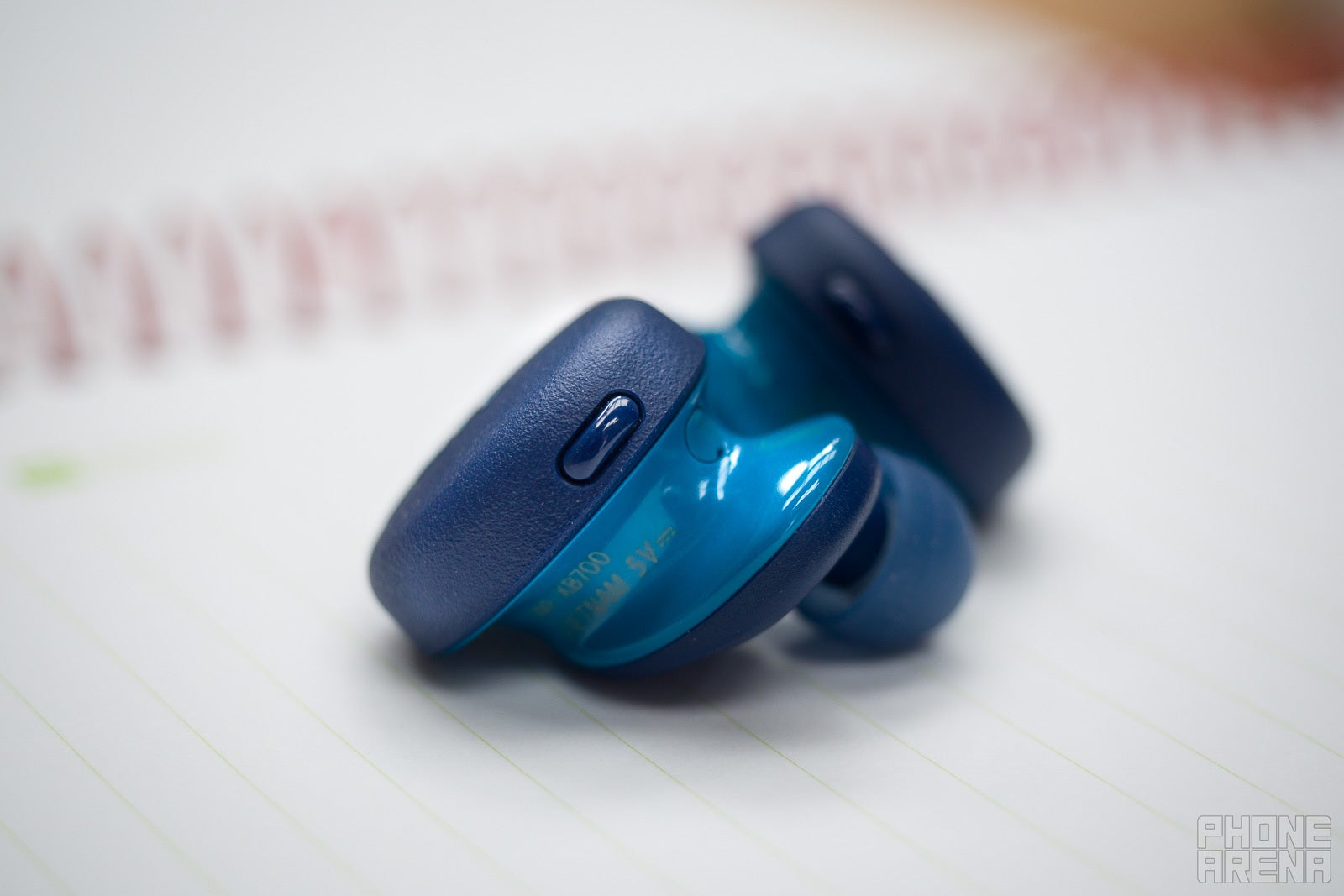 Connection stability and range
I haven't experienced any issues when testing those headphones. In the span of a few weeks, I've used them paired with a laptop, a tablet, an iPhone and an Android phone with no setbacks. Thus, the Bluetooth connection is very good, with no drops or connection glitches to disturb your music playing experience.
As for the connection range, it's surprisingly long. Walking around an apartment and several rooms away from the paired phone doesn't break the Bluetooth connection or even cause interruptions. And what normally did, with even much more expensive headphones – closing a few doors behind me, didn't phase the WF-XB700. All in all, impressive connection range.
Battery life and charging
According to Sony, the WF-XB700 headphones can last up to 9 hours of playback on a single charge, without the case. With the case, they should be able to reach 18 hours of playback before needing to charge. Those are good and accurate numbers, and the fact that 10 minutes of charging is enough to give you up to 60 minutes of playback is quite impressive.
They should be able to last you a full week of hour-long gym sessions on a single charge, so long as you store them in their case afterwards.
Recommended Stories