Sony Ericsson Satio Preview
15

Introduction:
Finally, we´ve got the
Sony Ericsson Satio
in our hands! Well, this is not a final, retail unit, but rather an early prototype. That is why we are coming up with a preview, without passing final judgment. Still, we are more than happy to take a peek at what we will officially have in Q4 this year and can´t wait to get down to the testing. Let´s just first fill you in on the background of the Sony Ericsson Satio though. Actually, Satio is the official name of the device that was, initially, announced as the Sony Ericsson Idou at
MWC 2009
. It´s advertised as the company´s first all-in-one multimedia cell phone and is to lend some color to their range. It is their first one in their lineup to feature 12-megapixel camera (with xenon flash) and run Symbian S60 (although, it was initially announced as a Symbian Foundation OS gadget). Other nice features include 3.5-inch, touch sensitive screen with 360x640 pixel resolution and delivers 16 mln. colors at cinematic 16:9 ratio, Wi-Fi functionality, built-in GPS etc. Cool, isn't it? Can it pose a threat and be worthy adversary of the other all-in-one devices on the market?
Design:
Sporting a
3.5-inch resistive, touch sensitive screen
means you can´t expect the Sony Ericsson Satio to be a small device, but its size is pretty OK with us, given the functionality it delivers. It´s interesting to notice that despite it looks rather bulky, the phone feels light in your hand and we hope this stays the same when the retail version comes out. Like the
Samsung OMNIA HD
and
Nokia 5800 XpressMusic
, there are only
three buttons on the front side
– send and end, along with a third one that´s located right between the latter and pressing it gets you to either the main menu or task manager. The light sensor that automatically controls screen brightness, video call camera, proximity sensor and LED indicator are aligned around the earpiece.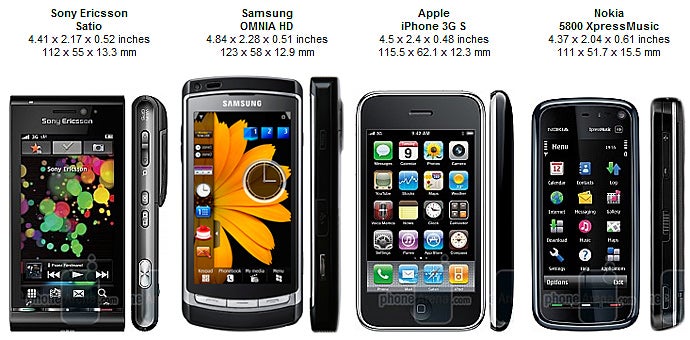 You can compare the Sony Ericsson Satio with many other phones using our Size Visualization Tool.
Both
microSD card slot
and standard, for the manufacturer, charger port (instead of microUSB) are on the
left hand side
, while camera shutter, mode switcher and gallery access buttons are clearly visible on the
opposite side
. Volume rocker is used to zoom in and out on things as well. Completely in character of Sony Ericsson, you really get the feeling as if operating digital camera while taking pictures with the phone upright in your hand. We would have liked to see a 3.5mm jack on the device, but again and in character of the brand, we will have to make do with a converter.
The upper back of the phone is slightly bulging, because the
12 megapixel, xenon flash camera
is hidden under a sliding cover right there. Aside from the flash, there is LED light to help camera focus objects more easily. We need to point out the second you slide the cover open, both a small indicator right below the camera and the shutter itself start blinking in bright blue, which reminds us of the Cyber-shot lineup again. Naturally, we couldn't help taking several pictures and you can see them under the camera and multimedia section of this preview. Before we get there, let´s first take a look at the interface that powers the Sony Ericsson Satio.
Sony Ericsson Satio 360 Degres View: