Sony Ericsson Satio Review
8

This is a global GSM phone. It can be used with AT&T and T-Mobile USA, but without 3G.

Introduction:
Satio
later. The interesting thing about the cell phone is it´s manufacturer´s "first" in several respects – the first with 12-megapixel camera, the first based on Symbian S60 and the first all-in-one multimedia smartphone in the company´s range of products. It is equipped with 3.5-inch resistive screen with native resolution of 360x640 pixels (and cinematic 16:9 ratio) and 16 mln color support, Wi-Fi, GPS, 600MHz ARM Cortex-A8 processor and is OpenGL ES 2.0 capable, so hardware-wise the newcomer does have what it takes to grip the attention of high-tech buffs, but let´s see if the device performs well enough to win over their love.
What´s in the box?
• Sony Ericsson Satio
• Stylus
• 8GB microSDHC expansion card
• Wall charger
• USB cable
• Stereo headset
• User guide in several languages
Design:
The Sony Ericsson Satio
is by no means a compact cell phone
, but let´s not forget about the 3.5-inch display it´s equipped with. We are surprised the handset is really light-weighted for its sheer size and we do like that. It´s made of plastic almost entirely, with the only exception being the metal, sliding camera cover. As a whole, the device feels neither cheap, nor expensive when you hold it. In terms of overall design, the Satio looks like a close relative of contemporary digital cameras with touch sensitive screens. It neither has an imposing, austere presence, not cuts a fine, elegant figure and aside from the grey color solution, the Satio will be available in black and red and latter looks quite eye-catchy indeed.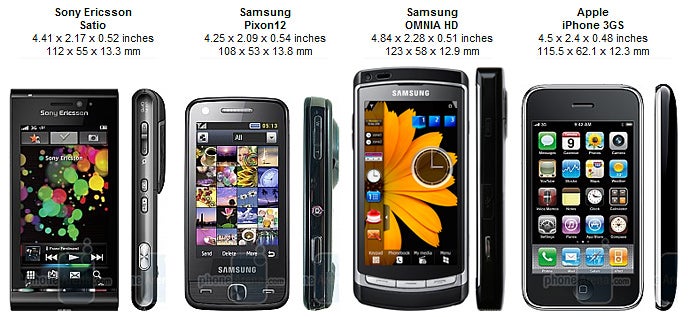 You can compare the Sony Ericsson Satio with many other phones using our
Size Visualization Tool
.
3.5-inch resistive display
supports 16 mln colors, has native resolution of 360x640 pixels and good overall sensitivity, but we must say we´ve seen better resistive screens, say the ones the affordable
Samsung Star S5230
and
LG Cookie
feature. It delivers good, saturated colors in artificial lighting conditions, but doesn't perform this well in direct sunlight. It´s not that you won´t be able to use the Satio in the open, it´s just that details are somewhat hard to distinguish in bright lighting conditions, plus its love for fingerprints makes things even worse.
The three thin buttons below the screen
have well pronounced travel and you shouldn't have any troubles with them. The send and end keys bear standard designations, the button in between takes you to the main menu when pressed or the phone task manager when you hold it pressed for a while.
The microSD card slot is
on the left hand side
of the Sony Ericsson Satio, along with the screen lock/unlock slider and manufacturer´s standard charger port, while the camera shutter, mode switcher and gallery access buttons are clearly visible
on the opposite side
. The volume rocker can be used to zoom in and out on things as well. Completely in character of Sony Ericsson, taking pictures with the phone upright in your hand feels as if you were operating a digital camera. Unfortunately, the Satio is
not equipped with 3.5mm jack
, meaning you will have to fork out for a proper converter, because as usual, the manufacturer doesn't provide one.
12-megapixel camera with xenon flash
is hidden right there. Aside from them, the phone is equipped with auxiliary LED light to help the handset bring objects in focus more easily. Once you slide the cover open, both the camera shutter and a small light indicator under the lens will start glowing in blue, which reminds of the Cyber-shot lineup and is something we do like.
Sony Ericsson Satio 360 Degrees View: