SanDisk Connect Wireless Media Drive Review
5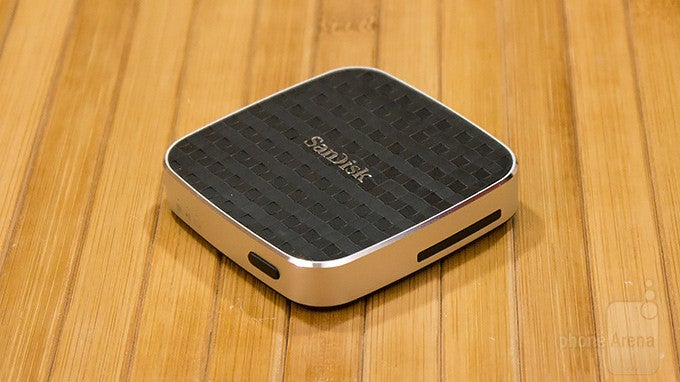 Introduction
The majority of digital cameras still rely on good old SD cards, though, smaller compact ones are increasingly relying on microSD cards instead. Sharing content between mobile devices hasn't always been the easiest process, as most of the time, we're required to insert the card into our computer, copy the files, connect our mobile device, and then send them over. It's a lengthy process for sure, but the SanDisk Connect Wireless Media Drive is aiming to streamline the process – while also acting as a general storage hub.
The package contains:
microUSB cable
Wall charger
Owner's manual
Design:
It looks like a puck, but more squarish in shape. A brushed aluminum bezel accent solidifies its premium construction.
Feasting our eyes on this compact device, it reminds us of a hockey puck – albeit, a squarer looking one to be exact. The façade is sporting a neat looking plastic checkered pattern design that shimmers at different angles. Sandwiching things together, while also giving it a premium accent, is a brushed aluminum bezel that wraps around the entire thing. Size wise, it's not too bad at all, since it's more compact than most smartphones – plus, the weight is hardly noticeable.
The minimalist design is a pleasant one no doubt that screams cleanliness from every angle, however, the bezel is home to a few things to help break up its design slightly. Specifically, they include a distinctive power button, 3 LED lights that indicate its battery, Wi-Fi, and internet status, a microUSB port used to charge its internal battery, and a full-sized Secure Digital slot. Lastly, the underside of the unit features a non-slip rubber bottom to prevent it from moving around on a level surface.
Indeed, its attractive design will undoubtedly catch some prying eyes when it's set on a table or counter in public. Although it's not as travel friendly as the SanDisk Connect Wireless Flash Drive, there's obviously an advantage here with its higher storage capacity and full-sized SD slot. Best of all, it has a solid construction and doesn't have the same cheap feel as its close sibling.