SanDisk Connect Wireless Flash Drive Review
20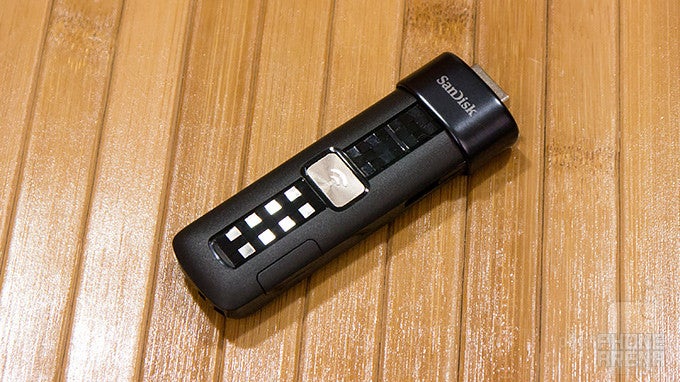 Introduction
Strange to say, but most of today's high-end smartphones don't feature expandable storage. Therefore, once you've used up all of its memory, you're left to choose what stays and goes. Don't fret anymore people, that's because the SanDisk Connect Wireless Flash Drive is looking like the perfect solution for those who need to make some room on their device. Don't hold your breath now, since it doesn't end there thanks to its ability to wirelessly stream content to various devices – simultaneously too!
The package contains:
Design
Hardly a shocker, it looks like a flash drive – though, its construction feels a wee bit wonky.
Low and behold! It looks exactly like an ordinary flash drive, not like today's compact and contemporary ones, but rather, the narrow and elongated kinds from when flash drives first busted onto the scene. The body is constructed from plastic, which gives it a lightweight feel in the hand, but it tends to feel a bit too hollow – essentially radiating a cheap feel. Breaking up the bland design, there's a glossier strip down the middle that has an eye catching checkered pattern.
Knowing what the SanDisk Connect Wireless Flash Drive is capable doing, we're astounded by how compact and tiny it really is. The size is unobtrusive, allowing us to carry it in our pocket without occupying a huge amount of space. Overall, the build quality might make it feel cheaply constructed, but there's more to it than looks.
Along that strip, there's a silver rectangular power button. After holding it down for a few seconds to turn it on/off, the LED lights on the opposite ends of the strip turn on to display its connectivity and charging status. Pulling down the top head of the unit exposes its USB 2.0 connection, which allows us to connect it to PC – where it acts just like any USB flash drive at that point. At the same time, it's how we're able to charge its internal battery. On the bottom edge, there's a spot there to attach a lanyard. It's great thing to attach to your keychain, so it's always on you at any given time.
Hidden behind a plastic flap is the unit's microSD slot, which comes supplied with a card – a 32GB one in our case. Essentially, it's the brains of the operation, as it's where all the content is stored and accessed. In addition, it's worth mentioning that it's packing along its very own Wi-Fi radio, which allows it to establish a hotspot of its own for various devices to connect to it. At the most, it's able to allow up to 8 devices to connect to it.
Recommended Stories