Samsung SGH-F700 Preview
3

Introduction:
Last February Samsung presented a few of its new models at the 3GSM congress in Barcelona, one of them being SGH-F700. Today we are going to preview the Vodafone version, called SGH-F700V, which is not much different than the standard model, except for the operator's menu.
Some of the differences between the phone that we have here and the one that we saw at the exhibition are easily noticed: the new F700 has a bigger display and is larger in size, its QWERTY keypad is arranged in four rows, rather than in three and, unfortunately, the camera is not 5-megapixel as we and all fans would have liked (and saw at the 3GSM), but only 3-megapixel. However, in spite of these changes, the phone is still intended for Internet-hooked users; the two loudspeakers and the 3.5 mm stereo jacks also show for its multimedia options.
As the phone we are testing is not a final-version, we are doing a Preview instead of Review. Expect our in-depth one in future.
Design:
SamsungSGH-F700 is made of very dark-blue shiny plastic, except for the frontpanel which is black in white stripes. It is side-opening slider andits larger part is taken up by its enormous 3.22-inch broad-angledisplay with 432 x 240 pixels resolution that shows up to 262 144colors.
| | | | | |
| --- | --- | --- | --- | --- |
| Model | Dimension (Inches) | Dimension (mm) | Weight (oz) | Weight (Gramms) |
| Samsung SGH-F700 | 4.46" x 2.22" x 0.66" | 113.4 x 56.6 x 16.8 | 4.90 | 139 |
| Apple iPhone | 4.50" x 2.40" x 0.46" | 115 x 61 x 11.6 | 4.80 | 135 |
| HTC Touch | 3.97" x 2.34" x 0.54" | 101 x 59.6 x 13.9 | 3.95 | 112 |
| HTC TyTn II | 4.40" x 2.32" x 0.74" | 112 x 59 x 19 | 6.70 | 190 |
Similarlyto other recent models, e.g. Apple iPhone, LG Prada, Viewty and HTCTouch, the touch-sensitive display is at level with the phone's frontsurface and is not indented like in most smart phones. Like the LGPrada, this one reacts only to touch of a finger (skin) and won't workwith stylus or any other pointer.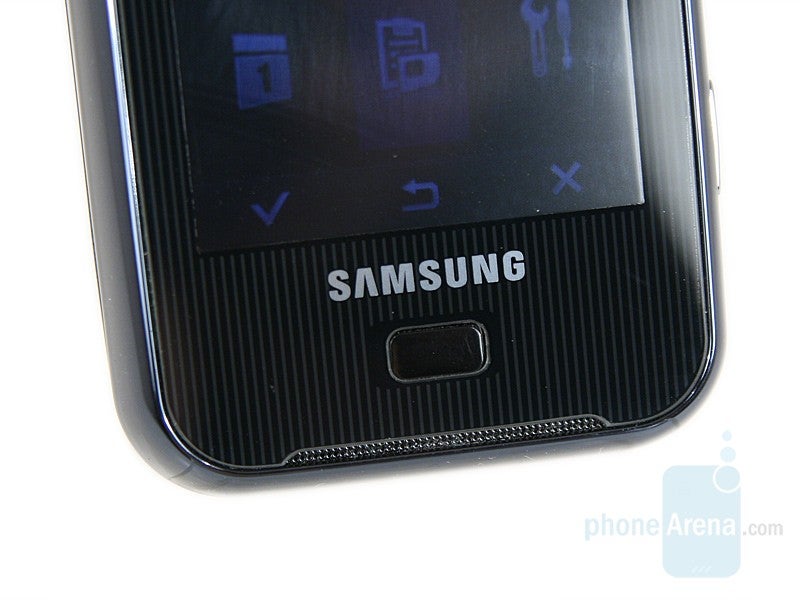 Shotcut button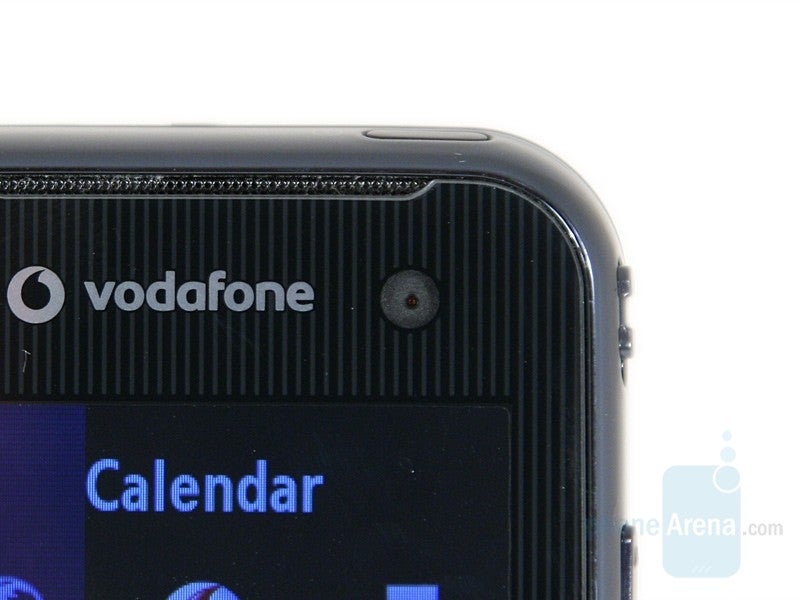 VGA camera
Under the display is the
shortcut button
(the only one here), which is pretty small and almost hidden. On this side are also the
VGA video conversations camera
(in the upper part), as well as the two loudspeakers, ensuring the stereo sound.
When you slide it open, you see the
QWERTY keypad
,arranged in four rows and backlit in white. Its buttons are bulging andspaced out closely to one another, but nevertheless easy to find andtell apart.
On the right are the
camera button
and the volume rocker.
On top are the
ON/OFF button
and
the two connectors
that Samsung SGH-F700 is equipped with: a 3.5 mm stereo jack and theuniversal connector that can be used for charging, connecting to acomputer or to accessories. Typically for all Samsung models, theconnectors are protected by lids, which have also an aesthetic functionand contribute to the phone's overall look.
Recommended Stories