Samsung Rugby Smart Review
6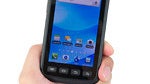 Introduction:
Long ago, in a time when owning a smartphone was perceived to be a luxury, the
Samsung Rugby
established itself as AT&T's premier rugged style device with push-to-talk capabilities. In fact, it seemed to hit a chord with people because we eventually saw a successor in the form of the aptly named
Samsung Rugby II
, which interesting enough, was released close to two years agos. Rather than sticking firm with the same form factor, the latest member in the rugged line, the
Samsung Rugby Smart
, aims to tackle all the intricacies associated with today's modern smartphone – while still sprinkling that dash of ruggedness to keep us soundly confident that it'll live through some minor accidents.
The package contains:
microUSB cable
Wall Charger
Quick Start Guide
Safety and Warranty Guide
Design:
When you're a rugged style device, being fashionable or good looking is the least of its worries. Rightfully so, that's blatantly obvious with this one. Practical in every way for its category, the Rugby Smart exhibits all of the qualities akin to any
rugged style device
– like its rubber grippy sides, textured back plastic cover, and a lock mechanism for its rear cover. Of course, it all culminates together to offer a resounding sense of durability in easily handling the usual normal wear and tear we put our devices through on an everyday basis.
Beyond that of course, it meets
military standard 810F
for protection against dust, humidity, rain, shock, and temperature. Even though it's able to withstand "shocks" from heights of 5 feet in our testing, it doesn't necessarily mean it'll survive being thrown out of a two-story building. Nevertheless, it's undoubtedly better protected than your average smartphone, and on top of that, it's waterproof up to 1 meter under water for 30 minutes, which are things you don't tend to see that often with most devices.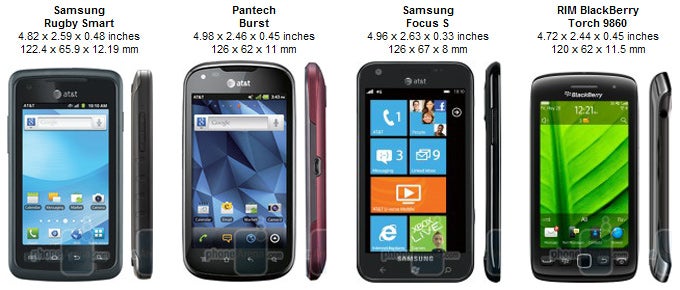 You can compare the Samsung Rugby Smart with many other phones using our
Size Visualization Tool
.
Around its sides
, everything appears to be reinforced to solidify its impervious nature. For example, its volume rocker and power button are fashioned out of tough plastic, while still offering a tasteful response and feel. Furthermore, its ports are well protected thanks to plastic covers tightly shielding its 3.5mm headset jack and microUSB port.
Accidental presses are pretty non-existent with this one because it opts to employ rectangular sized physical
Android buttons
instead. Thankfully, this modern smartphone doesn't skimp out with things just because it's deemed as being rugged, and with that, we're grateful to find a 1.3-megapixel
front-facing camera
.
In the
rear
, a 5-megapixel auto-focus camera with LED flash is placed squarely in the middle towards the top edge of the phone – with two notches nearby for its speakerphone. After moving its lock mechanism to remove the rear cover, we're given access to its 1,650 mAh battery, and underneath that, we find its SIM card and microSD card slots.
Display:
Classified as a mid-range smartphone, we're intrigued to see it packing a generous
3.7"
WVGA (480 x 800) Super AMOLED display that's no doubt attractive with its good details and vibrant colors. Much like anything else with a Super AMOLED panel, we're treated with something that easily catches the attention of our eyes – like its wide viewing angles and iridescent glow. Sure, we're still finding ourselves shielding it away from the sun when trying to view it outdoors, but we're forgiving since it's still usable and simply shines blindingly in the dark.
Samsung Rugby Smart 360-degrees view