Samsung HM1610 Review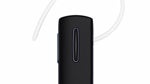 Introduction and Design:
Nowadays, just about every company has some kind of inexpensive Bluetooth headset aimed at the budget conscious consumer out there, but not all actually go beyond just simply allowing you to make conversations. Fortunately for the
Samsung HM1610 Bluetooth headset
, its $39.99 sticker price manages to carry along contemporary features like near end enhanced audio technology, wind noise reduction, multipoint technology, and hi-fidelity audio streaming. Although it only skims the surface on what we see implemented with other respectable Bluetooth headsets, let's just hope that its inexpensive cost doesn't translate to a sub-par experience. Included with the packaging are 3 ear gels, 2 ear hooks, wall charger, and user manual.
Unmistakably, the Samsung HM1610 is completely constructed out of plastic, which makes it relatively light weight, and fittingly complements its cheap cost – though, it doesn't come out to be cheap feeling at all. Combining some hard lines and curves to its design, it's mostly one normal sized headset that we wouldn't mind having clinging to our ears. Luckily though, its blue and black paint job contrasts nicely to prevent it from blatantly sticking out to attract attention.
Whether you utilize its ear hook or not, the ear gel at the tip of its earpiece literally suctions tightly onto our inner ear – thus providing a solid sealed fit. However, we find it rather irritating after using it for less than half an hour since it's constantly brushed up against the sides of our inner ear.
Straight along the
front side
of the headset, we find its distinguishable long and narrow
multi-function button
that's raised to allow our finger to easily feel it out. Moreover, the
volume rocker
that's placed on the
left edge
also provides a solid feel and response when pressed. However, the same cannot be said about the dedicated
power button in the rear
– which brushes too close to our ear to sufficiently make out. Finally, both the LED indicator and
microUSB port
are position along the
right side
of the headset.