Samsung Eternity II Review
1

Introduction:
Everywhere you turn or look, there are a handful of Samsung phones that feature their all too familiar TouchWiz interface that's heavy on homescreen personalization with its sheer amount of widget offerings. Looking back at it now, it was only two years ago when the
Samsung Eternity
was launched in the US and brought forth the beginning of TouchWiz to the masses. At the time, it proved to be a decent feature phone that offered a bevy of neat features not necessarily attuned to its category placement. Fast forward to the present, we're now finally getting to see its eventual successor – the
Samsung Eternity II
. Since smartphones have dominated the landscape from the time since the Eternity was released, we'll see if its successor can muster up enough improvements to prove itself as a worthy upgrade
The package contains:
Samsung Eternity SGH-A597
Wall Charger
microUSB cable
3.5mm headset adapter
User Manual CD
Quickstart Guide
Design:
From a cursory glance, there is no arguing how the Eternity II is more inclined to be regarded as an entry-level touchscreen phone with its artistic & flamboyant look – versus the original's mid-range appeal. Its metallic blue plastic shell radiates so strongly that you can't hide the fact that its color scheme is anything but florid and akin to younger kids. Corners are rounded to give it that natural feel in the hand while its plastic casing makes for one lightweight (3.2 oz) device that won't burden you in the pockets. Similarly, it's rather normal size in shape and doesn't look overbearing – making for one compact set. We definitely like the optical illusion pattern going on with the rear cover, but as a whole, it doesn't quite feel as sturdy in construction versus its predecessor – which is probably why it's aimed as an entry-level unit.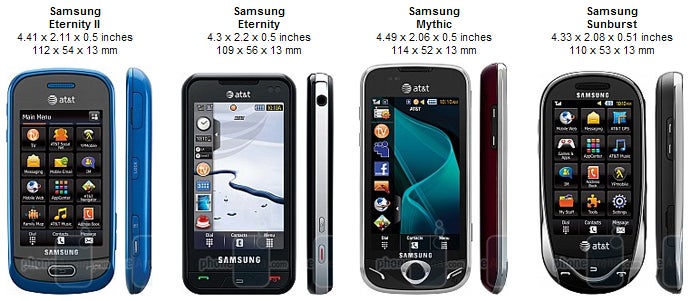 You can compare the Samsung Eternity II with many other phones using our
Size Visualization Tool
.
Although it's not seen as a biggie, the Eternity 2 defaults to a smaller 3" TFT touchscreen display with a resolution of 240 x 400 pixels and support for 262k colors. In fact, it's pretty much ordinary to say the least since it doesn't exhibit eye opening results with its washed out looking colors and noticeably fuzzy text. However, it does offer for some okay viewing angles to allow you some visibility to see what's on-screen, but it easily washes out when using it in the direct view of the sun. Naturally, it employs resistive technology which doesn't quite feel as responsive – which requires a solid push on the screen in order for it to register.
Beneath its touchscreen, we're presented with three physical buttons that are rather well sized and very responsive – these include the send, back/clear, and end keys. To the left side we have a reasonable shaped volume rocker with chrome accents while the right edge you'll find the microUSB port, lock/unlock key, quick menu button, and shutter key. Thankfully, all of the buttons are distinctive to the touch and offer subtle feedback when pressed down. Taking a peek at its rear cover, you might have your eyes confused by its optical illusion pattern, but you'll notice two small notches amongst it which are actually for the speaker. While towards the top, we find the placement of the 2-megapixel camera surrounded by a nice looking chrome ring. Finally, removing the rear cover can be accomplished by simply yanking it off, which will then provide you access to the microSD card slot, battery, and SIM card slot.
Samsung Eternity II 360 Degrees View: Recommended Stories