Samsung ATIV Tab 3 Preview
18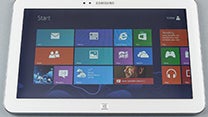 Introduction
The Samsung Ativ Tab 3 is a thin and light tablet that features a full-blown Windows 8 and runs on an Intel Atom chip. A separately sold keyboard book cover transforms it into a better productivity tool and with built-in S Pen and S Note 2 application, it has its creative appeal. Additionally, it has a dedicated SIM card slot enabling 3G and 4G cellular connectivity.
We have a prototype of the device in our hands, so keep in mind that Samsung might improve it further in the final, retail unit, but with this in mind, let's take a look at how the ATIV Tab 3 looks right now and what it offers.
Design
The Ativ Tab 3 is surprisingly light and thin for a Windows 8 machine. It is only 7.95mm thick and is fairly lightweight for its class at 550g. Its design closely resembles that of Samsung's Galaxy line of Android devices, a uniformity that the company wants to maintain.
It has the typical Samsung look and feel - all made out of plastic with a glossy textured back. We are not big fans of plastic devices, but our first impressions were spoiled more by something else. This tablet just does not feel solidly build - the back squeaks and screaks, making it all look fragile. Hopefully Samsung will fix these issues in the final device.
There is a lock key and a volume rocker on top, next to them are the lid-protected microSD and SIM card slots, while the microHDMI and microUSB ports remain nested on the right hand side.
Display
The Ativ Tab 3 comes with a
10.1-inch LCD screen
with a
resolution of 1366 x 768 pixels
. This results in a lack of fine detail and a very low pixel density of 155ppi, meaning your eyes will notice all sorts of ugly pixelization. Yikes, as a $599 device, one would definitely expect more from the Ativ Tab 3. In comparison, way more affordable tablets like the iPad and Nexus 10 have screens of "Retina" quality of over 300ppi. Surprisingly, the display also supports up to 5-finger multitouch, instead of the now standard 10-finger one, but that's not a huge issue.
Colors also start to fade out at an angle. On a more positive note, looking directly into the screen, colors are vibrant, while screen brightness is very high. That all made it easier to use the tablet in the outdoors.
Recommended Stories