Samsung ATIV Odyssey Review
8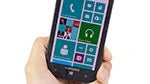 Introduction:
All of a sudden, Verizon's lineup is beaming with some decent Windows Phone 8 devices of late, and for the first time ever, we're seeing one that's coming from Sammy's camp. Yes folks, the
Samsung ATIV Odyssey
has finally arrived, which is interestingly enough the first Verizon bound Windows Phone 8 smartphone from Samsung to feature 4G LTE connectivity. Frankly, it's not a pencil pusher in any way with its specs sheet, but at $49.99 with a 2-year contract, some might be tempted to check out what Sammy has to offer in this front – then again, it's facing stiff competition from Nokia's recent offering.
The package contains:
microUSB cable
Wall Charger
Start Here Guide
Product Safety & Warranty Information
Design:
What's to say about this one, aside from the fact that it's a typically made Samsung device – so there's nothing particularly too fresh with its appeal. Rather, it's more of the same, as it's donning an all-plastic body that's lightweight and compact feeling in the hand, though, it has a very slick feel, which tends to make it slippery. Sure, it's still prone to the occasional smudges and fingerprints, but we do appreciate the faux-pas metallic finish it's sporting. Overall, it's more of the same and looks dated to the stuff we've been seeing with Nokia and HTC's Windows Phone 8 offerings.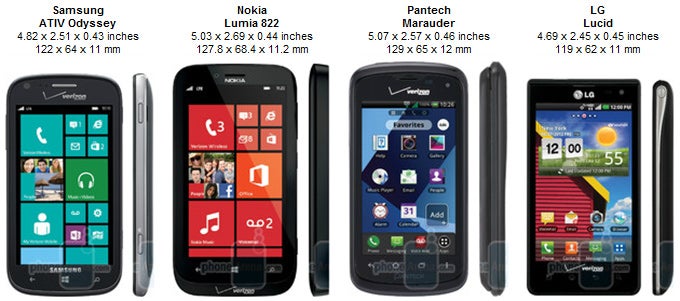 You can compare the Samsung ATIV Odyssey with many other phones using our Size Visualization Tool.
Sporting the usual
trio of capacitive Windows buttons
, they're spaced away from one another to reduce accidental presses. Likewise, above the display, we find its light & proximity sensors, earpiece, and
front-facing 1.2-megapixel camera
. With the latter, it has the ability to shoot videos in 720p.
With its
physical buttons
, the power, volume control, and shutter key, they're distinctive to the touch and offer springy responses when pressed. Comforting to say the least, especially when it's rare to find with Windows Phones, we do appreciate that there's a microSD card slot that's easily accessible from its left edge. As usual, too, it features a 3.5mm headset jack, standard microphone, noise cancellation mic, and microUSB port for charging/data connectivity.
Around
the rear
, there's a modest 5-megapixel auto-focus camera with LED flash, which has the ability to shoot video in 1080p. Along the bottom edge, it appears as though there's a giant speaker grill, but in fact, only the center area is tucking away its internal speaker. Removing the rear plastic cover, we're given access to its 2,100 mAh battery and microSIM slot.
Display:
For what it's worth, some people are still going to be attracted to the vividness of the Samsung ATIV Odyssey's
4-inch WVGA (480 x 800) Super AMOLED display
, which can be attributed to its wide viewing angles and overly saturated colors. However, its 233 ppi pixel density, combined with its PenTile matrix pixel arrangement, doesn't produce the fine detail we crave nowadays – thus, producing garbled text in a zoomed out view in the web browser. Regardless of that, the display still has the wow factor we'd expect to see out of a Super AMOLED panel, but it still needs a good shielding when outdoors.
Samsung ATIV Odyssey 360-Degrees View:
Recommended Stories