RIM BlackBerry Torch 9810 Review
23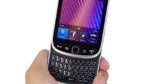 Introduction:
Last year, the BlackBerry Torch 9800 was by far the most touted device out of RIM's camp mainly due to its new form factor and updated platform experience. It was expected to be a rival of other high-end smartphones at that time, but unfortunately (for RIM), it was unable to establish itself as a phone capable of reeling in new users.
One year older and wiser, RIM unleashes its obvious successor in the face of
BlackBerry Torch 9810
for AT&T, which is hopeful in making a bigger splash than its predecessor thanks to its upgraded hardware and OS. Will it be enough to bring back any glint of prominence to this still relatively new BlackBerry line?
The package contains:
RIM BlackBerry Torch 9810
Hands-free 3.5mm stereo headset
microUSB cable
Wall Charger
Polishing Cloth
Quick Start Guide
Safe and Product Information Booklet
Design:
Not hiding it at the very bit, the BlackBerry Torch 9810 recycles the design of its predecessor in every way except for the new paint job it's sporting - which is a black and silver trim this time around. The Torch 9810 is clearly not one of RIM's most iconic devices, utilizing a mostly plastic casingwith some metallic accents. Far from being charming, the Torch 9810 has the same weighty (5.68 oz) feel in the hand – albeit, it doesn't seem too overbearing in size.
Although it's not the first time we've seen successive devices relying on older designs, it still would have been nice to see some subtle changes to give it the illusion of being a different handset altogether. Recycling the design of the original is actually hurting the Torch 9810 mainly because it's going to have some difficulty in shedding its predecessor's missed expectations.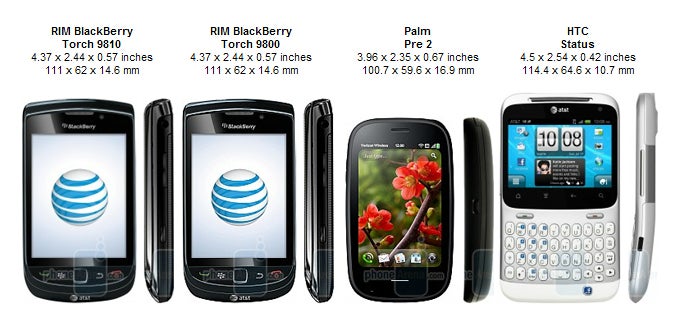 You can compare the RIM BlackBerry Torch 9810 with many other phones using our
Size Visualization Tool
.
Turning on the handset, we're greeted with the first recognizable improvement – its
3.2" display
now features higher VGA resolution (480x640 pixels), which translates to a pixel density of 253 ppi. Naturally, there's some progress made seeing that details are more sharp looking than before – but still, pixel density is not world's best. It is able to display some luscious looking colors that retain their vividness – though, fading at extreme angles can be noted. Finally, we're still left finding ourselves shielding it occasionally while under the presence of the gazing sun.
As we've mentioned a few times, the Torch 9810 retains its predecessor's design – meaning, we find
the same set of buttons and ports
. One of the more notable items that we continue to find refreshing is the optical trackpad, which appears to be one of the hallmarks of any BlackBerry smartphone. It provides an easier way of positioning the cursor into an exact spot – as opposed to fumbling around touching the display to get it into the correct position.
It's not to say that we fell in love with the Torch's
keyboard
, but we were yet again hoping to see some sort of discrete change with the Torch 9810. So whether you loved or hated it, the same exact keyboard is back with this one. Indeed, it's not the best one that RIM produced - buttons are tiny in size and stiff to the touch. With this combination, it definitely impedes our rate of inputting text, but for those with plenty of patience, they'll find it to be usable for most occasions.
Granted that we find the same
5-megapixel auto-focus
camera
with an LED flash in the rear, it's worth noting that the Torch 9810 can now actually shoot 720p high-definition videos – whereas the original was limited to VGA video capture. Finally, sliding off the flimsy plastic rear cover, we're given access to its unoccupied microSD card slot, SIM card slot, and its slightly reduced 1,270 mAh battery.
RIM BlackBerry Torch 9810 360-degrees View:
Recommended Stories