RIM BlackBerry Curve 3G for Sprint Review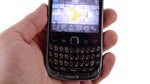 Introduction:
Though the
BlackBerry Curve 8530
was just released at the beginning of the year, RIM is back with the
Curve 3G 9330 for Sprint and Verizon
. This new Curve offers virtually no physical upgrades to the 8530, but under the hood it packs a new processor, more memory and most importantly is upgradable to BlackBerry OS 6. Sprint's version is packaged with a 2GB microSD card, AC adapter, microUSB charging/data cable and stereo headphones.
Design:
The RIM BlackBerry Curve 3G 9330 is identical to the outgoing 8530 in terms of design, with one exception. The trackpad on the Curve 3G is slightly raised which actually makes a lot of difference and gives this new Curve a better feel. It could be our imagination but the trackpad also feels a bit more responsive. When set at the same levels we feel that we have more fine control on the 9330 than we did with the 8530. The Curve 3G feels more like the
Bold 9650
, and in all likelihood they probably use the same trackpad.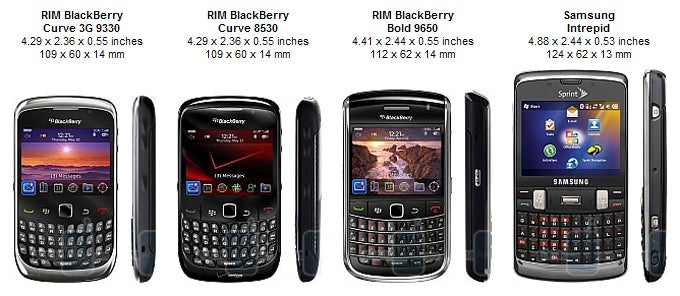 You can compare the RIM BlackBerry Curve 3G 9330 with many other phones using our
Size Visualization Tool
.
The Curve 3G 9330 is available in both Graphite Grey and Royal Purple, both of which feature a chromed finish around the front. The
back
is soft touch with some nubbed texture, a welcome upgrade from the Sprint 8530's plain plastic back. The
keyboard
is the same; as a BlackBerry it is still one of the best QWERTY's available though we prefer the larger keys found on the 96xx series of phones.
The RIM BlackBerry Curve 3G 9330 uses the same
2.4" 320x240 display
. It is just as light as the 8530, but does not feel cheap. It has a very solid feel to it and the rubber around the edges of the phone makes it easy to hold. It slips just as easily into the pocket of a suit coat as it does into your jeans and we have a feeling it can withstand the everyday bumps and bruises.
RIM BlackBerry Curve 3G 9330 360 Degrees View: