Pantech Marauder Review
5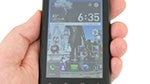 Introduction:
Pantech Breakout. But until now, if you wanted a 4G LTE smartphone with a physical QWERTY keyboard, your choices were limited to the Samsung Stratosphere, or the higher-end (and higher priced) Motorola DROID 4. Verizon now gives a new option with the Pantech Marauder. Not only does it have a sliding QWERTY keyboard, but is running Android Ice Cream Sandwich, and is reasonably priced at $49 with a 2-year contract.
Included in the retail package is the Pantech Marauder ADR910LVW smartphone, 1680 mAh battery, wall charger with detachable microUSB cable, and user guides.

Design:
The overall appearance of the Pantech Marauder is basic and simple with its all black plastic construction. It fits well in the hand and is comfortable to hold, thanks to the texture on the back that provides a firm grip, but after a few minutes you can start to feel its 6.1 oz weight.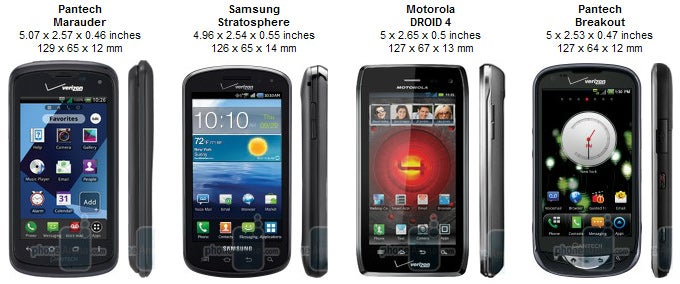 You can compare the Pantech Marauder with many other phones using our Size Visualization Tool.
Below the display are four touch sensitive buttons for Back, Home, Recent Apps, and Settings. Along the left side is the volume rocker and microUSB port, while up on top is the power/lock key and a 3.5mm headset jack. On the back is a 5MP camera, but to gain access to the microSD card slot, you have to remove the battery.
Display:
3.8" LCD display

with WVGA 480x800 pixel resolution. This combination actually isn't bad, as text and images do look sharp in most circumstances, but looking close-up we did see some minor jagged edges. Our only issue with the display is that it is difficult to view in sunlight, and that off-axis viewing angles are poor.
QWERTY keyboard:
Naturally, one key feature of the Marauder is its physical QWERTY keyboard, but we found that sliding it open requires more force than what is needed to open the keyboard on the DROID 4, and we could also hear the plastic panel behind the display rub on the keyboard. But once it is open, there is a

5-row layout with dedicated number keys

across the top. Unfortunately, we found that using the QWERTY keyboard isn't very pleasant, as the keys are virtually flat, making them indistinguishable from the surrounding plastic, and have almost no space between them. Because of this, we had several mistypes if we weren't carefully. But we were shocked to see that there is no auto word correction when using the physical keyboard, as it is only activated when using the on-screen virtual keyboard.
Because of these issues, we can't see someone that does a lot of typing using the QWERTY keyboard on the Marauder on a daily basis, but it would be OK for the occasional email or message. We found that keyboards on the Samsung Stratosphere and Motorola DROID 4 are easier to use for prolonged periods.


Pantech Marauder 360-degrees View: