Novatel USB551L 4G USB Modem for Verizon Review
1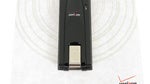 Introduction and Design:
Until now, Verizon has carried two 4G USB modems, the Pantech UML290 and the LG VL600, which
we took a look at
earlier this year. The
Novatel USB551L
is the newest 4G USB modem to be available from Verizon, but is there any reason to choose it from the other two models? Let's see…
The first thing we noticed about the Novatel USB551L is that it's smaller overall (3.46"H x 1.38"W x 0.47"D) and lighter weight (1.23 oz), which makes it more compact and easier to use and store. It's all black plastic design isn't anything out of the ordinary, and there is a small cover on the back that you can remove for inserting your 4G SIM card.
What we found curious is the way the USB connector works, as it has a flip-out hinge design, and when the device is connected to your computer, the modem it standing up at a 45 degree angle. This is different than the LG VL600, which has a movable protective plastic cover over the USB plug when not used, and when it is connected to your PC, the device sticks straight out to the side, not up at a 45 degree angle.
Include with the Novatel USB551L modem is a USB extension cable with a built-in clip to attach it to the side of a laptop display, which may help some people get better signal reception. Unfortunately, these USB modems do not to include any LCD display, but only have a LED status lights on them, which shows the 4G/3G network connectivity, though this can also be viewing using the software.
Recommended Stories