Nokia 8290 Review
2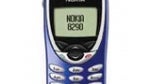 Nokia is the world leader in mobile communications. Backed by its experience, innovation, user-friendliness and secure solutions, the company has become the leading supplier of mobile phones.
The Nokia 8290, GSM 1900 Mhz mobile phone for use in the United States and Canada is a little bigger than the size of a cigarette lighter but packed with features. The phone has been introduced in 2000 and was the smallest phone on the wireless market. If you need almost every GSM feature and want it in the smallest possible package I recommend this phone. If you need Internet access and data services or have big hands then you should look for another wireless decision.
This phone is very stylish. It easily fits into the pocket of a sport coat or jacket and has great portability. This phone is very easy to operate and will be picked up easily by beginners. An ample 250 names and numbers can be stored in the phone directory on the 8290's SIM card, along with 50 appointments. The phone offers voice-activated dialing; you can attach up to eight voice tags to names in your phone book. It also supports Short Message Service SMS , which allows you to send and receive short text messages from SMS -enabled phones. To help compose messages, the phone has predictive text input (the phone attempts to finish words for you as you type letters using the dial-pad keys)This phone is smaller than a cigarette box at 3.9" x 1.7, It conceals away in the palm of your hand, and is a featherweight at 2.8 ounces. Most will consider this phone to be a middle-high end phone, trim, slick and packed with many useful features. The phone is small to the point where you begin to worry if the other party can hear you - the microphone is too far from your mouth. However, the microphone is very sensitive and can pick up whatever you are saying.