Nokia 7705 Twist Review
8

Introduction:
Samsung Alias 2
and
Rogue
, to the
LG enV3
and
enV Touch
. Now another one enters the mix, the
Nokia 7705
Twist
for Verizon. As the name implies, the phone twists open to reveal the hidden keyboard and there is a "contact light ring" that will illuminate different colors depending on who is calling or sending a message. The Twist is geared to the under-20 crowd that is looking for a unique messaging device while maintaining a sense of style and individuality, thanks to the two Xpress-On battery covers, built-in mirror, and habitat mode home screen.
Included in the retail package are the Nokia 7705 Twist phone, black and purple Xpress-On covers, 860 mAh battery, wall charger, and user manual.
Design:
While closed, the Nokia 7705 Twist is overall one of
the smallest phones currently available
through Verizon, but when opened it's taller than even the Samsung Rogue. Rotating (or twisting) the phone open 90 degreescan be accomplished by one hand and you can hear it snap into place,though the hinge doesn't feel too strong and you can easily flex thetwo sections apart. The two included Xpress-On battery covers are alsoa bit flimsy, as they just snap on and off, but we wish more colorswere available.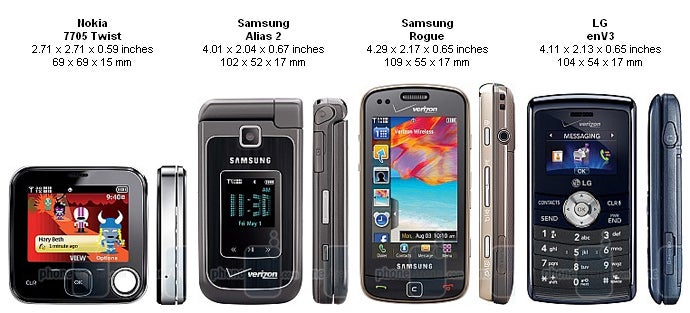 You can compare the Nokia 7705
Twist
with many other phones using our
Size Vizualization Tool.
The front is taken up by the
2.4-inch QVGA
(320x240 pixel) resolution
display
, which is capable of 262K colors. We like its overall larger size and higher resolution than the one found on the
Samsung Intensity
, as images and text aren't pixelated. Below the display is the standard
square d-pad
and surrounding it are the clear key and left & right soft
keys
, which are touch-sensitive. We didn't care for this design , as often times when using the mechanical d-pad, our thumb would accidentally press the touch-sensitive keys surrounding it. The contact light ring is one of the coolest features of the phone, as it can show up to 6 different colors when someone calls or sends a message. Located on
the sides
are the volume rocker, microUSB port, 2.5mm headset jack, microSDHC memory card slot (16GB support), and external speaker. The 3MP camera and flash are on the back, and when the phone is opened the rear also sports a large mirror.
The
QWERTY keyboard
has a nice design and looks like it belongs on a BlackBerry. There are 5 rows with dedicated buttons for messaging, web browser, voice command, speakerphone, and camera. Even though the keyboard buttons are small, they are raised from the surrounding plastic, which makes them easier to use than the flat keys on the Samsung Intensity and Alias 2. We had no problem using the Nokia Twist's keyboard for typing messages, but still prefer the larger keyboards on the Samsung Rogue, LG enV3 and enV Touch.
Nokia 7705 Twist 360 Degrees View: