This is a CDMA phone offered with Sprint.
Introduction:
The Retail Package includes:
W755 phone
940mAh battery with cover
wall charger
user manual.
Design:
The W755 is a standard flip phone that incorporates a more consumer-orientated appearance than the V3m, as it is available in two color options (black and purple), with soft-touch paint and silver trim. Current RAZR users will immediately notice that the construction has been greatly improved with a sturdier hinge, better designed keypad, and an overall felling of durability. However, these improvements come at the cost of having a device that is slightly thicker and heavier.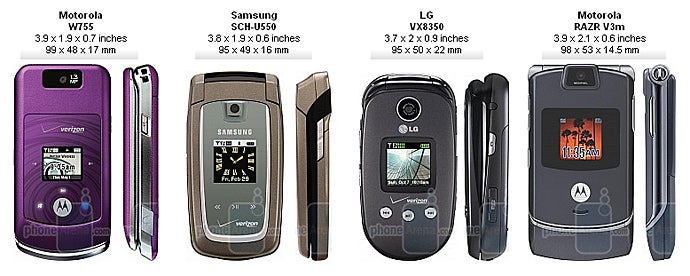 You can compare the Motorola W755 with many other phones using the
Size Visualization Tool
.
pixel
CSTN display
and
1.3MP camera
, which are similar to the ones used on the V3m. This is a disappointment, as there is plenty of space for a larger external display and a 2MP camera could have been used. Surrounding the display and Motorola logo are
five touch sensitive buttons
for music playback control, changing between vibrate and audible ringtone, and for turning Bluetooth power on and off. This is the first device to offer Bluetooth and ringtone controls on the front, without having to flip open the phone. Located on the right side are the speakerphone button and 2.5mm headset jack, with the volume rocker, smart button, and miniUSB port on the left. All of these buttons are raised from the sides to allow for easy locating while in low light conditions. The microSD slot accepts up to 4GB memory cards, but still requires the removal of battery to gain access. We would encourage Motorola to change this design and use a more consumer friendly side-loading memory card slot, so that the device would not have to be powered off.
When opening and closing the flip, the hinge operates smoothly without any creaking noises. No changes have been made to the resolution of the
internal display
, which is still 170x220 pixels and only supports up to 65K colors. However, both the VX8350 and U550 offer up to 262K color support. Even though the user can select from different brightness settings on the W755, the display can still be difficult to see in direct sunlight, which is a problem common among many phones. Located on the bottom flip is the white backlit keypad, which is easy to view against the black color of the keys, but when going into an application (such as the camera or music player) the backlighting changes color to blue. The
circular d-pad
is located at the top and is simple to use for accessing different parts of the phone's software. The
numeric keys
are easy to use for dialing and text messages, thanks to their size and larger numbers and letters. They provide your finger with good tactile feel, since they are raised from the rest of the keypad, and also produce a noticeable "click" sound when pressed.