Motorola PRO Review
8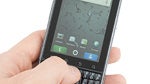 Introduction:
To any self-respecting business professional, their smartphone is a versatile tool before anything else. It has to be reliable, straightforward to use, and to excel at its primary function, namely connecting the individual with the rest of the world. This is the kind of device the
Motorola PRO
is portrayed like. Just like its name suggests, it is aimed at the suit types and is equipped with a full QWERTY keyboard.
However, the Motorola PRO is but a late arrival to the European market. It just recently landed on The Old Continent even though its US version has been on sale for almost a year. Since it is so late to the party, the smartphone doesn't boast any cutting edge tech specs; a single-core 1GHz processor, 5-megapixel camera, 3.1-inch HVGA display and Android 2.2 Froyo is what you would find on its specs sheet.
But specs aren't as important as the overall user experience, right? Well, here is the impression that we got after playing with the Motorola PRO for a while.
Design:
When we picked the Motorola PRO for the first time we noticed how solid and heavy it felt. With size and weight of this scale, we can safely say that this smartphone is anything but a lady's device. Guys, however, should find no difficulties using it comfortably as it feels nicely in the palm of your hand. Besides, its width allows for your thumb to reach even the furthest edges of its display.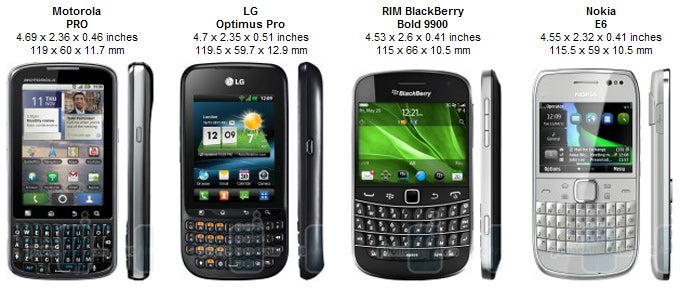 You can compare the Motorola PRO with many other phones using our
Size Visualization Tool
.
The
edges
of the Motorola PRO are surrounded by a chromed metal rim, that gives it some premium looks and feel. Furthermore, the well-exposed physical buttons around its sides are an example of attention to detail.
What has not been engineered that well, however, is the row of
capacitive Android buttons
, which sits in between the display and the smartphone's portrait QWERTY keyboard. Their unresponsiveness spoils the whole experience, and it boggles the mind how such a flaw could have ended in the final product.
As far as the
full-QWERTY hardware keyboard
goes, it isn't that bad, but it leaves a lot to be desired. At a glance, it resembles a keyboard that one would find on a BlackBerry, but once you try it out it becomes apparent that it doesn't come close to the ones RIM crafts for its smartphones. Typing on it feels kind of awkward as its keys are simply too cramped. And although we gradually got accustomed to using it, the smartphone's hardware keyboard is a stand-out feature and it should have been engineered better.
And finally, the
3.1-inch display
on the Motorola PRO packs a decent resolution for its size, namely 320 by 480 pixels, but its colors look quite yellowish and unpleasant. On the plus side, it is quite responsive to the touch and shines bright enough to be easily legible on a sunny day.
Overall, the Motorola PRO feels like a well-built device, but its display and hardware keyboard fail to impress.
Motorola PRO 360-degrees View:
Recommended Stories