Motorola Moto X vs Samsung Galaxy S4
31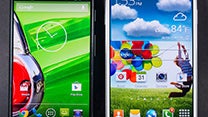 Introduction:
Ruling the Android landscape with an iron fist, the
Samsung Galaxy S4
is arguably the poster child for the platform, seeing that it has amassed such a huge following in the time it has been released. Entering the scene, the
Moto X
is trying to bring back notoriety and prestige to Motorola – who once helped propel Android to the limelight, from the dark pits of its early beginnings. Taking a close look at what the two flagship devices bring to the table, one can say that they have totally different ideas of what consumers want in a prized device, but in the end, it's going to be those consumers who dictate which of these two are worthy enough to earn their business.
Design:
If we're to simply walk into a store a glance at both devices from afar, we wouldn't necessarily be attracted to them immensely, seeing that they don't have the most awe-inspiring designs. First and foremost, they're constructed out of plastic, which merely tells us that they lack the premium element to their designs. Regardless of that, our hands take good notice of the Moto X's compact chassis and more comfortable grip in the hand, since its curved rear casing contours perfectly to our palm when it's held. It's not too bad with the Galaxy S4, but it proves to be a bit more unwieldy due to its sheer size – albeit, it's thinner in profile than the Moto X. Knowing that the Moto X's design can be customized with Moto Maker in the near future, which allows for some cool design ideas, it's one aspect that's able to jump out at us over what's available with the S4.
Display:
Underneath it all, these two rely on AMOLED technology for their displays, so our eyes are quick to realize their commonalities – such as their wide viewing angles and glowing over-saturated color reproduction. That's where things end though, as the Galaxy S4's larger 5-inch 1080p Super AMOLED display packs some warranted goodies to make it stand out over the 4.7-inch 720p AMOLED display of the Moto X. Sure, the S4 might have the upper hand on paper when it comes to details, especially when it's packing the higher pixel density between the two, but seriously, it's hardly noticeable unless we look at the two up close and personal. At that point, we can visibly see its sharpness. Additionally, there's the cool Air View feature of the Galaxy S4's display, which can track the movement as we hover our finger over the display.
Motorola Moto X 360-Degrees View:
Samsung Galaxy S4 360-Degrees View:
Recommended Stories