Motorola MOTO Z9 Review
5

Introduction:
Just recently launched, AT&T has added the Motorola Z9, to stand alongside the RAZR2 lineup that was launched several months back. With the way things have been going for Motorola, we imagine that they are hoping to add onto the success of the RAZR2 with those handset to keep up with the competition. A quick glance over the specifications and just looking at the model shows that it wasn't skimped on but the real question is how well does it perform? Well, let's take a look and see.
What's in the box?
Motorola Z9
Battery
microUSB to miniUSB converter
manual
Design:
Dressed in the same deep burgundy color that the RAZR2 V9 is, the handset looks very stylish. The high glossy material on the front just screams out for more attention.
The display
takes up most of the front showing very bright and rich colors. Even on medium brightness, it was easy to make out what was displayed in very bright environments. The
D-pad
, found just below it, is quite large and comfortable to use and its texture make it easily distinguishable from the rest of the handset.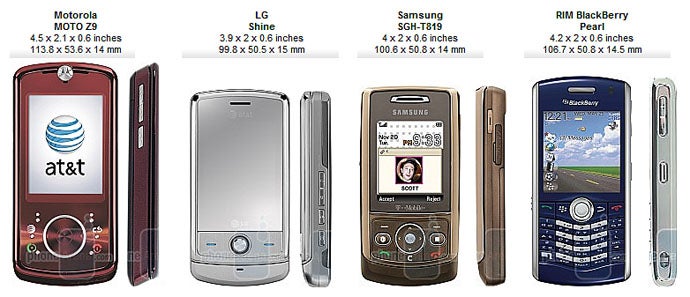 You can compare the Motorola Z9 to many other phones, using PhoneArena's
Visual Size Compare tool.
The small buttons that make up the
keypad
and the navigation keys are rather annoying to use. They don't take much effort to be pressed but it has to be right on them. If the surrounding area is pressed instead, it takes much more effort to activate the button. They are far too recessed and small to be easily felt without looking down at them and they are spaced far apart requiring lots of movement. Regular keys would be much better than what we have here.
The Z9 feels very sturdy and there was very little play in the slider in both closed and opened positions. The handset doesn't feel as if it's going to fall apart or break easily at any time.
Recommended Stories