Motorola FINITI Review
1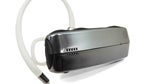 Introduction and Design:
Finding themselves in a healthy position right now in the mobile space doesn't mean that veteran handset maker Motorola is going to dedicate their efforts solely to cell phones. Rather, they're still pushing forward in the Bluetooth headset segment by conjuring up their latest achievement;
the Motorola FINITI
. Sounding a lot like a space age device, the Motorola FINITI is part of their Elite Series which means that it's manufactured with the utmost care and accuracy to provide an encompassing experience. Combining it with their MotoSpeak Android app, you can essentially even compose a text message by simply speaking it – which of course, supplements the hands-free experience. Included with the packaging are 5 ear gels, 1 ear hook, wall charger, and a user guide.
The Motorola FINITI definitely jumps out more than others with its painted chrome finish which is highly reflective. Granted it's constructed out of plastic, which makes it very lightweight, we do like the rubbery soft touch coating on its sides which contrasts well for its color scheme.
At first glance, the earpiece looks mightily intimidating with its spout jutting out and waiting to embrace the inner most portions of your ear canal. Even without using the ear hook, we're actually content with its firm grip and adequate feel which thankfully doesn't become bothersome during short periods of time. However, it tends to feel somewhat itchy where the spout comes into contact in your ear after an extended time.
If you happen to love physical buttons, you'll be enthralled to see the Motorola FINITI stacked to the brim with them just about anywhere you place your fingers. Powering it on/off is easily accomplished by sliding
the power switch
to the correct position – which makes for less fumbles in quickly answering calls. Furthermore, there are bumps along its soft touch coated side which provides some distinction for its
volume and stealth mode buttons
. Finally, the last one can be found towards the rear next to its
microUSB port
– however, it's the most difficult one to make out while the headset is on your ear.