Motorola DROID, HTC Imagio and DROID ERIS: side by side
16

Introduction:
HTC Imagio XV6975
,
Motorola DROID A855
, and the
HTC DROID ERIS
.
Design &Form Factor:
Both the HTC Imagio and DROID ERIS are
constructed
with black plastic throughout and have a soft-touch coating with sleek lines on the exterior, though the DROIS ERIS is the smaller of the two and is lighter in weight. Because of this, the DROID ERIS is the most comfortable while holding it in-hand, and is also the least conspicuous when placed in a pocket. Meanwhile, the Motorola DROID has a more solid feeling, thanks to its metal construction, which makes it the heaviest of the three devices. It too has the soft-touch coating on the back, but due to the square corners and extra weight, it can feel like a tank while holding it, or like a calculator in your pocket.
All three devices sport a
touchscreen
on the front, with the Motorola DROID's being the largest at 3.7" with a resolution of 480x854. Up next is the HTC Imagio with a 3.6" 480x800 display, and then the HTC DROID ERIS with a smaller
3.2
" 320x480 display. Both the Motorola DROID and HTC DROID ERIS use capacitive touchscreen technology, which allows them to be quite responsive and sensitive to the touch, while the HTC Imagio uses resistive technology, which requires more pressure to get a response. Images and text also look the best on the Motorola DROID, not only because of the larger display, but because it has the highest resolution and is the only one to support 16 million colors. When testing the devices outside on a sunny day, the display on the Motorola DROID is the easiest to view, since it is the brightest, followed by the HTC Imagio and DROID ERIS.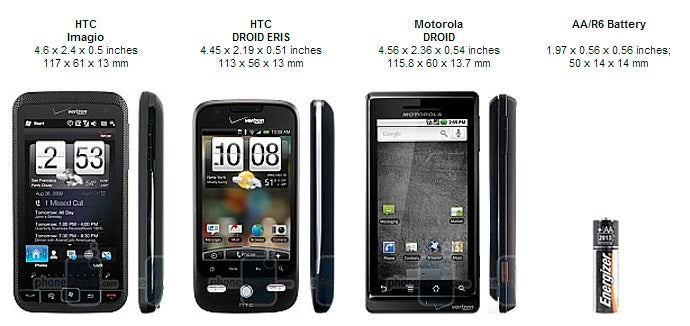 All three smartphones
are equipped with a
3.5mm headset jack
, which comes in handy for listening to music. When
connecting the device to a PC
and when charging, both HTC phones use the larger miniUSB port, while the Motorola uses the smaller and more common microUSB port. All three also have a 5MP autofocus
camera
on the back, though the Motorola DROID is the only one to include a dual-LED flash. For extra data storage, both the Motorola DORID and HTC DROID ERIS come with a microSDHC memory card preinstalled (16GB and 8GB respectfully).
Since the Motorola DROID is the only device to come with a sliding physical
QWERTY
keyboard, it will appeal more to the hardcore user that types a lot of messages, though all three devices offer on-screen keyboards as well. Despite this, the on-screen keyboard offered by the Motorola DROID is the largest and easiest to use out of the bunch.