MOBILEdit! - controlling your phone from your PC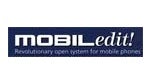 For the past several weeks I had the chance to play with MOBILedit! software – a program which allows you to control your phone from your PC. The developers from COMPELSON Labs have very unique approach to the issue of connecting and synchronizing your phone with your PC – open modular framework. What that means is the software is comprised of modules that are installed to control specific phone features. According to the company, the driver interface will be open and any company or phone manufacturer will be able to write application that will support the specific functionality of their phones.
The communication between the PC and phone can be accomplished using Bluetooth, infrared or cable. For my testing I used Sony Ericsson T68i and connected it via Bluetooth using Microsoft Bluetooth adapter.
The connection process itself was very easy - just pair your phone to your PC, then open the MOBILedit!, select the two Bluetooth serial ports, select the phone you have and you are done. What I found a little bit confusing is that if your phone is not currently connected to your PC, the software shows only "Connected" icon. If you actually connect, then you still have the "Connected" icon plus the rest of the shortcut icons like "Phonebook", "SMS", "Inbox" etc. For someone who just installed the program and is seeing is for the first time this might become bewildered.

The first screen after you connect shows your phone's manufacturer, model, IMEI number, hardware version is available, software version, battery meter and signal strength meter.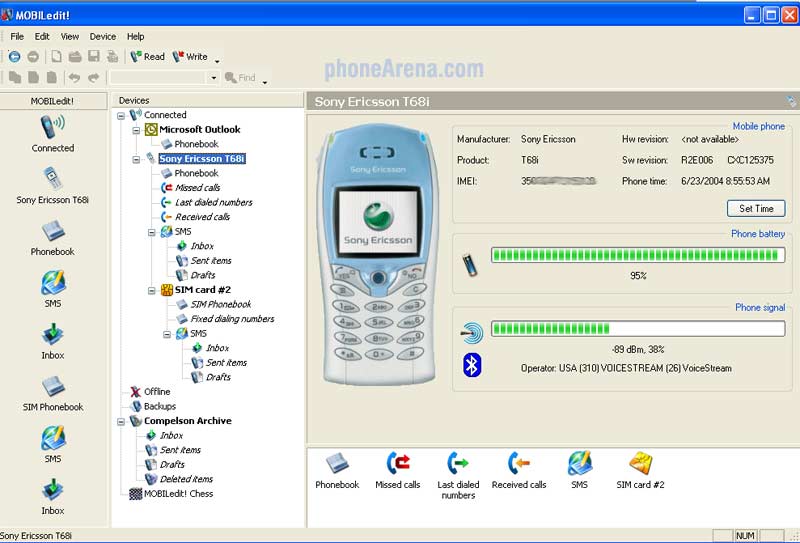 Phonebook application gives you access to the phone numbers stored in the phone, on the SIM card and your Outlook contacts. You can easily edit the numbers, dial a number, send text message to a number or perform a copy from one phonebook to another. This feature worked very well except when I had to copy my 220+ Outlook contact to my SIM card. I usually use Nokia 3650 smartphone and it does not require your phone numbers to be in a specific format. For example they can be like 1-800-11111 or (800)11111. Unfortunately, most phones do not like any character other then numbers. When I tried to copy my outlook phonebook to my SIM card, the MOBILedit! gave me an error and I had to manually go edit all the numbers. The work-around I found was to open a contact for edit, then just save it – this would eliminate all non-numeric characters. Then again I hope Compelson comes up with an automatic conversion feature soon. [edited 07/20/2004 - I was notified that the latest version 1.67 has automatic conversion features]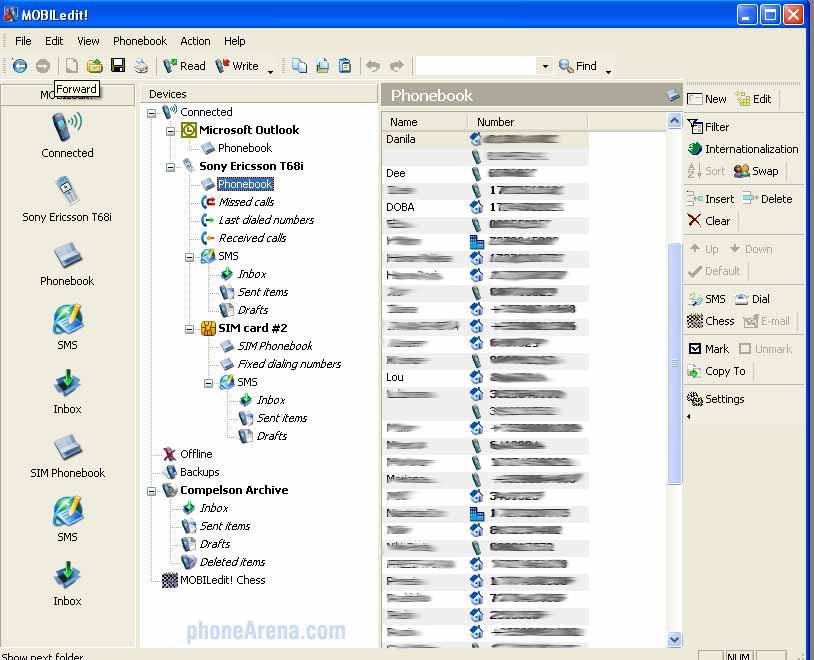 After phonebook are Missed, Dialed and Received call lists. In those menus you can see all the numbers that have dialed, missed or received, when did this happen, or you can then dial / send a text message to them.