Lenovo Yoga Tablet 2 10.1-inch (Windows) Review
15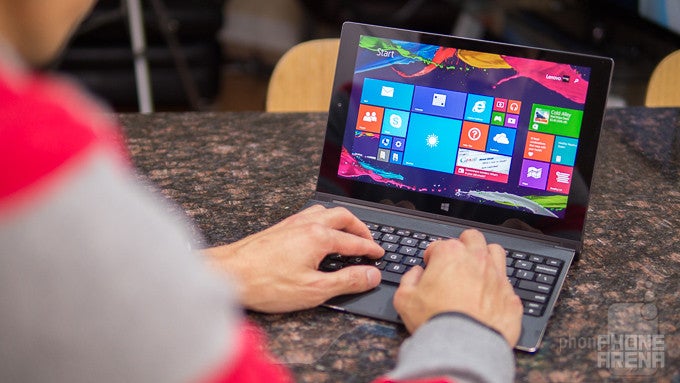 Introduction
Android tablets are multimedia consumptive devices that are perfect for various occasions, but when it comes to productivity, they're still usable to an extent – albeit, not as good as their Windows counterparts. Very recently, we reviewed the 10.1-inch Android version of the
Lenovo Yoga Tablet 2
, which offered a lot of value for its price of $300. However, for those who crave a higher level of productivity, Lenovo has a Windows version of the same tablet that may prove to be an even more alluring option.
The package contains:
microUSB cable
microfiber cloth
Bluetooth keyboard
Wall charger
Quick start guide
Warranty information
Design
It's the same unorthodox design from before, with the exception of a gunmetal paint job.
There's nothing different with the design of this Windows powered tablet, seeing that it employs the same unorthodox design language of its Android counterpart. Generally speaking, in terms of tablet designs, it's still pretty different from the usual slew of slates we find – thanks in part to its cylindrical hinge, which not only offers us a natural and ergonomic way of holding it, but also houses a uniquely engineered 9600 mAh battery as well. Interestingly, there are two minor cosmetic differences with this one, with the first being the Start button beneath the display, and the other being its gunmetal paint job. Besides that, everything is identical from before.
The cylindrical hinge is also home to the tablet's adjustable kickstand, which offers us multiple positions. From its stand mode for easy typing, to hold mode for a hands-free watching experience, and to its newest 'hang' mode, it goes to show that it has the yoga moves for all occasions. Looking around, it features a power button, volume controls, microUSB port for charging, 3.5mm headset jack, microphone, microHDMI port, front-firing speakers with Wolfson Master HiFi audio processing, and microSD card slot.
Keyboard
Included with the tablet is a Bluetooth AccuType Keyboard that's attached magnetically to the cylindrical hinge. This addition, of course, offers us with a better experience thanks to its chicklet styled keys, full QWERTY layout, and trackpad. Thankfully, the adjustment period is short, seeing that its responsiveness and manageable layout allows us to type at a good pace – and without too much fault!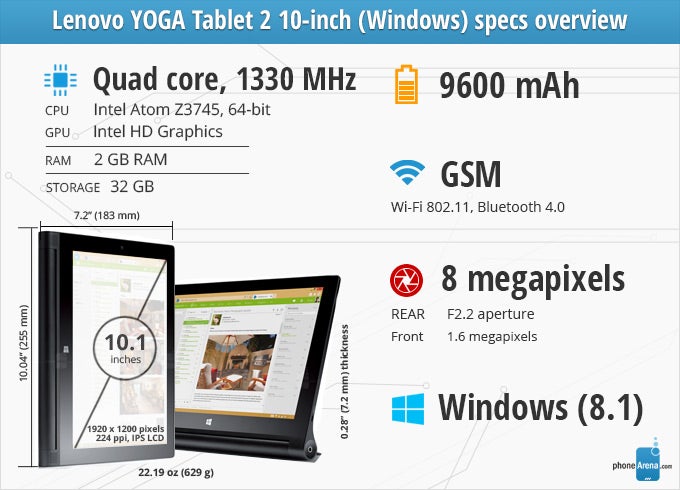 Display
This 1920 x 1200 IPS display delivers satisfying results across the board.
Specs-wise, it's the same as its Android counterpart, so it's packing along a 10.1-inch 1920 x 1200 IPS LCD display. Naturally, the resolution delivers sharp details, giving it a respectable pixel density count of 224 ppi. That's more than generous to make text in the web browser remain easily readable to the eye.
The screen bears a number of other respectable characteristics, such as a 7200K color temperature and good viewing angles. When it comes to color accuracy, reds happen to lack intensity somewhat, in comparison to green and blue. The panel's maximum brightness hovers around the 346 nit point, which is behind the 404 nit figure of its Android counterpart. Despite that, we'll say again that the screen is pretty attractive.
Display measurements and quality
Recommended Stories