This is a CDMA phone offered with Verizon.
Introduction:
The LG Decoy (VX8610) for Verizon Wireless is a unique device unlike any other, by offering a detachable Bluetooth headset, located in the back of the phone. In doing so, it is targeted to the on-the-go consumer who always wants to be connected wirelessly to a headset, but also offers a convenient place for it to be stored and charged while not in use. Since this is the only device to offer this feature, it stands alone and has no true competition, except that it is a slider-style phone, similar to LG Chocolate and Venus models.
The Retail Package includes the LG Decoy phone, 800mAh battery with cover, wall charger, Bluetooth headset, separate headset charging station, cavity cover, and user manual. Unfortunately, a microUSB cable is not included and has to be purchased separately for PC connection.
Design:
Being a slider-style phone is noting new, as they have been around for a few years now, but the Decoy improves upon this with a definite update in overall styling and usability. The front has a mirror-like finish to it, but at the cost of being a fingerprint magnet, with black plastic used on the sides, and dark blue on the back. When the headset is installed, there is a definite "hump" that can be seen and felt, as it does stick out. However, once removed, the Decoy is about the same size and weight of the Venus, and can easily be slipped in your pant's pocket without being too noticeable. Sliding the phone open is very easy, due to the strong spring mechanisms, but you can hear the plastic parts rubbing against each other. Despite this, it does appear to be well made and should hold up to every-day use.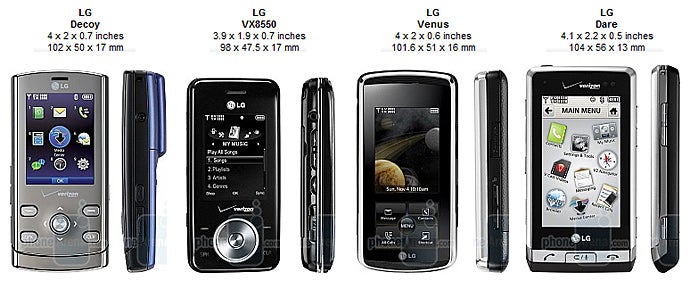 You can compare the LG Decoy to many other phones, using
PhoneArena's Visual Size Compare Tool.
2.2" diagonal QVGA TFT display
that supports up to 262K colors. However, due to the mirror-like finish, it is extremely challenging to view outside during the day since the sun is reflected into your eyes. Placing one hand over it to provide shade does allow for easier viewing. Directly below the display, are the
left and right softkeys
,
speakerphone
, and
clear button
. These surround the newly designed joystick d-pad located in the center. We found this approach to be very user-friendly, as your thumb can stay in once place and move the joystick up, down, left, right, and press in to select an item. Our only complaint here is that it is a little too small and should provide greater contact with your thumb.
Located
on the left side
is the volume rocker and microUSB port, with the 2.5mm headset jack, camera button, and microSDHC card slot
on the right
. The integrated 2MP camera is on the back, directly next to the docking area for the headset.
numeric keypad
, which is black in color with white backlighting. The keys are smooth to the touch, but are cramped too closely together, which makes text messaging more difficult for people with larger hands, yet they do produce a noticeable "click" sound when pressed. For those who message a lot, a better option would be the
enV2
, since it features a full QWERTY keyboard.