Jabra Speak 510 Review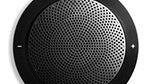 Introduction:
Oh the office life! We all know how demanding it can be at times, as the hustle & bustle atmosphere means that co-workers need to converge together to brainstorm ideas. Typically, conference calls are the way to go when you're trying to get a group of colleagues together to converse with other people both near and far. At first glance, the peculiar look of the
Jabra Speak 510
might irk some people when it's placed at the middle of the conference table, but it's gunning to be the Bluetooth speakerphone that'll get people to collaborate on ideas through audible conversation.
Design and Style:
Partly due to its UFO-like cylindrical shape, the Jabra Speak 510 definitely stands out, but for some people, they probably wouldn't associate it as a Bluetooth speakerphone at first glance. Regardless, there's no arguing it has an interesting design that kind of gives it a futuristic touch. Constructed out of sturdy black plastic material, it mainly has a clean finish – with the exception of top surface's outer rim, which has a glossy finish to it, making it more prone to fingerprints. In terms of size, it's no doubt on the bigger side, but at least its weight is light enough to be barely felt when carrying it around. When so many dedicated speakerphones rely on the usual square form factor, it's quite refreshing to see the Jabra Speak 510 taking a risk with its design.
Occupying most of the real estate, the
speaker grill
is what's most prominent on this saucer – while the Jabra logo is smacked dabbed right at the center of it.
Around the outer glossy rim
, there are various
capacitive buttons
that are spaced far away from one another and easily activated. Specifically, they include the power, pickup, decline, volume up, volume down, battery level, mute, and Bluetooth pairing buttons. Adding a pleasing level of contrast to the otherwise all-black finish of the Jabra Speak 510,
various LED lights
line the outer edge of the speaker grill – providing us with some useful visual statuses. For example, we can visually see the volume level of the speakerphone as we press the appropriate capacitive buttons. Yet again, the arrangement of the LED lights is a tasteful complement to the UFO presence.
Discretely hidden away, there's a
3.5mm jack
in the body of the speakerphone, which essentially gives users a more private experience with phone calls. And finally, the
USB charging cable
, which also allows usage with a personal computer, wraps around the base of the Jabra Speak 510. It's not too long at only 3 feet, meaning, you'll need to get an extension cable if you plan on using it with a computer that's placed a good distance away.
Recommended Stories