HTC One M9 vs HTC One M8
17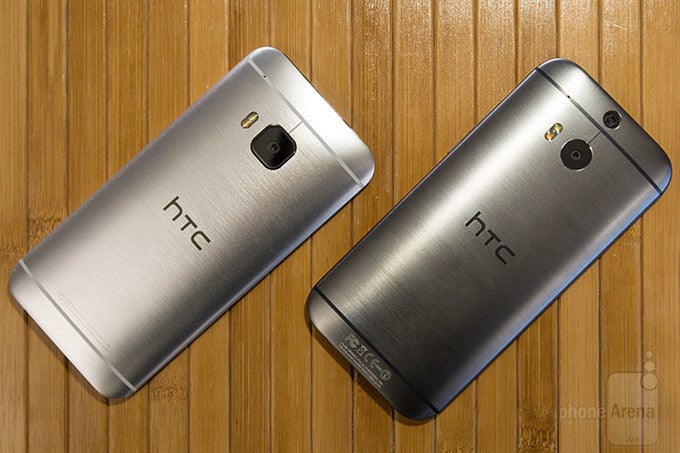 Introduction
The life cycle for today's flagship smartphone is one year: the time needed to naturally make improvements and tweaks, while also adding some new features, in order to make the new product more lust-worthy than the last. The
HTC One M8
was undoubtedly a refined model over the
M7
, making great strides in the design department, but as history has shown us, the overall package still didn't quite make a significant impact on hungry consumers looking for that perfect all-around phone. With its latest iteration, the
HTC One M9
aims to capitalize on the opportunities presented with the M8. At the same time, though, we're curious to find out if the M9 is a monumental leap, or just an incremental step up from its predecessor.
Design
The M9 looks closely similar to the M8, but it addresses some of the design concerns of its predecessor.
Viewing it from a cursory approach, the design between the two phones will appear similar to most folks, as the M9 clearly retains its predecessor's premium design language, but makes some logical changes in the process. We can't deny that the two are one of the most beautifully designed phones out there, but there are clearly a few more qualities found with the M9 that make it more favorable.
Specifically, its new scratch resistant finish doesn't make it as slippery to hold. Meanwhile, the dual-tone finish unexpectedly gives the M9 a slightly sharper feel in the hand – whereas the M8 has a seamless, rounded look around its sides. However, we absolutely like how the power button on the M9 has been relocated to the right side, making it more accessible. What's apparent here is that the M9 recycles the design of the M8 for the most part, which is a common practice amongst phone makers. There's nothing wrong in that decision, partly because they've addressed the few issues we've had with the M8.
Display
Going with the same screen size and resolution, the M9's display strangely exhibits a colder tone.
Interestingly enough, HTC decided to slap the M9 with the "same" 5-inch 1080 x 1920 (1080p) S-LCD 3 display we've seen already in the M8. Therefore, when it comes to detail, they deliver the same sharp visuals that make it easy for our eyes to view miniscule details.
On paper, the specs are identical between the two, which leads us to believe that there should be nothing too different, but that's certainly not the case. Above all, we're most irked about the M9's screen color temperature of 8100K. In comparison, the M8's value of 7200K is a lot closer to that reference value of 6500K, so it means that the M9's display is considerably colder – giving it a bluish tone. At the same time, there's more saturation evident in the M9 screen, but we gladly like how it produces a stronger brightness output of 508 nits, a marginal increase over the M8's mark of 490 nits.
Yes, the color temperature isn't an improvement for the M9, but nevertheless, most folks will probably view it as negligible – or more likely, attracted to its more vibrant look.
Display measurements and quality