Brando Microphone for the iPhone 3GS Review
3

Introduction: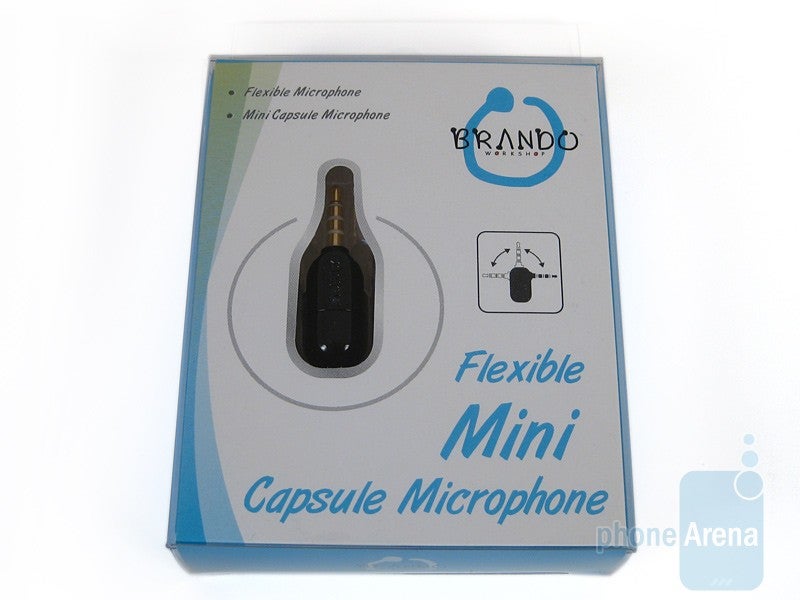 The
Apple iPhone 3GS
is a very capable multimedia platform, but as a smartphone with a lot of technology packed into a small body, there are compromises. One compromise is the sound quality of the internal microphone, which is located at the bottom of the phone. With Voice Memos and video recording capabilities on the iPhone 3GS, relying on the internal mic is adequate, but Brando Workshop has an inexpensive solution: the Flexible Mini Capsule Microphone that enhances the audio to make your iPhone's recording feature much more powerful.
Design:
The Flexible Mini Capsule Microphone is a very small multi-directional mic that connects to your iPhone's headphone jack. It pivots to a right angle either direction so you can aim it at the sound source. The mic is available in two colors, black and white, and is made of hardened plastic. It draws power from your iPhone and requires no battery. The pivot point of the mic is stiff enough to hold in place once positioned. Brando claims that the capsule mic gains 25+ dB with increases in sound quality and clarity, and that it offers 10 times better audio reception. We may not have a sound studio here at Phone Arena, but we were still able to put the mic through some sound testing the old-fashioned way.
Performance:
The included video contains audio samples of recording with the iPhone 3GS using the same audio source (iPod in a truck), same volume settings, and same music sound samples with voiceover. The Brando mic provided a significant gain in volume and clarity, adding a lot to the audio and video recording capability of the iPhone.
Conclusion:
At only $14.00 (+$3.00 shipping/handling), the
Brando Workshop Flexible Mini Microphone
is a convenient and inexpensive way to boost the performance of the audio capabilities of your iPhone (all generations). The small, simple multidirectional design, proven audio enhancement, and low cost make it an excellent value.
Before you make your purchase, however, it is important for you to know that we used the regular channel for purchasing from Brando's web site and didn't receive our mic until a month later. It's not a bad idea to call them first to get an estimated delivery time. Otherwise, we can definitely give the Brando mic a thumbs up as a good performer and good value for the money.