Barnes & Noble NOOK HD Review
3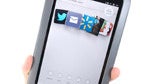 Introduction:
With its rivals getting the head start, Barnes & Noble made sure to deliver some standout points with its latest 7-inch tablet offering in the
NOOK HD
. Not only does it follow the recipe in making it a convincing offering on paper, such as having a competitive price point right from the onset, but it even manages to go beyond its rivals with the highest resolution display to grace a 7-incher thus far. Considering that the competition is always fierce these days, it's obviously going to need more than a snazzy display to keep up with the crew.
The package contains:
Proprietary USB cable
Wall Charger
Quick Start Guide
Design:
After seeing a rehashed design with last year's
NOOK TABLET
, the NOOK HD is now sporting a totally new design, which is more kid-friendly in our opinion. Yes, it sheds the distinct industrial design of its predecessors, and instead, it's opting for a more plain looking appearance – albeit, it's soundly decent with its build quality. To its testament, though, the NOOK HD is relatively easy to hold because it's one of the lightest (11.11 oz) 7-inch tablets on the market thanks to its sturdy all-plastic body, even beating out its rivals in the
Google Nexus 7
and
Amazon Kindle Fire HD
. Even better, the soft touch matte surface of its rear casing does a better job of repelling smudges and fingerprints than other comparable tablets. In the end, it's not flaunting a spectacular design, but rather, it's unique in the fact that it's distinguished as a Barnes & Noble tablet.

In keeping it attached to the Barnes & Noble branding, there's a
physical "n" button
below its display, which merely gets us back to the homescreen. Indeed awkward to feel out initially, it has at least a decent response when pressed.
Along the left
trim
of the tablet, we spot its physical power button, which is slightly raised and has a springy feel to it. Likewise, we can say the same thing about the volume control that's located on the right edge. Meanwhile, the 3.5mm headset jack and microphone are located on the top trim – with the LED charging light, proprietary charging/data port, and an always-useful microSD card slot hidden behind an annoying plastic flap, are all found on the bottom edge.
Flip it over
, the only thing visible besides the prominent NOOK logo, is the two speaker grills that line the bottom area of the tablet. Interestingly, the NOOK HD doesn't pack any sort of camera, both the front and rear, which is one of the compromises they made to keep the tablet affordable.
Display:
Above all, the NOOK HD is still widely regarded as an eReading device first before anything else – with a splash of tablet functionality. Knowing that you'll be doing a whole lot of reading, they made sure to grace this with something truly impressive. And rightfully so, that's what we see with its
7-inch 1440 x 900 IPS LCD display
, which amounts to a
pixel density of 243 ppi
. No kidding folks, this is absolutely detailed in every way imaginable, and at the same time, its warm color reproductions gives it that glow to make it pop even more. Adding to the fact that it's fully laminated, which eliminates air gaps, it offers exceptional clarity with barely any evident glare – plus, it works very well in outdoor conditions too! And we thought the Amazon Kindle Fire HD was polarizing, but this edges it out.
Recommended Stories