Apple iPhone 5s vs Motorola DROID Ultra
49
Introduction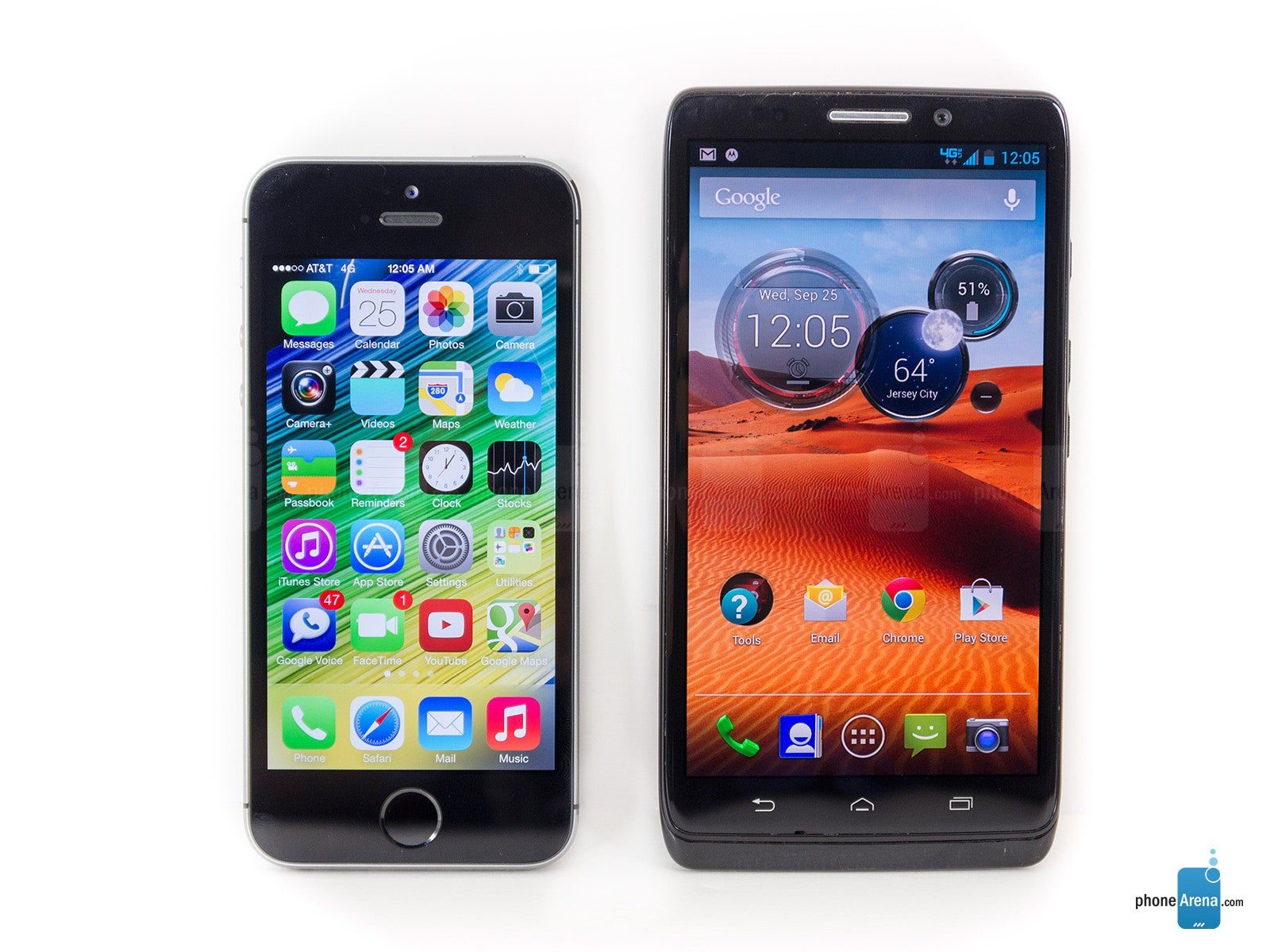 Sure, it's closely related to the
Moto X
, but Verizon's
Motorola DROID Ultra
has enough distinction of its own to be considered different from its sibling. Being a part of the latest generation of DROID branded smartphones, the DROID Ultra not only emphasizes its super slim profile over other rival phones out right now, but it packs along some unique software features that mimic's the iPhone's simplistic operation. Unlike the last several versions of the beloved iPhone, this 7th generation
iPhone
finally sees a huge overhaul to its software experience in the form of iOS 7 – something that's been longingly desired. Now that we have it, along with the usual set of incremental upgrades, does the Motorola DROID Ultra stand a chance against it?
Design
Okay, as we intently look at the two, we can't help but realize that their overall designs haven't changed much over their predecessors. It's not a surprising thing, naturally, seeing it's a common occurrence in the landscape, but nonetheless, we find their designs to be appealing on the same level – so it simply depends on what entices you more. Between them, we'll say that the iPhone 5s has the more premium construction, as its brushed aluminum casing and solid construction helps to give it more precedence. Despite being outclassed by materials regarded as being more premium, the DROID Ultra still has a solid construction of own – plus, its carbon fiber pattern really helps to give it a unique look of its own.
Indeed, the DROID Ultra has the larger footprint, making it a bit more unwieldy to hold in the hand over the compact iPhone 5s, but despite that, its curved sidings help to make it feel comfortable. Oppositely, those chamfered edges on the iPhone 5s make it feel a bit sharp!
Feeling out their respective power and volume buttons, we don't find one set to be superior over the other, since they're both distinctive, raised, and offer spring responses when pressed. As for the rest of the stuff around their trims, they pretty much boast the same set of things – like their microphones, 3.5mm headset jacks, and respective power/data ports.
Around back, they're naturally armed with some impressive camera gear. Specifically, it's an 8-megapixel iSight camera on the iPhone 5s , meanwhile, the DROID Ultra is flaunting a 10-megapixel "Clear Pixel" camera.
Display
Let's be frank here people! Neither display on these flagship smartphones are regarded as cutting edge, since they're rather modest with their specs. To me more specific, it's a 4-inch 640 x 11356 IPS LCD based Retina Display on the iPhone 5s – while the DROID Ultra has a larger 5-inch 720 x 1280 AMOLED panel in its body. Obviously, there's a huge size disparity between the two, as the DROID Ultra adds a full inch to its size, making it ideal for things like surfing the web or watching videos. However, there's a slight detail advantage to the iPhone 5s due to its pixel density of 326 ppi, which edges out slightly the DROID Ultra's 294 ppi tally, but it's almost indistinguishable from a normal viewing distance to adequately differentiate them.
Utilizing different display technologies, they have their own unique strengths! With the iPhone 5s' IPS LCD panel, it exhibits the more accurate looking colors – plus, it offers the better outdoor visibility. On the flip side, the AMOLED panel of the DROID Ultra is able to catch some glances of its own, thanks in part to the vibrant and over saturated colors it's able to emit, however, its screen washes out under outdoor usage.
Apple iPhone 5s 360-Degrees View
Motorola DROID Ultra 360-Degrees View
Recommended Stories