Acer Liquid S1 Review
2
Introduction
The phablet category is getting quite the love from phone makers this season, and Acer is throwing a horse in the race with the
Liquid S1
, too, following in the footsteps of companies like Sony or Huawei, which also made their first phablets this year.
Its specs are decidedly in the lower midrange category, with an HD screen and a MediaTek processor, but Acer made available a dual SIM version of the S1, in the hope it will attract some more big-screen phone fans to an otherwise run-of-the-mill plastic 5.7-incher. Did Acer succeed with its first phablet, or next time will be the charm? Read on to find out...
In the box
In-ear stereo headphones
Spare back cover (white)
Wall charger
microUSB cable
Warranty and information leaflets
Design
We don't want to rain on your parade, but despite the all-plastic shell and the same screen size, a Note 3 the Acer Liquid S1 is not. The thick bezel, shoddy plastic used all-around, and the unusually heavy 6.88 oz (195 g) build hint that Acer isn't pulling all stops with this device, but rather just testing the phablet waters, and its ability to swim there.
The plastic chassis gives the phone a cheapo feel, as the back cover is not even soft-touch or polycarbonate, and the side rim has two silver strips that are supposed to imitate metal, but fall far short. The physical keys that are raised above those strips are still too flush with the sides to be comfortable found and pressed without looking, and have a flimsy feel to them, as well as a very shallow feedback.
The curved back helps somewhat with handling, but the handset is so big that one-handed operation is still out of the question. Since Acer isn't providing thumb-friendly options to shrink the dialer or keyboard left or right, you have to use both hands with the Liquid S1 the vast majority of the time.
You can access the two micro SIM card slots by prying off the back cover and taking out the battery. This gives you access to three slots that are just above the battery compartment – two for the SIM cards and one microSD slot for adding storage. There is one extra back cover in white color provided in the box, should you get bored of the all-black looks, but since the sides and front will stay black, it's not a pretty sight.
Display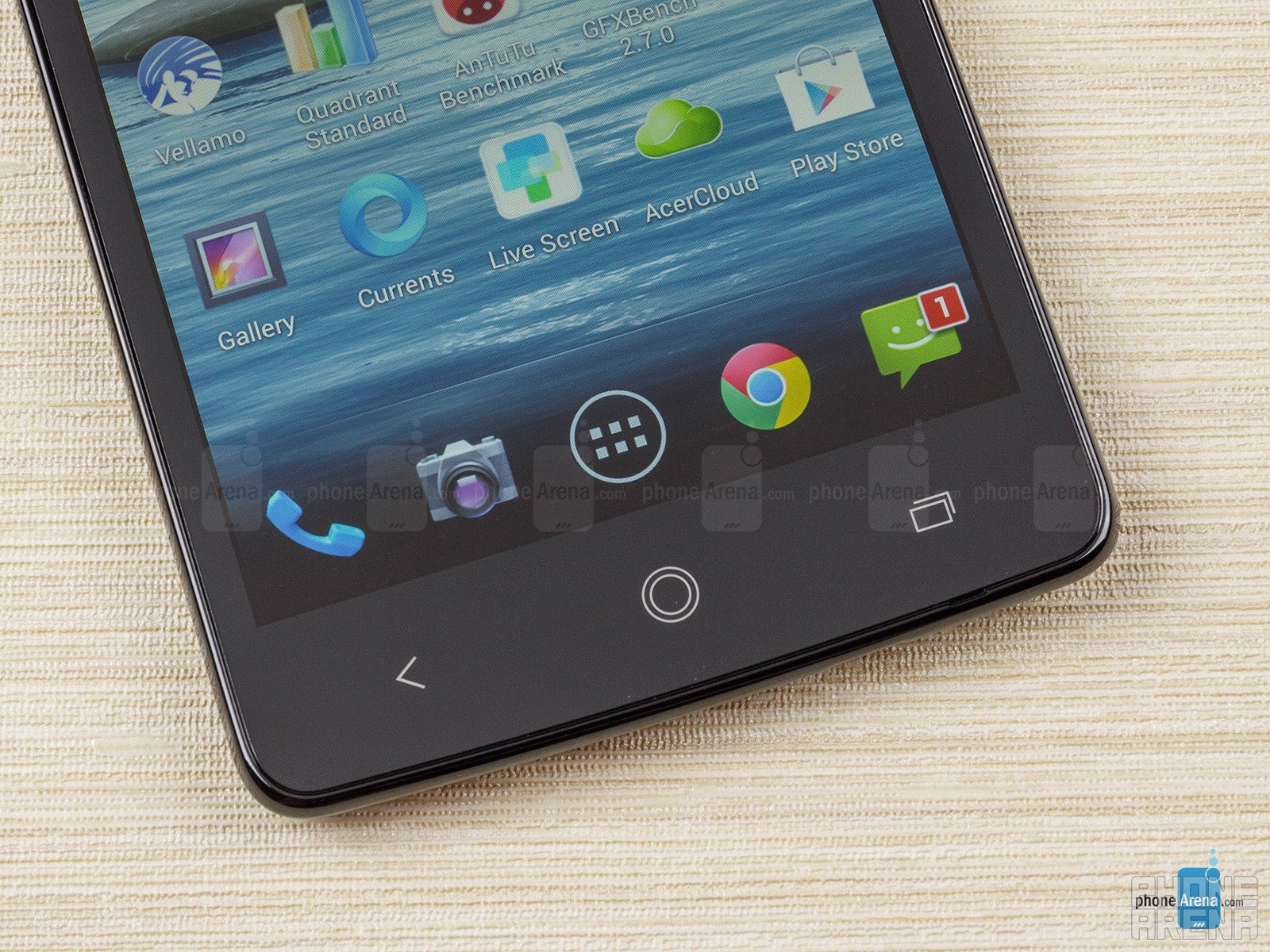 We get a 5.7" 720x1280 pixels LCD display on the Liquid S1 with 258ppi pixel density, and this panel is nothing to write home about. Colors are too warm and somewhat pale, shifting with the slightest tilt of the phone, along with brightness, which indicates poor viewing angles.
The black levels are not as deep as on even average LCD screens, not to mention the OLED ones, so black actually looks grayish, diminishing the contrast number. This, together with the below average brightness level, makes the Liquid S1 panel troubling for outdoor usage, especially in bright sunlight.
Display measurements and quality
Recommended Stories